A feature story about our members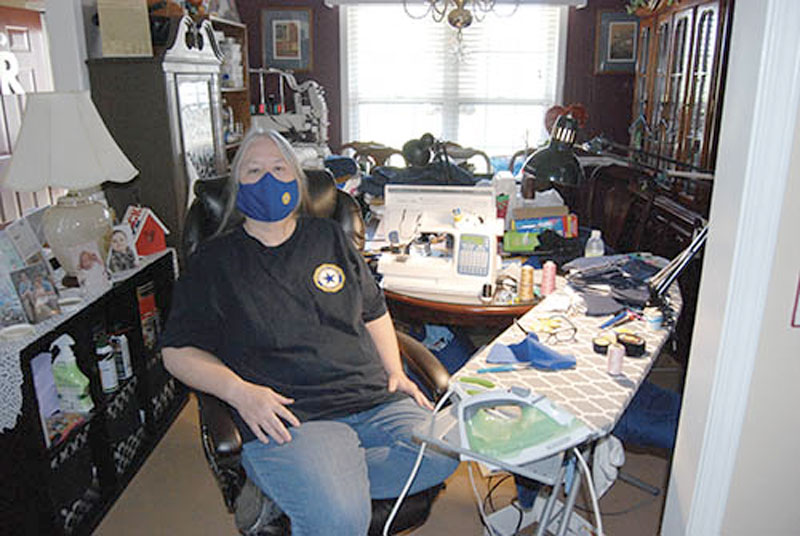 ALA member Kathy White of Georgia wears an ALA-branded fabric mask she made.
With every stitch she puts in the face masks she makes for others during the COVID-19 global pandemic, American Legion Auxiliary member Kathy White of Georgia knows she is doing what generations of ALA members before her have done: fulfilling the Auxiliary's mission of selfless service — even in the midst of major society-wide challenges.
The same is true for ALA member Jenny Tracy of Indiana, as she tapes and posts online her heartfelt video tributes to America's military servicemembers and veterans, which also underscore the solemn significance of the red poppy flower. Tracy overcame the obstacles offered by the call for social-distancing in effort to slow the spread of the virus that causes the deadly COVID-19 disease.
Many times throughout the course of the ALA's 100-plus year history, Auxiliary members have overcome challenges in times of war, widespread medical emergencies, natural disasters, and other tribulations, to serve the greater good. The American Legion Auxiliary is a community of volunteers serving veterans, military, and their families. At our core, we are helpers. When a catastrophe strikes or hard times cast long shadows of devastation and despair, we assist others.
These days, many ALA members are finding alternate ways to safely help others amid the COVID-19 global pandemic, as fear and uncertainty spurred by this new disease swirl around us all. This is our members' response, fueled with reinforced resolve and dedication, to COVID-19 — a merciless medical menace that has killed millions of people globally during the first half of this year.
We leave it to our best and brightest medical researchers and scientists to find a vaccine, cure, or treatment medicines and therapeutics to help in our fight against the virus. But ALA members won't stand by without trying to serve veterans, military, and their families, or without trying to help communities or individuals in need, especially during times like this. When future generations of Auxiliary members look back to see how their predecessors managed during this worldwide medical crisis, they'll see we found ways to safely fulfill our mission of selfless service. They will be proud. And they will be inspired.
Making masks for the public, branded masks for Legion Family
ALA member Kathy White had never made masks. But White's adult daughter Amanda Faulkner said she needed one. Faulkner is a dog groomer who was deemed an essential worker while Georgia's shelter-in-place order was in effect. Wearing a cloth face covering over the mouth and nose was recommended by the U.S. Center for Disease Control for people unable to maintain at least 6 feet of distance from other individuals. For a while, masks and cloth face coverings that were usually sold in stores became scarce.
White went to YouTube for instructional material and figured out how to make a fabric mask. She made several masks for Faulkner, who gave some of her extra ones to her co-workers and the pet salon's customers who said they needed masks. Then, White made extra masks to give to anyone who said they needed one.
"I've talked to several older veterans and they are so scared about COVID-19. If a family member of theirs called me and asked me for masks and I didn't have any left, I would stop everything and make that mask for them. If that would help that veteran feel safer, he or she is going to get a mask," White said.
"People kept asking: 'Can you make me a mask?' and 'What organization are you with?' or 'Are you with an organization?' And I'm like, 'I'm an ALA member.' It got to a point that I was constantly saying that. And I started thinking, There's got to be a way I can put [the ALA emblem] on my mask that I'm wearing," she added.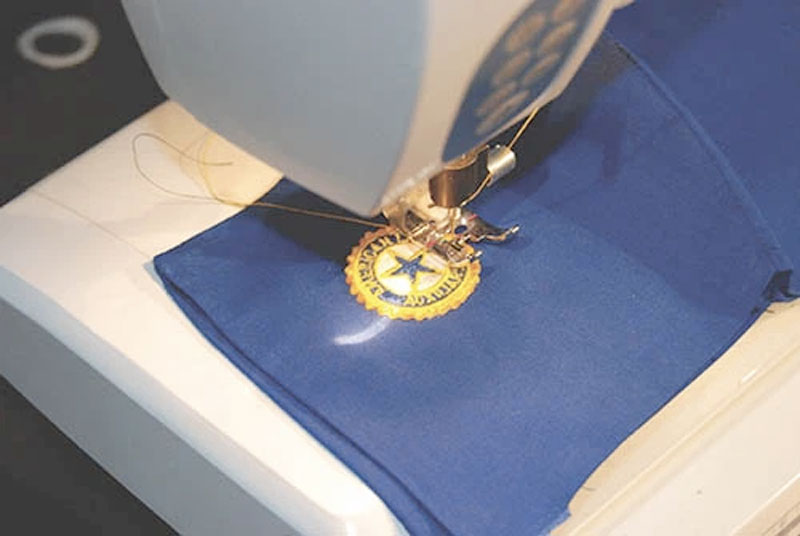 White stitches an ALA emblem on a mask.
After consulting with Unit 70 President Kara Bennett about the branded mask idea and getting encouragement, White ordered ALA emblem patches from American Legion Flag & Emblem Sales. She stitched the small Auxiliary emblem on a blue fabric face mask she sewed. Then she made a fabric face mask for her husband, Legionnaire Kenneth White of Post 70 in Villa Rica, Ga., and stitched a Legion emblem on it.
---
"That way, my husband and I could wear the branded masks when we are out doing stuff or giving away [mission outreach] stuff, and people would know who was giving out stuff or helping them. They would feel more comfortable accepting our help. And, maybe they'll see our emblems, ask about us, learn about us, and want to join. I'm not trying to advertise. But it's a good way to educate the public that we're out here and these are the type of things we do," she explained.
---
White posted a photo of the ALA-branded masks on her personal Facebook account, and the post was then shared via the national ALA Public Relations Facebook group. What came next surprised her.
"My cell phone started going off with all the calls from people from our Legion Family requesting branded masks. So did Kara's phone. I didn't think it would be that popular," White said. In some cases, White was asked to stitch onto the mask (in addition to the emblem patch) ALA unit, American Legion post, Sons of The American Legion squadron, or American Legion Riders' chapter numbers. When possible, she accommodated those stitching requests.
Keeping up with production to fill mask requests from Legion Family members from various parts of the nation, and unrelated requests from others who wanted unbranded masks, was tough for White, she said. Assistance with the fabric cutting came from Barbara Propst, a member of Unit 70 and American Legion Riders Chapter 70 in Villa Rica. But White did the sewing and stitching herself, washing the material cutouts in very hot water, heat-pressing the fabric frequently during production, and putting each finished mask in a plastic baggie. As of June 1, White had sewn about 450 masks.
To ease the production pressure on her, White posted online an instructional video on how to make masks. While adhering to her community's regulations and guidelines for social contact, she has also taught other local ALA members how to make fabric masks.
Still, requests kept coming, including one from an area hospital. At the same time, costs for materials and shipping of the branded masks began to mount. While she continued to provide unbranded face masks to the general public at no charge, she started to charge a nominal fee for masks branded with either the ALA, Legion, Sons, or Legion Riders emblem patches. She doesn't sew more than one emblem on a mask. Initially the fee was $5 per mask. To cover the cost of emblem patches, fabric, and related materials, plus shipping costs, the fee went up to $10 per mask. Andrus-Bennett, who handles the financials for the branded masks, accepts the orders from units, posts, squadrons, and Rider chapters, and passes those requests onto White.
White, a Type 1 diabetic who takes care of her disabled husband and her mother, doesn't think twice about making masks for others or taking the extra steps to promote the ALA and other Legion Family organizations with branded masks.
"When I was learning about all that the Auxiliary, the Legion, and the entire Legion Family does, I realized that it's all about helping — doing what we can," White said. "I am so proud of being an ALA member and being part of the Legion Family. It is truly a family."
White became eligible for ALA membership through the military service of her husband, U.S. Army Cold War veteran Kenneth White — who became eligible to join The American Legion last summer, thanks to the passage of the LEGION Act in July 2019. The Let Everyone Get Involved in Opportunities for National Service Act declares that the United States has been in war since Dec. 7, 1941. This declaration expands the military service time periods criteria for American Legion membership.
White and her husband became members of Unit and Post 70 in Villa Rica in January 2020. Prior to that, Kathy was an active nonmember ALA volunteer for several years.
Kenneth White is also a member of the Sons of The American Legion, honoring the military service of his father, U.S. Army World War II veteran Jake White; and Kenneth's brother, Army Vietnam War veteran and Purple Heart recipient Larry White. Kenneth, his father, and brother Larry are all Legionnaires of Post 70 in Villa Rica. The Whites' grandson, 10-year-old Blaze Faulkner, is a member of the Sons.
For more information about the branded face masks, please contact Unit 70 President Kara Bennett directly via email at bkara@bellsouth.net or text (no calls, please) at (404) 983-0958.
Honoring our fallen military heroes, sharing the meaning of the red poppy online
Practicing social-distancing presented a challenge for one of the ALA's longstanding year-round poppy distribution days — which gets more emphasis on Memorial Day, Veterans Day, and National Poppy Day® (the Friday before Memorial Day). Traditionally, ALA members and nonmember volunteers hand out red crepe paper poppies to people nationwide in exchange for donations.
But ALA member Jenny Tracy of Unit 18 in Bloomington, Ind., refused to give up on honoring to veterans and servicemembers, and sharing the solemn meaning of the red poppy.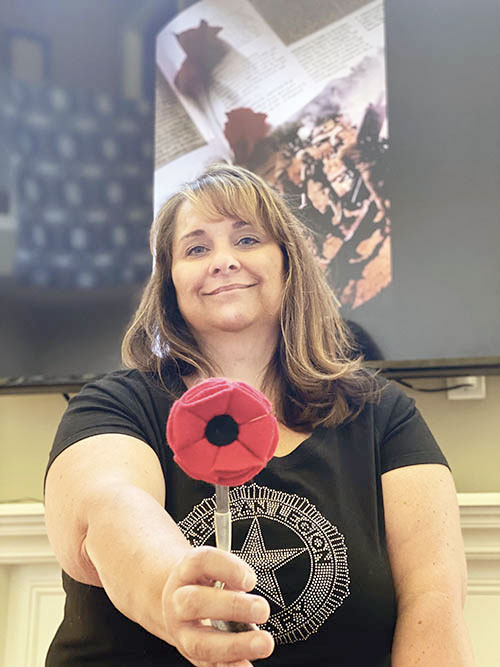 ALA member Jenny Tracy of Indiana extends a cloth poppy.
Tracy developed Petals of Honor, a four-month-long online video series which serves as a tribute to America's military heroes and a way to educate the public about the symbolic and iconic flower. The brief videos appear on Unit 18's Facebook page.
"This way, we can still honor veterans. We can still bond together," Tracy said. In exchange for the tribute poppy flowers, Unit 18 is accepting donations of any amount. As of May 27, Unit 18 has raised $79 from Petals of Honor. All proceeds will be included in Unit 18's poppy funds — money from which is used to directly support veterans, active-duty servicemembers, and their families.
In the videos — usually about three minutes each, Tracy names the servicemember or veteran being honored and gives basic background information about him or her. The initial visual in each video includes patriotic elements, such as a folded American flag and a small red crepe paper poppy. She places the poppy in a clear vase containing a small, battery-operated tea light. Beside the vase is a folded American flag and a small ALA table-top flag. She also shares facts about the poppy, ALA, and patriotic literature such as the In Flanders Field poem or the Prayer for our Veterans.
Tracy also lists the name and branch of military, along with a photo, of the honoree in the comments section of the Facebook video post.
Launched May 4, Tracy plans to fill the vase with poppies, one flower for each servicemember and veteran. She posts tribute videos every other day or so, with the last video going up Sept. 11, 2020. Tracy might produce a compilation video of all the tributes and posting that as well.
"The footage is raw. It's not edited by some pricey videographer. It's done by me. There are glitches. I misspeak a couple of times. But I can still make an edit and be customer-service friendly," Tracy said. "My hope is that it encourages people and makes them think: 'Well, I could do that. I totally could do that!'"
The first Petals of Honor tribute was for U.S. Army National Guard Staff Sgt. Paul Pabla, who was killed in action in Iraq on July 3, 2006, seven days shy of his 24th birthday.
Tracy knew of Pabla because, at the time of his death, Pabla was serving in the same Army National Guard unit with her husband, Matthew B. Tracy. And she already had a rapport with Pabla's mother, Lisa Carroll of Fort Wayne, Ind. His mother responded positively to the video tribute.
"When I watched that video, it was so emotional. Flashbacks of those days (that whole summer). Being first [on Petals of Honor] for me was an extremely beautiful honor! I am grateful he is remembered. Thank you," Carroll stated in a direct message to Tracy on Facebook.
Petals of Honor tributes can be requested for any veteran or servicemember, Tracy explained.
---
"I wanted to capture this one small glimpse of our lives [during the COVID-19 pandemic], when all or most of us are home doing only a little of what we used to do. And we still have our passion for, and dedication to, our veterans. My hope is that things are more back to normal soon, in terms of COVID-19. We can say, 'This is how we, as ALA members, adapted during the time of COVID-19; we didn't miss a beat when it came to honoring our veterans.'"
---
Tracy joined the ALA in 2006. Her eligibility is through the military service of her husband, retired Army National Guard 1st. Sgt. Matthew B. Tracy, a Legionnaire at Post 18 in Bloomington.
For more information about Petals of Honor, please contact Jenny Tracy directly at jtracy@bluemarble.net, (812) 320-3871, or mail:
PETALS OF HONOR
American Legion Auxiliary Unit 18
1800 W 3rd St
Bloomington, IN 47401
ATTN: Jenny Tracy
ALA'S HISTORY OF HELPING DURING EMERGENCIES
The American Legion Auxiliary's main focus has always been on supporting our nation's veterans, military, and their families. But throughout the ALA's 100-plus years of existence, Auxiliary members have often stepped up to assist communities and individuals in need — especially after a natural disaster or other widespread emergency. A few examples:
1932: Widespread Flooding in the Oklahoma City Area
ALA members of Oklahoma City Unit 35, and of Capital Hill and Unit 13, mobilized quickly to help the community following a flood in the greater Oklahoma City area. The flood was responsible for numerous deaths and a lot of destruction there. Auxiliary members worked early mornings to late nights at temporary shelters, serving meals in food lines and distributing clothing collected by local ALA units.
The ALA members, who aided the Red Cross in surveying the flooded districts and investigated all persons asking for help, did not stop until every family in the flooded area was housed.
1933: Earthquake in Southern California
Following a devastating earthquake that struck parts of California's Los Angeles and Orange counties, many ALA members joined Legionnaires and others to help those affected by this natural disaster.
Published in the June 1933 edition of the American Legion Auxiliary Bulletin (Auxiliary magazine's predecessor): "The members of the Auxiliary functioned in various ways. Cooks, dishwashers, waitresses, dispensers of clothing and food, nursing, and the care of children were some of the posts filled by our [ALA] members. No one complained of the work allotted — no partiality was shown. The lack of gas, water, and light hampered the workers, but they remained cheerful. Hot food was available at all hours."
2017: Hurricanes through America's Southeast, Puerto Rico, Virgin Islands
ALA members, many teaming up with others in The American Legion Family, helped people affected by Hurricanes Harvey, Irma, and Maria by collecting or purchasing and distributing necessities such as bottled water, food, and cleaning supplies.
By Landa Bagley, Staff Writer
This article was originally published in the August 2020 Auxiliary magazine.