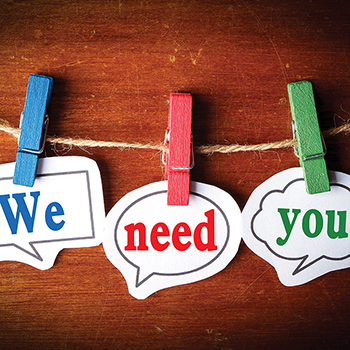 As a result of recommendations from both the national Strategic Planning and Constitution & Bylaws committees, National President Nicole Clapp appointed two special committees at the virtual National Executive Committee meeting in August.
The first committee appointed – Inclusion & Diversity Special Committee.
"There are important discussions and impactful dialogue regarding inclusion and diversity that are happening around the world, and we need to be a part of this dialogue — to demonstrate that our organization is keeping up with the times," said National Headquarters' Executive Director Kelly Circle. "We're looking for people with an appreciation for different cultures and opinions who like to learn about differing community social norms."
Strategic Planning Committee Chairman Linda Boone described the goals for the group: examine current practices and identify opportunities for improvement; engage members in conversations about inclusion and diversity; target areas for membership diversification; develop goals and strategies to achieve these goals; create a transparent leadership selection process; identify what success looks like; and get ALA members on board.
The second committee appointed by Clapp — National Code of Ethical Conduct Review Committee.
"This committee will recommend changes to the Code of Ethical Conduct that may include clarifications, as well as substantive changes," said Trish Ward, national Constitution & Bylaws Committee chairman.
This group will review the existing Code of Ethical Conduct, develop procedures for enforcing the code, and recommend any necessary changes.
Both committees are seeking American Legion Auxiliary members who can expect to serve until at least the 2021 National Convention, who like working as part of a team, and have good listening skills and respect for differing opinions.
For the National Code of Ethical Conduct Review Committee, detail-oriented people with knowledge of grammar and sentence structure are being sought. If you like word problems, debating the meaning of a word, and appreciate how one word can change the meaning of a sentence, this is the committee for you! If you have experience in law or parliamentary procedure, that's even better!
These new committees may meet as often as weekly via videoconferencing, so technology skills and reliable internet are musts.
Never served on an ALA national committee? Now is the time! Visit https://www.surveymonkey.com/r/ALASpecialCommittees to apply by Dec. 31 and help make a tremendous impact on the future of our organization.
Inclusion & Diversity Special Committee
Want to create a fun and welcoming environment for all? You'll help:
Figure out where we are
Identify where we want to be
Involve members in discussions on inclusion and diversity
Develop inclusion and diversity goals and strategies
Expand leadership opportunities for all
Identify what success looks like
Get our members on board!
National Code of Ethical Conduct Review Committee
We're looking for you!
This new committee will:
review the existing Code of Ethical Conduct
develop procedures for addressing violations
recommend changes to ALA Constitution & Bylaws
meet weekly via videoconference
NOT be addressing unit/department-level conduct
Log in to the MyAuxiliary member portal at www.ALAforVeterans.org to apply by Dec. 31.
This article was originally published in the November 2020 Auxiliary magazine.