Serving as an ALA membership chair comes with big responsibility, especially in large units. It's understandable that chairs look for ways to make their duties more efficient. However, what may be a time saver for a chair could have a negative impact on membership and ALA members.

During a national Membership Committee quarterly Zoom meeting, department chairs voiced concerns that membership applications and renewals aren't being remitted as soon as they are received. Instead, some chairs hold on to these files until they have several, and then turn them in all at once.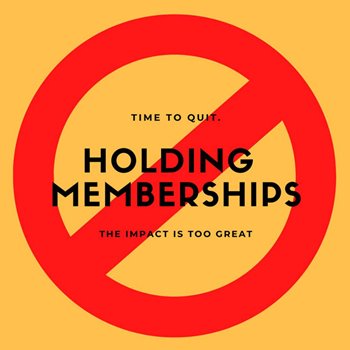 The national Membership Committee realized this issue needed to be addressed. You may have seen an informational post in the ALA Membership Program Facebook group regarding not holding memberships. The social media post explained why the practice should stop.

"The reasons to not hold on to membership and the importance of turning in membership go hand in hand," said Tracy Kinnick, national Membership Committee vice chair. "We never know day to day what is going to happen in our lives."

Consider this:
What if a membership chair had all of the applications and money in their home and a fire, flood, or some other disaster happens? The applications and cash would be lost.
What if the chair is unable to continue serving?
What if a member needed to apply for AEF and they appeared in ALAMIS, the national member database, as not in good standing? They wouldn't qualify for the needed funds.
What if the member was given a membership card, but the money was never paid to National? The member's original join date on their membership card will be affected if the dues are never received by National.
Bottom line: The best practice is to forward memberships as they come in.
"By sending in memberships ASAP, we are also showing transparency with money," said Kinnick. "Too many times, we have heard stories of membership money coming up missing — although we never want to assume — it does happen, and it can happen. The transparency of membership can build trust and excitement when units reach their goals."
Process memberships faster with full-access ALAMIS
This tool allows units to pay membership dues directly and immediately shows members as paid in the membership database. For units interested in full access to ALAMIS, they first must get approval from their department office, then complete training provided by the ALA national Membership staff. The unit will need to have a unit credit/debit card attached to their bank account to utilize full access.
"The benefits of full access are that you immediately get credit for the units, and the ability to manage the membership information as far as addresses, email, phone, etc.," said Kinnick. "Even if you have just one membership to enter, you are not having to worry about going over your postage limit. You enter the member and are done! It is a valuable tool for units ready for that kind of tech move."
Remember: Members can always pay directly online at
www.ALAforVeterans.org
or by phone at (317) 569-4570.
Have questions? Need ideas?
ALA Facebook groups provide members a place to learn about Auxiliary programs, have questions answered, and share ideas. The 2022-2023 ALA national Membership Committee has been using its group to post informative information weekly. They call these posts "Membership Mondays." Some of the posts address common questions that have come up during the program's quarterly meetings, and others are from their own experiences.
"There are a lot of issues out there regarding membership — what's true, what's not true, how and what to do in certain situations, where to go to get this information," said 2022-2023 ALA Membership Chair Linda Tome. "It makes people think. It also allows for communication and idea sharing to improve our membership goals and create transparency within our organization."
Tome encourages members to take advantage of this resource.
"Members can post their questions in the national Membership Facebook group and one of our very knowledgeable committee members usually answers rather quickly."
To see a list of the ALA's official Facebook groups, visit
www.ALAforVeterans.org/social-media
.