Presented annually at the American Legion Auxiliary National Convention, the Salute to Servicemembers Award has evolved over the years from honoring women veterans to honoring active-duty women to honoring all military personnel who are currently serving our country in the U.S. Army, Navy, Marine Corps, Air Force, Coast Guard, Space Force, and the National Guard/Reserve.


Read on to learn more about our 2023 Salute to Servicemember Award recipients.

U.S. Air Force: Staff Sgt. Dessence Waddell
(Nominated by the Department of Texas)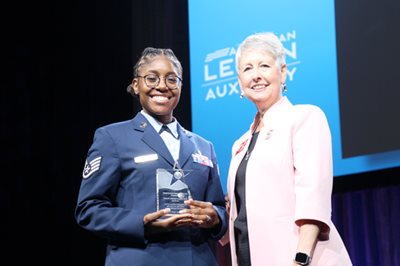 "I would like to thank you all for the support," Waddell said from the ALA convention stage.

Waddell said she is looking to move to the officer side of the military in 2024.

From the nomination form:

Not only does she define what it means to be a leader, but as a top-tier mentor, she constantly inspires those around her to innovate and solve problems.

When there are no emergencies to respond to, Waddell oversees the training and capabilities for 16 additional teams, encompassing 155 active-duty personnel. Recognizing there is always more to learn, she honed active followership as she capitalized on the opportunity to be a medical emergency manager. In this role, she partnered with numerous emergency response entities throughout Taylor County to learn how she can help Dyess Air Force Base sharpen its responses to best defend the 260,000 local populace.

Prioritizing personal and professional growth, Waddell has found multiple ways to establish opportunities for both her and those around her to develop. Inspired by the Air Force's future vision for a multi-capable airman, Waddell sought certification in a clinical role to instruct tactical combat casualty care. Her initiative in doing so aided the training of over 72 first responders, which helped Dyess Air Force base conquer a Department of Defense objective five months ahead of schedule. Waddell has also dedicated her time to learning skillsets outside of the Air Force, devoting her off-duty schedule toward completing her master's in health care administration degree. Continuing to demonstrate servant leadership, she wants to ensure that growth opportunities are not limited to her troops alone. This inspired her to find her way onto the Eighth Air Force's Junior Advisory Council, where she can advocate for opportunities for her peers and young airmen. As part of this counsel, Waddell established an installation-wide speed mentoring program, hosted 10 professional military education opportunities, and infused resiliency by guiding two diversity and inclusion events.

U.S. Army: Lt. Col. Maria Shelton
(Nominated by the Department of Texas)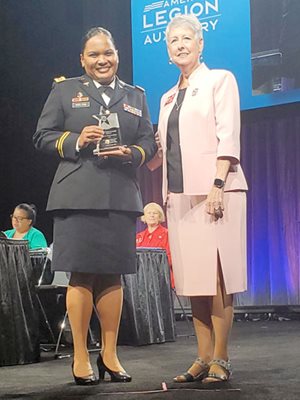 "I'm very honored, very humbled to be here," she said. "It means a lot."

From the nomination form:

Shelton is deputy commander patient services for a 135-bed level 3 trauma center and health delivery platform supporting medically ready force and ready medical force for 175,000 eligible beneficiaries.

She is responsible for safe provision of world class care from emergency department, nutrition care, pharmacy, laboratory, radiology, and eight inpatient units having $140 million in operating expenses out of the $360 million operating budget.

Shelton leads a staff of over 800 civilians, contractors, and military in DCPS providing safe, timely, high quality health care services. She serves as member of the senior leadership team with full involvement in strategic and operational decisions impacting the organization.

She also serves as senior clinician at the executive level as part of the governing body of organization and hospital's decision-making structure and process.

Shelton is responsible for efficient and appropriate utilization of hospital bed capacity, directs delivery of patient care, treatment, and services and implementation of policies and procedures in support of high reliability organization and hospital accreditation requirements.

"It's not about me — it's about the service," she said.

U.S. Navy: Petty Officer 3rd Class Kolten Flook
(Nominated by the Department of Iowa)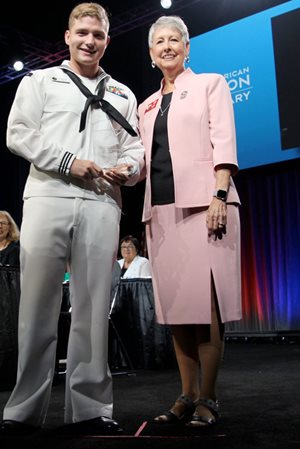 "It's a great pleasure to be chosen for this award — I wasn't expecting it," Flook said to the ALA convention audience.

From the nomination form:

After joining the service on Aug. 11, 2020, I was sent to boot camp as a seaman (E-3). Soon after graduation, I was transferred to New London Submarine Base in Groton, Conn., where I would undergo schooling on how submarines work and how to perform my job as a fire control technician.

I was selected for orders to PCU Iowa. When arriving to the Iowa, I was a hard charger who pushed constantly to go on deployment to qualify for my warfare device. During early January 2022, I finally was sent on temporary additional duty to the USS North Dakota, who I deployed with until early November 2022.

After returning to our home port in Groton, Conn., I supported the stand-down period. After this period, I returned back to the Iowa and immediately started supporting trainers, an in-port simulation of being at sea and standing watch. Within the following months, I took over as the building petty officer (BPO) and became responsible for the stocking of materials of our command as well as corrected over 27 building deficiencies. I also was sent to multiple schools, including sound reduction, advanced system maintenance, and sub-force security. I was promoted to a third-class petty officer due to these achievements.

I also work the local food pantry on Saturdays. I have been a volunteer firefighter before enlistment and also achieved the rank of Eagle Scout with 300 volunteer hours.

U.S. Coast Guard: Chief Boatswain's Mate Stefano Joseph Torre
(Nominated by the Department of Alaska)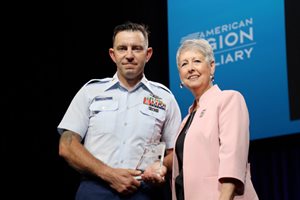 ​"Thank you so much," Torre said on the convention stage. "It's an honor to be here."

From the nomination form:

Torre is our chief boatswains mate on Coast Guard Cutter Kukui. Torre, upon arrival, took initiative to help others from the crew. He worked tirelessly to create an environment that everyone enjoys working in and is always on the move, cleaning stairwells. It's almost as if he is a well-oiled machine that never stops. Torre has great pride in the CGC Kukui and works around the clock to maintain a respectable reputation that is above the rest of the buoy tenders in the Coast Guard.

As a coxswain, Torre has demonstrated exceptional skill, knowledge, and leadership in carrying out the critical missions of the United States Coast Guard.

The buoy deck is a very important part of the Kukui — compare it to the human heart. It makes the Kukui run. If we didn't have the buoy deck, we could not function efficiently. The one who oversees said buoy deck is Torre. He manages and maintains all equipment used for a buoy evolution along with managing the personnel involved in a buoy evolution. Also, Torre ensures the safety of everyone involved while completing a highly intense mission of the Kukui. Our ATON mission is very important as it assists marine navigation and Torre is at the forefront of said mission. Just recently, he ran the buoy evolution in which we recovered a 16-year-old buoy.

Torre has worked harder than anyone I have seen to upkeep the ship and maintain equipment that ensures we are able to complete our missions and doing so in an efficient maimer.

U.S. Marines: Cpl. Sabrina Townes
(Nominated by the Department of Michigan)


"It's amazing to be here in front of all of you," she said. "I can't tell you how grateful I am. Thank you so very much for this absolute honor and this award."

Townes said she's about to hit four years in the military next month and is looking to re-enlist.

From the nomination form:

I entered the United States Marine Corps Delayed Entry Program (DEP) on Aug. 22, 2018. I then went to recruit training in September 2019. I graduated recruit training on Dec. 13, 2019, where I earned the title of United States Marine. From boot camp, I was transferred to MCAS New River in Jacksonville, N.C., for my next training evolution that was called Marine Combat Training (MCT) in January 2020. After completing MCT, I was transferred to Camp Johnson which is also in Jacksonville, N.C., to the administrative specialist schoolhouse which was my military occupational specialty (MOS) in February of 2020. The reason I picked this MOS is because it more so related to human resources in the civilian sector. Therefore, for any reason that my career ended sooner than I expected, I would be able to transition and continue a career in human resources.

Once I graduated my military occupational specialty schoolhouse, I entered the fleet as then private first class at Marine Corps Airs Station (MCAS) Beaufort, S.C. in April 2020. In July of 2021, I was given the opportunity to enhance my knowledge as an administrator by being moved to the Installation Personnel Administration Center (IPAC) which later became the Regional Personnel Administration Center (RPAC). On top of the day-to-day work, I volunteer through the single marine program (SMP), we have been security at an MMA fight, cleaned up trash on the side of the road, and much more.

U.S. Reserves: Gunnery Sgt. Joshua Layton
(Nominated by the Department of Illinois)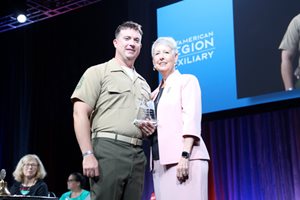 "Thank you to the committee for selecting me for this award," he said from the ALA convention stage. "Thank you, to family to leaders to mentors to friends."

From the nomination form:

I come from a very patriotic family. My grandfather served in the Army during World War II, and my uncle served in the Army in Vietnam. I always had the passion to serve in the military but did not know which branch. It was not until two of my friends returned from Marine boot camp that I knew that the United States Marine Corps was for me. I left for Marine recruit depot on May 14, 2007 (on Mother's Day, no less) to begin my journey of becoming a Marine.

My first duty station was Marine Base Okinawa, Japan. I was then deployed to Al Taqaddum, Iraq, in support of Operation Iraqi Freedom. Returning from this deployment, I was transferred to Marine Corps Air Station Beaufort, S.C., then to Camp Lejeune, N.C. I was deployed to Marjah, Afghanistan, in support of Operation Enduring Freedom, where I served as the company intelligence chief for India Company.

After returning from Afghanistan, I was transferred to Naval Station Guantanamo Bay Cuba as the intelligence chief of Guantanamo Bay.

I left active duty to pursue a college degree and be closer to my family after welcoming our first child, Cam. In fact, I will graduate from Eastern Illinois University this fall with a bachelor's degree in science in business administration.

I received a call from a prior service recruiter asking if I would be interested in joining the Marine Reserves. After speaking with my wife, I agreed to join the Reserves at Fort Sheridan, Ill.

In my civilian life, I'm a husband and father to three active children, a college student, and a full-time veteran service officer. I still find the time to be a coach for my children's soccer teams, T-ball teams, and baseball teams. I instituted a new flag football program for the local school.

I am a speaker at many veteran services. I am a member of the Neoga American Legion and on the executive board.

*There was no nomination for U.S. Space Force.