Dr. Dorothy Simpson-Taylor has spent her entire life in service to others. She has done so intentionally, purposefully, and with careful consideration at every step. Her accolades and awards are as vast and numerous, as her network is diverse and well-connected. If she can't help a veteran herself, she knows someone who can. We invited her to share her story and talk about the importance of giving to others.
I'm probably more community-oriented than many people because I happened to be raised in a family where there were 12 siblings in my mom's family and 11 in my dad's family. I now have 110 first cousins. I was raised in a spiritual family. We practiced our spirituality by doing service. We had 11 kids and 13 dogs in our home at one time, but we still had enough food for anyone to stop by and eat. My daddy liked to say it doesn't hurt to be nice; and being nice intentionally and responsibly is something I learned growing up. I learned a lot by watching my parents be good community members and citizens and acknowledging the issues present in our community and society. The saying, "I am because we are and because we are, therefore I am." — I am nothing without the community I live in.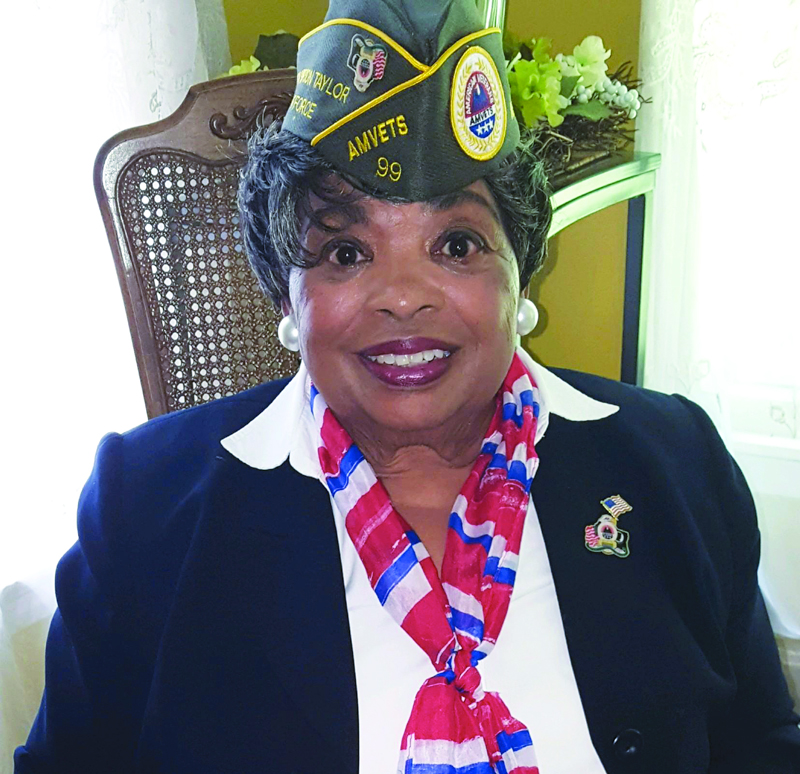 Dr. Dorothy Simpson-Taylor
I started at 12 years old with a strategic plan for my life. As the oldest sibling, I had to set an example. I knew I wanted to go to college after high school. I had a $75 scholarship and knew that wasn't enough. So, I decided to join the Air Force. I hadn't thought about the military, but I knew another woman who had gone into the Army. I knew I didn't want to lock-and-load. When my scores came back, and they were high enough to go to the Air Force, the Air Force it would be. My community collected green stamps for me to get a suitcase to take my clothes with me. That's how you learn to be a giving person: by being around giving people.
I got married in my third year. My husband was assigned in Greece. The commander didn't want any women on his base. So, I got out of the service and we went together. I learned a lot — it didn't matter where you were in the world; people are the same. Prejudice is the same too. I have no tolerance for anyone who wants to make fun of someone for their differences. That has manifested itself in my career too. When we moved back to the States, I became an advocate for veterans. We got back, and I decided to go back to school. Because of the work I did in the community and at the university, I was tapped to be a graduate assistant in a program that helped students who weren't well-equipped to be good students. We took urban and rural students and gave them a good space to thrive and survive. I was expected to lead by example. It was one of those times I did what I did when I was 9 years old: "Now don't you get into no trouble!"
I was conscious of who I was as a military person. My calling has always been to be a volunteer, to speak, and be a voice. I got my master's in guidance and counseling. When we moved to Colorado, I got one of the earliest grants for treating PTSD. I was involved in seeking rights for wives and family members. It was so easy for military men to drop spouses and just say it's all their fault. I remember speaking with a vet who was so abusive, he said it was OK for his son to kick his mom. I just went off. Some of those vets still keep in touch with me. They knew I was fair. As a counselor in the veterans system, I was able to see movement. I was able to help people to grow and thrive. And even though we didn't get rid of PTSD, we offered an opportunity for them to rethink who they were as a person.
I became a professor of psychology with master's and Ph.D. students at University of Northern Colorado. I had received my doctorate by then. I was able to become a part of the Veterans Brain Trust for Congressional Black Caucus. I've been a part of that for about 30 years. My specialty became equity and inclusion. I moved to Indiana and was hired at Indiana University. I spoke up there about fairness and inclusion. Later, someone saw me do a presentation on inclusion, and I got an offer for a job at Purdue University. I was always conscious of being a military person and talking about veterans. Later, when I was at the University of Iowa, I was in the university president's circle. They needed to develop a veterans initiative at the university. So, I worked with others to create an expansive veterans support group, which is still going strong today. Iowa and Indiana were two of these largest states were reserve members were being called up for service. So, when they came back, I wanted them to be treated fair. We set up a comprehensive system, which talked about university and community responsibilities and how to align ourselves with veterans service organizations.
When I retired, my oldest son said he wanted a strategic plan for my retirement. He gave me 30 days. I wrote it and looked at the core values I had lived by my whole life. My core values were part of a system where God comes first, then family, industriousness, responsibility, and education. Those were so important to me. When I retired, I said, "What do you do? How do you retire?" I continued to be active in the veterans community, speaking on issues of diversity, be it women, LGBTQ, race, or gender. I just knew that as I grew, I wanted to share the knowledge and talk about it.
I struggled with segregation and discrimination through my life; I could be very bitter. And I am always hyper-alert around race, gender, and veterans issues. I try not to let that create an anxiety disorder that's out of control. I try to be intentional about imagining the space and place I live in and might go to someday. What people often don't do enough of is to take the time to look around. Someone said once, "If you look up, around, and in, and put that together, you'll make the right decision."
I started Sister Soldier Network with a Korean-era veteran. I knew I wanted to continue to work with veterans. I knew I needed to specialize. I knew women veterans were an overlooked group. Sister Soldier Network tries to tell a story and be a conduit on behalf of veterans. I try to be a voice and conduit for the right connections. We need to think about how we can make a facility where veterans don't have to come drink to participate. We need to think outside the box about solutions to veterans issues.
I live by an ancient proverb: "I am because we are, and because we are, therefore I am." To me, that means there is no me in the work I do. It is about the collective we. I also adhere to a religious principle to do good, and the greatest of these gifts is love. How blessed and fortunate to show love by helping others in whatever way I can.
More about Dr. Dorothy Simpson-Taylor
Vietnam Veteran 1963-1966
Founder, Sister Soldier Network Inc.
Cedar Valley Coalition of Black Veterans
Congressional Black Caucus Veterans Brain Trust
Member, American Legion Post 438, AMVETS Post 99, Indiana (Commander 12/17 – 5/19)
American Legion Indiana District 11 Women Veterans Representative (past)
Volunteer ESGR Indiana/Employer Support of Guard and Reserves
Commander, AMVETS Post 99, Indianapolis, Indiana
This article was first published in the August 2019 Auxiliary magazine.