How Auxiliary members can offer support

They're similar to American Legion Auxiliary members in how they make sure veterans and their families are taken care of. They offer a listening ear, and sometimes, a shoulder to cry on. They're often unsung heroes.

Accredited American Legion service officers are specially trained to provide expert assistance, free of charge, to veterans and their families. While the majority of a service officer's work involves application for VA disability benefits, these compassionate professionals also provide information, referrals, and resources on education, employment and business, death benefits, and other important topics.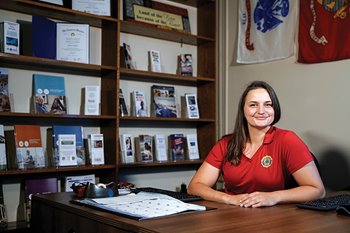 "I primarily deal with disability and compensation claims — getting people in the VA," said Courtney VanZanten, Department Service Officer (DSO) for South Dakota. "Some of the more common benefits I help with outside of that include pension claims, some educational benefits, home loans, certificates, that sort of thing."

VanZanten, 38, is a U.S. Air Force veteran and dual member of Post/Unit 136 in Chester, S.D. Twice a year, she and other accredited service officers receive training to learn about changes in the benefits landscape, legal or medical, by attending American Legion Department Service Officer School in the first quarter in Washington, D.C., and in the summer in Indianapolis.

"You see new service officers and seasoned service officers at both courses every time just because the VA is constantly changing and evolving," VanZanten said. "There's always new case law to learn. There's never any sitting on your laurels in this job. If you are, you're not doing it right."

VanZanten said each state differs in how service officers are seen, and some American Legion posts may have certified post service officers.

"To do what I do, you have to be accredited," she said. "To do the paperwork for a veteran, you have to be able to utilize the power of attorney and help a veteran with that paperwork. If you don't, you could get yourself into a lot of trouble. Post service officers, the best thing they could know, is to have good knowledge of the programs available and where to find those benefits for people.

VanZanten offers an example:

"I know there is a widower's pension available for people whose spouses served during wartime periods, and Shirley's getting ready to go to a home. Let's go talk to her daughter and make sure they go over to the VSO and get signed up. While we're at it, since it's going to be a yearlong waiting list to get into the home, let's go talk to this program to get the water and heat bills frozen at last year's rate. There are different programs involved at all different levels to help veterans and their families. So if you can identify all of those programs and know where to point people in the right direction, that's where I think service officers at the post level can be a major contributor to helping their veterans."

But not everything in a DSO's job involves administrative tasks and paperwork.

"People don't come into my office happy," VanZanten said. "Generally speaking, they are battling things like addiction, or maybe they've lost a job and they're trying to figure out what they're going to do for health care now, or sometimes they've lost a spouse and they're trying to figure out how to pay for a funeral, or they've gotten a recent cancer diagnosis.

"I try to make it so they're leaving my office happier, but I'm not an office that people walk into with a smile on their face," VanZanten continued. "It's helping people understand that they're not alone in the battles they're facing. Being a female veteran service officer, I do see a fair amount of female veterans, so I've seen a lot of military sexual trauma cases, and they're hard to listen to. I mean, it's hard. I think some of those cases are the most eye-opening to me. But they're the most rewarding ones too when they come back.

American Legion Auxiliary members can help service officers.

"There's a veteran service officer in every county," VanZanten said. "It probably wouldn't hurt to reach out. Call and ask that county veteran service officer if there is anything your local unit can do to help, or if anything pops up that you would be willing to help with."

There's another important element for ALA members in assisting service officers, VanZanten said.

"The best thing any veteran can do for another veteran is to bring them to an accredited service officer, and I would say that for any Auxiliary member as well," she said. "One of the biggest VA benefits I see underutilized is the widow's pension. Women tend to outlive their husbands. They just don't know what they are entitled to. Make sure the spouses are going to those service officers. Be on the lookout in your Auxiliary unit not just for veterans, but for spouses too."

Find a service officer in your area: Legion.org/serviceofficers