When one hears the words "natural disaster," they often think of tornados, wildfires, hurricanes, or even earthquakes, and they would not be wrong. However, it doesn't take massive events like these to wreak havoc on one's life. Sometimes it can be something as simple as a severe thunderstorm, when all of a sudden, it feels like your life is falling apart.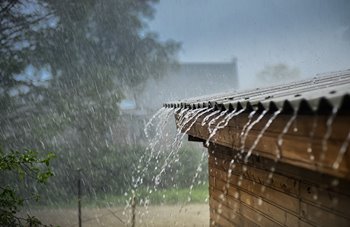 Karen G., an American Legion Auxiliary member from Kentucky, learned this the hard way. A severe thunderstorm damaged her roof, which lead to leaking, which led to extensive internal damage to her home and making it unlivable. Karen did her best to handle the situation on her own, but in the end, it became too much.

"I was at my wits' end," she said. "No other organization could or would help."

Thankfully, one of Karen's friends told her about the Auxiliary Emergency Fund and encouraged her to apply. In less than two weeks, Karen's application was approved, and she was awarded a grant. She could then rest easy knowing help was on the way.

"It has allowed me to do the much-needed repairs and to get everything fixed and livable again," she said. "I am so grateful and thankful for the ALA and the [Auxiliary Emergency Fund]. They helped me when I needed it the most."

Members helping members is a hallmark of the Auxiliary's legacy, holding true for decades. Supporting the AEF through donations and encouraging each other to apply when they need to are some of the most prominent ways that members look out for one another. By doing this, they are making sure no Auxiliary member is alone when faced with a crisis. This time-honored tradition has helped countless Auxiliary members, just like Karen.

"The people close to me were shocked that an organization in this day and time would help. They were so happy the ALA helped me," she said. "[Without the AEF grant], I would have given up and not been able to make the home livable again. I was so tired, and without the grant, the repairs would have never been possible."

The impact her fellow Auxiliary members had on Karen's life through this grant cannot be measured, but it helped her get back to her regular life.

"The Emergency Fund helps members to bridge the financial gap so they can get back to their normal after a disaster," she said.

"Your donation is put to the highest possible good, and the money is there when members need it the most," she continued. "So many people want to make a difference in the world and just don't know how to do so, but giving to the AEF can be the difference."

You can help Auxiliary members like Karen when they are facing a disaster. Click here to donate to the AEF and provide grants for ALA members in crisis. Or, if you or someone you know is facing a financial or natural disaster, click here to apply for an AEF grant and get the help you need. Just as Karen said, your support will be put to the highest possible good.