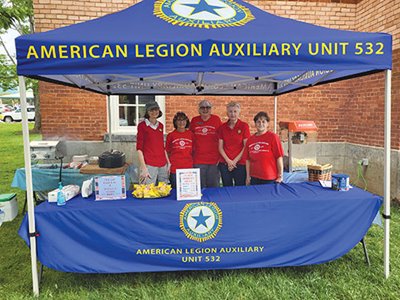 When the American Legion Auxiliary Foundation granted the first Mission in Action grant, the year was 2018: Meghan Markle married Prince Harry, Sears filed for bankruptcy, and the world saw a rare "super blue blood moon" for the first time since 1866. Did the super blue blood moon appear in celebration of this new American Legion Auxiliary Foundation granting initiative? The jury is still out.

The American Legion Auxiliary Foundation had been operating for 11 years at that point and was financially secure enough to add a third granting opportunity for ALA units, districts, and departments. Mission in Action grants were awarded to address a specific ALA branding need that would help members with mission delivery and be recognizable in their communities. An example of this grant comes from ALA Foundation Secretary Anne Parker, whose Department of South Carolina received branded storage tubs and a pull-up banner that included bullet points highlighting the ALA mission. The department continues to use the branded materials when their members travel to department conventions and conferences.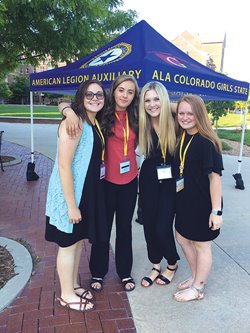 Additionally, the Mission in Action grants have been utilized by several ALA Girls State programs.

"A number of department ALA Girls State programs have taken advantage of the Mission in Action grants," said ALA Foundation Vice President Diane Duscheck. "The question that plagues many ALA Girls State delegates and their parents is 'Who is the sponsor of Girls State?' With the help of Mission in Action grants, departments have branded their ALA Girls State registration areas and sessions with pop-up tents, table covers, and banners proclaiming that Girls State is a program of the department American Legion Auxiliary, providing recognition for the organization."

Since 2018, the American Legion Auxiliary Foundation has awarded 57 Mission in Action grants totaling $98,678.86. All of the grant recipients to date:
Alaska Unit 1
California Unit 348
California Unit 46
California Unit 507
Connecticut Unit 104
Department of Colorado
Department of Connecticut
Department of Illinois
Department of Kansas
Department of Massachusetts
Department of Missouri
Department of Nebraska
Department of New York
Department of North Dakota
Department of Pennsylvania
Department of South Carolina
Department of Utah
Department of Vermont
Department of Virginia
Department of Wisconsin
Department of Wyoming
District of Columbia Unit 8
Florida Unit 259
Georgia Unit 14
Georgia Unit 239
Illinois Unit 2
Illinois Unit 96
Indiana Unit 148
Indiana Unit 18
Indiana Unit 200
Indiana Unit 331
Kansas District 5
Kansas Unit 136
Maine Unit 81
Minnesota Unit 260
Mississippi Unit 6
Mississippi Unit 79
Missouri Unit 77
Nevada Unit 60
New Hampshire Unit 16
New York Unit 1038
New York Unit 137
New York Unit 1720
New York Unit 294
New York Unit 535
North Carolina Unit 532
Ohio Unit 214
Oklahoma Unit 58
South Carolina Unit 166
South Carolina Unit 193
Tennessee Unit 281
Texas Unit 437
Virginia Unit 77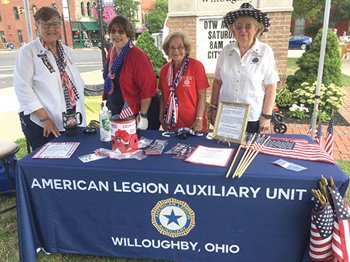 The American Legion Auxiliary Foundation Board of Directors thanks all units, districts, and departments that applied for a Mission in Action grant. Thank you for making branding and more prominent mission delivery a priority for your ALA entity.
"The American Legion Auxiliary Foundation is changing to better serve the units and departments of the American Legion Auxiliary," said ALA Foundation President Cathe MacInnes. "Mission in Action grants were established to assist units and departments with increasing brand awareness — one of the five goals in the American Legion Auxiliary's 5-Year Centennial Strategic Plan. That plan was completed in 2019. With the COVID-19 pandemic causing units and departments to cease meetings, there were few applications for Mission in Action grants. As the pandemic waned, units were eager to reopen, reintroduce themselves to their communities, and restart their programs of hands-on service. Many applied for and received Mission in Action grants, letting their communities know the American Legion Auxiliary is continuing to serve America's veterans.
"The current American Legion Auxiliary strategic plan emphasizes mission engagement and delivery," MacInnes continued. "In keeping with its mission of raising funds for, assisting in conduct of, and providing support to the American Legion Auxiliary programs, the American Legion Auxiliary Foundation is developing a new grant type specifically targeting providing support to ALA programs."
The American Legion Auxiliary Foundation will continue to offer
Veteran Projects Fund grants
,
Veterans Creative Arts Festival grants
, and
sub-granting
opportunities while a new granting initiative to take the place of Mission in Action grants is developed. To learn more about the granting opportunities available, please visit
www.ALAFoundation.org/grants
. Thank you for all that you do to ensure the ALA's mission of service endures for generations to come.