In November 2022, ALA Unit 15 in Sioux Falls, S.D., presented the Veterans Community Project (VCP) with a check of more than $14,000 for the Sioux Falls VCP Village housing project. Raised via a golf tournament organized by the unit, the funds are being used to supply needed items for a specialized community of 25 tiny homes with on-site, wraparound support services designed to equip homeless veterans with the tools needed to return to a stable, prosperous, and independent life.

Auxiliary magazine spoke with Susan Panning, the 2022 ALA unit president, regarding the project's success.

Tell us about the importance of the Veterans Community Project in your community and how ALA Unit 15 became involved.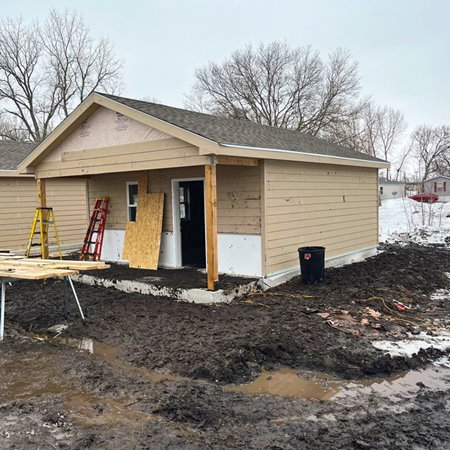 Currently, there may be over 120 homeless veterans living on the streets of Sioux Falls. The Veterans Community Project is a 501(c)(3) organization founded by a group of combat veterans in Kansas City, Missouri, frustrated by the rampant homelessness within the veteran community. The VCP Village will be a specialized community of 25 tiny homes consisting of two styles — five family-style homes to house up to seven people — and 20 homes that will house one to two people.

Veterans will be allowed to have service animals. Each resident will have a case manager assigned, and these case managers will help ensure their success in temporary housing and into a more sustainable housing opportunity. VCP's specially trained team will address the underlying causes of his or her homelessness. Veterans Community Project will accept all veterans in need, regardless of status, and they are dedicated to supporting every man and woman who took the oath for our country.

Using the success of their original project in Kansas City as a blueprint, VCP is expanding its program to additional cities, starting with Longmont, Colorado; St. Louis, Missouri; Oklahoma City, Oklahoma, and here in Sioux Falls, South Dakota.

On June 30, 2022, the VCP in Sioux Falls broke ground. When I heard about this amazing proposal to help homeless veterans in Sioux Falls, I made it one of my goals as unit president to get my unit involved.

How has your unit served this mission so far?
VCP has had a rough start due to weather, but they have five homes that are being worked on. They had hoped to have the homes completed and homeless veterans moved in by last December, but the early snow and our constant snowfall this year has hampered that. The 2 acres of land which Sioux Falls donated needed to be cleaned up, trees cut down, roads built, as well as water, sewer, and electricity installed. Some of the members of our unit, along with some members of a local youth group, volunteered to clean up the trash, cut the grass, and pick up sticks and wood that had been cut. One of our area high school shop classes was enlisted to do the framing of the homes. Another company moved them to the site after a cement slab had been placed. Volunteers from the community and our unit will paint or help in any way we are able. One of our members donated a lot of fabric. Then several of our Unit 15 members who belong to their church quilting group made several quilts that will be placed in the homes.

Tell us about your fundraising activities for this project.
At first, I remodeled a milk carton that we placed at local functions to obtain some donations. Later, our unit VA&R chairperson designed an actual tiny home which we placed around businesses in Sioux Falls to gather donations. Next, three of our Unit 15 members — Kasey Jacobson, Karen Dunham, and Deb Metzger — really got serious and planned the golf tournament.

Tell us about the golf tournament your unit organized.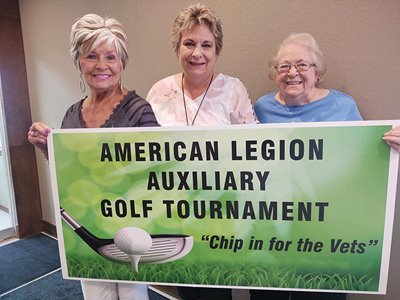 On Aug. 16, 2022, our unit held the first American Legion Auxiliary Chip In For Vets Golf Tournament. 120 people made up 30 teams of four. We had various sponsorships for this tournament at each hole. In addition, we gathered door prizes and also put together swag bags for each participant. We charged an entry fee per person for the tournament, which included coffee, rolls, golfing, carts, and box lunches. There were also opportunities to win prizes and raffles. VCP hosted a hole so they could tell golfers about the tiny home project in Sioux Falls and hand out information. After expenses, this tournament raised $14,600.

How will the funds be used?
With the funds we have raised and will continue to raise, our Auxiliary project will help furnish the tiny homes with kitchen appliances, utensils, linens, flags, and flag holders for each home. After each veteran has gotten established and able to move on to their own apartment, the veteran will be able to take all personal property with them, so this will be an ongoing project for us to resupply these items.

Next year when the community center will be built, I am hoping we will be able to purchase computers and also help with furnishing anything necessary there. Our unit has been asked to provide flags and holders for each home, and we will be working on providing a flagpole and flag to be placed by the community center next year. We are already planning for the 2nd Annual American Legion Auxiliary "Chip in for Vets" Golf Tournament that will be held Aug. 16, 2023.