The ALA Stories blog series showcases positive American Legion Auxiliary experiences, thoughts, and ideas of ALA members. We hope these blog posts will inspire and encourage all who read them.
American Legion Auxiliary member Ellen Nathan doesn't dwell on the differences between herself and her fellow ALA members at her unit in Southern Utah. Instead, they all focus on the thing they have in common — the desire to support our nation's veterans, military, and their families.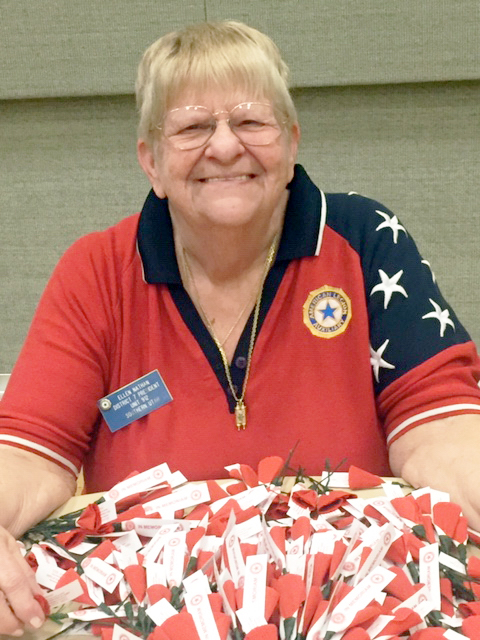 ALA member Ellen Nathan of Unit 912 in Washington City, Utah, sits in front of a bunch of ALA red crepe paper poppies.
Nathan, a member of ALA Unit 912 in Washington City, Utah, is Jewish. The other nine people in Unit 912 are members of the Church of Jesus Christ of Latter-day Saints. But that difference doesn't keep them from working together, Nathan said. She added that her fellow ALA members make her feel more than welcome.
"I feel very at home with them. I feel like they're family. We treat each other that way. They all know I'm Jewish, and nobody has an issue with that. We're all about what we, as a unit, want to do in our community," Nathan said.
In addition to working as part of Unit 912 to fulfill the Auxiliary's mission, Nathan has taken on numerous leadership positions throughout the years, at the unit and department levels. Her two favorite programs include Poppy and ALA Girls State. She is ALA Girls State chair for her unit and for District 7 in Southern Utah.
"The young women I meet now in our ALA Girls State program are the cream of the crop. They will be in high-level positions someday. I get to interact with these amazing young women. I wouldn't get that opportunity if it were not for the American Legion Auxiliary," Nathan said.
She also serves as Poppy chair of her unit and for the Department of Utah. Nathan is one of many people nationwide who make ALA's red crepe paper poppies, which are distributed in exchange for donations on poppy distribution days. The ALA's poppy distribution days occur year-round, with more emphasis on Memorial Day, Veterans Day, and National Poppy Day® — the Friday before Memorial Day. All of the money collected is used to directly support veterans, active-duty servicemembers, and their families.
"I consider myself a 'professional' volunteer," Nathan added. "Not that I'm retired, and I am healthy, it's my chance to give back to my community. And all the things I do, I know they get back to the veterans here. That's really important to me."
Nathan joined the American Legion Auxiliary in 2009. Her eligibility is through the service of her late husband, U.S. Navy Vietnam War veteran Arnie Nathan, who passed away Feb. 14, 2014. He was a Legionnaire at Post 912 in Washington City.