The ALA Stories blog series showcases positive American Legion Auxiliary experiences, thoughts, and ideas of ALA members. We hope these blog posts will inspire and encourage all who read them.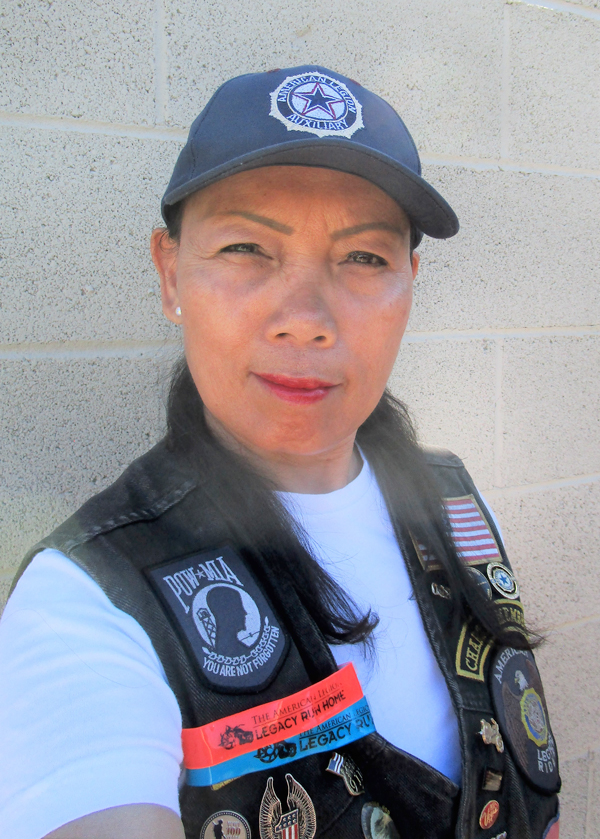 Maria Moss, member of ALA Unit 149, and American Legion Riders – Chapter 149, both in Las Vegas. (photo submitted)
Some people come up empty-handed in the search for their purpose in life. American Legion Auxiliary member Maria Moss is one of the lucky ones. She found her purpose, and a wonderful way to fulfill it, through her membership in the American Legion Auxiliary — a community of volunteers serving veterans, military, and their families.
"I am proud to be an ALA member. Through its programs, the Auxiliary gives me the opportunity to educate myself about how to help veterans, the troops, their families, and my community," said Moss, a Paid Up For Life American Legion Auxiliary member. She belongs to ALA Unit 149 in Las Vegas.
"As a military wife who moved around and lived in many different states and countries, surrounded by many other military families, I saw how these families could use some help from the outside (civilian) world. They deserve our support," she added.
Moss's ALA activities and outreach efforts include volunteering at the U.S. Department of Veterans Affairs clinic in her area, at food drives throughout the year, and at a local Fisher House — comfort homes where military and veterans' families can stay while their loved ones are hospitalized. Fisher Houses are located in military and VA centers around the world, according to Fisher House's website.
Moss is also involved in stand downs, grassroots efforts to offer services to veterans who are homeless or otherwise in need of assistance. Stand downs typically include food, shelter, and clothing offerings, health screenings, benefits counseling, job counseling, and referral services — with the intention of giving veterans in need a hand up, not a handout.
Moss also likes spending time with veterans when her ALA unit hosts bingo games at the State Veterans Home, and when Unit 149 works with Post 149 for the post home's annual "Rock the Troops" poker run.
Along with the opportunity to selflessly serve our military heroes and their families, Moss said she loves what she learned through the ALA's Americanism Program, which encourages respect for our country and its flag. Through the program, Auxiliary members promote patriotism and patriotic activities. "I love those values!" Moss said of the Auxiliary's Americanism Program.
Originally from Indonesia, Moss moved to Germany in 1973 before relocating to the United States decades later and becoming an American citizen. It was in Germany that she met her husband, U.S. Air Force veteran Victor "Doc" Moss — a Paid Up For Life member of American Legion Post 149 in Las Vegas. He served in the Air Force from 1982 to 2002. The couple have been married for 25 years.
Moss has maintained a longstanding commitment to the ALA and the organization's mission of selfless service to veterans, military, and their families. Eligible through the military service of her husband, Moss has been an American Legion Auxiliary member since 2004. She regards her fellow ALA members, and Legionnaires at her post home, as a welcoming family.
---
"We love and respect each other. Each of us shares the same purpose: to take care of, and show appreciation for, our veterans, troops, and military families. Unit 149 is a diverse group. We welcome anyone who is eligible to join and wants to be part of the ALA," said Moss, president of Unit 149.
---
Maria and Victor Moss are also proud members of the American Legion Riders' Chapter 149 in Las Vegas. Legion Riders are well-known for charitable work benefitting noble causes such as local children's hospitals, schools, veterans homes, severely wounded servicemembers, and scholarships.
Editor's Note
The American Legion Auxiliary is a community of volunteers serving veterans, military, and their families. Our mission statement:
In the spirit of Service Not Self, the mission of the American Legion Auxiliary is to support The American Legion and honor the sacrifice of those who serve by enhancing the lives of our veterans, military, and their families, both at home and abroad. For God and country, we advocate for veterans, educate our citizens, mentor youth, and promote patriotism, good citizenship, peace, and security.
Interested in becoming an American Legion Auxiliary member or volunteer? To learn more, visit www.ALAforVeterans.org or contact an American Legion Auxiliary unit near you.