The American Legion Auxiliary's prestigious Public Spirit Award recognizes outstanding individuals and organizations for contributions that positively impact communities through service to our military, veterans, and their families.

Every year, we celebrate those who make a difference through a creative body of work or even a single generous act. Previous recipients have included U.S. presidents and government officials, as well as regular citizens who saw a need and acted.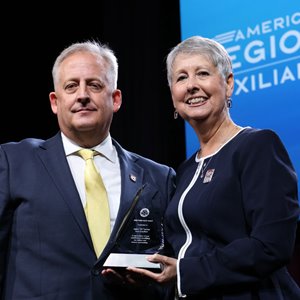 Vickie Koutz, 2022-2023 ALA national president, chose Team Long Road to be the recipient of this year's Public Spirit Award.

To accept on behalf of Team Long Road was Justin "JD" LeHew. Other members of the group include fellow U.S. Marine Corps veterans Coleman "Rocky" Kinzer and Ray Shinohara.

"Being in front of the American Legion Auxiliary is one of the greatest honors of my life," he said to members and guests attending the ALA's 102nd National Convention general session Monday.

On June 6, 2022, the anniversary of D-Day, the three highly decorated retired Marines started out on a hike on U.S. Highway 20. This was no ordinary hike. The voyage would take these men from Boston — through 12 states and 3,365 miles — to the final stop on our nation's west coast: Newport, Ore.

The "why" is even more impressive — to bring awareness to Prisoners of War and Missing in Action, and to emphasize the importance of continuing search efforts. These men served our country, and now that they're retired from service, they continue to serve by working to make sure all who served are returned home.

"We wanted pain, we wanted sacrifice," LeHew said from the convention stage about the many miles they walked and the heavy backpacks they carried.

Their journey began via the USS Constitution in Boston to U.S. Highway 20. The decision to walk that highway was significant for several reasons. The highway is known as America's longest road, which relates to the long road to bring our POW/MIAs home, the War in Afghanistan and Iraq is America's longest war and began 20 years ago, portions of the road are known as the POW/MIA Highway, and it's designated as the Medal of Honor Highway.

In November, 2022-2023 ALA National President Vickie Koutz and American Legion National Security Director Mario Marquez, who served in the Marines with LeHew and Kinzer, spent some time with Team Long Road as they were walking in Oregon. Like the trio, Koutz is raising awareness for POW/MIAs.

"Making this her focus — that was a positive step in the right direction," LeHew said. "We will never stop looking for them. Thank you, Madam President, from the bottom of my heart for making this your focus."

Funds raised from Team Long Road are supporting the mission of History Flight, a 501(c)(3) nonprofit organization based in Fredericksburg, Va., that assists the DPAA in the search for missing military personnel.LeHew and Kinzer both work for History Flight. LeHew is chief operating officer, and Kinzer is operation manager and team leader. Kinzer conducts operations in both the European and Pacific theaters of operation.

In the afternoon, LeHew held a Q&A session for members who wanted to ask direct questions about Team Long Road, DPAA, and more related topics. When did tennis shoes need replacing during the six-month walk? "Around every 300 to 400 miles," LeHew said.

Please congratulate this year's Public Spirit Award winner, Team Long Road! To see a list of previous award recipients, visit www.ALAforVeterans.org/Public-Spirit-Award.