Has collecting dues become a snooze? Has getting membership renewals and rejoins become a chore that's a bore?

It doesn't have to be that way. Yes, these are important tasks. Yes, responsible behavior is required. But that doesn't mean these activities can't be fun. Nor do these tasks have to be a one-person activity.

Shake things up a bit. Make membership activities a fun project that can be done along with others in your unit. In addition to having a good time while doing something positive for the unit, you may also boost your chances of meeting your membership goals. There would be additional people, with varying approaches, making the calls to remind members about dues payments and renewals, and encouraging former members to rejoin. Changing things up in this way can be just what's needed to get more people paying their dues and renewing or resuming their ALA membership.

"Your unit can have a membership chairman. But why not set up a membership team and invite other unit members to be part of the team?" said Shirley Frederick, ALA national Membership Committee Northwestern Division chair.

Need some ideas on how to make membership activities fun? How about some good-natured competition to liven up things and increase the chances of getting positive results? Frederick offers an example.

"Make a list of unpaid members — the ones who have not paid for at least the past two years — and a list of those who are eligible but have not joined. Ask members to volunteer to help with one of the two lists. See if you can get several members for each list. Thank and celebrate everyone who participates. We all have a part to play, and we should all be recognized for the work we do," Frederick said.

Another competitive twist to membership activities is to have your fellow unit members put up ALA posters in various public places, where permitted. The posters should include membership eligibility criteria, a local contact name and phone number or email for someone interested in talking about the ALA, plus a website address where more information about the Auxiliary can be found.

The competition comes into play when you set fun rules. For example: The person whose posters are mentioned by three new members by a certain date wins the competition. You can offer a small prize or trophy. Or the winner simply gets bragging rights — all in good-natured fun.

Be creative. Find ways to make these important tasks enjoyable and involve others in your unit. Try something new. If it doesn't work or no one is interested in participating, ditch that idea and come up with something else. Maybe you can seek ideas and input from others in your unit who are interested in membership matters. You might be pleasantly surprised by the results when you add a little fun, involve others in the membership activities, and shake things up a bit.

MORE MEMBERSHIP SUGGESTIONS
Signing up new members is a must for the American Legion Auxiliary, The American Legion, and Sons of The American Legion. It's a wise idea for Legionnaires, Sons, and Auxiliary members to recruit for one another, as well as the organizations to which each person belongs. There is strength in numbers, and this can be an opportunity to involve others in your post home's unit, post, and squadron. Growing the Legion Family will continue to be a priority in the years ahead. The good news is that recruiting for the entire Legion Family is not difficult.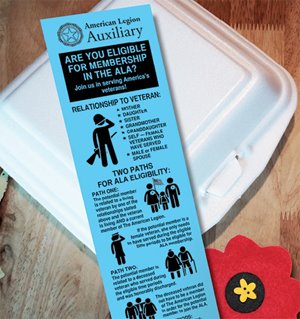 NEW ALA RECRUITING FLYER FOR UNITS!
Does your ALA unit host a regular carry-out dinner night, or does your post home provide food for carry-out?

Consider adding these flyers to the takeout boxes! They're convenient, fillable PDFs with an efficient 3-up design for easy printing on a home computer. You can also take them to your local print shop so you'll always have extras on hand.

Start today:
1) Go to the My Auxiliary member portal at https://member.legion-aux.org/member/resources/flyer-templates.
2) Download the PDF.
3) Click onto the fillable field at the bottom of the flyer to type in a unit contact person's name, phone, or email address.
4) Print on color paper (we suggest blue), and cut in thirds.
5) Take a flyer to each takeout box.