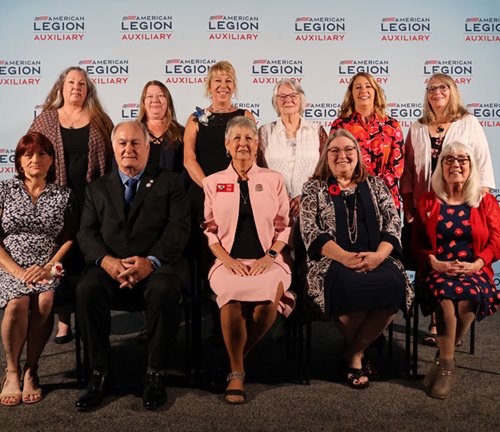 ​The ALA Unit Member of the Year Award recognizes those serving at the unit level who exemplify the values and ideals of the Auxiliary and whose accomplishments significantly impact the program work in their units.

"These individuals have consistently demonstrated their dedication to our mission," said Vickie Koutz, 2022-2023 ALA national president. "Through their selfless actions, they invest their time, resources, and unwavering effort to benefit others."

Unit Member of the Year recipients were recognized at the American Legion Auxiliary luncheon at the ALA's 102nd National Convention in Charlotte, N.C.

"I actually was surprised," said Richard Gano of Kentucky when he found out he was named Unit Member of the Year for his state. "I'm not usually out in front — I'm back behind — but it's nice to be recognized. It was a surprise, but it's an honor."

North Carolina UMOY winner Patricia Sloan was also surprised by the recognition.

"The fact I was recognized — I'm honored," she said. "I can't put feelings into words right now."

ALA states are proud to honor this year's 2023 ALA Unit Member of the Year recipients for going above and beyond when it comes to serving our nation's veterans, military, and their families:

Alaska: Donna L. Brockschmidt; Arizona: Alice Gilles; Arkansas: Johnna McClain; California: Diana Reymundo; Colorado: Jill Caldwell; Connecticut: Tracy Garrigus; Delaware: Robin Airey; Florida: Linda Bowers; Georgia: Lindsey Coats; Hawaii: Toni Difante; Idaho: Kathy Barrow; Illinois: Mary Ann Mountain; Indiana: Candice Carter; Iowa: Patricia Flynn; Kansas: Gleneva Winn; Kentucky: Richard Gano; Louisiana: Colinda Renee Hantz; Maine: Lauren Curtis; Maryland: Steffanie Taylor; Massachusetts: Marguerite Duncan; Michigan: Myrna Puse; Minnesota: Bonnie Luedloff; Mississippi: Ashley Curtis; Missouri: Debbie Alderson; Montana: Jane Jackson; Nebraska: Cindy Moore; New Hampshire: Angela Boyle; New Jersey: Geraldine Fisher; New Mexico: Diana Raines; New York: Valerie Mecabe; North Carolina: Patricia Sloan; North Dakota: Ruth A. Quam; Ohio: Sammie Cordial; Oklahoma: Beth Myers; Pennsylvania: Lisa Sebolka; Rhode Island: Amy Gill; South Carolina: Edith Blas; South Dakota: Joann Muller; Tennessee: Nicole Hartsfield; Texas: Kay DeFoor; Vermont: Darlene Graves-Cumm; Virginia: Jayne Ramirez; Wisconsin: Cathy Wilbur; Wyoming: Kathleen G. Ebert. (Note: Not all American Legion Auxiliary states submitted names for this award.)

"Grassroots members are the cornerstone of our organization," Koutz said at the luncheon honoring award recipients. "As we look to the next century of service, my hope is that it will be filled with contributions from members just like today's honorees."

ALA Unit Member of the Year award criteria and selection process
Nominees must be an adult American Legion Auxiliary unit member not in an elected or appointed leadership role higher than unit president.
A narrative of 1,000 words or less describing the nominee's accomplishments and activities must be submitted by a unit to its department (state) Leadership Committee chairman.
Each department selects one Unit Member of the Year from its submitted candidates.
Selection of the winner is at the discretion of the department Leadership chairman.
Recognition of the winners occurs at the American Legion Auxiliary's National Convention. The application deadline is June 1 of each calendar year.
Download the award application
here.
By Sara Fowler, Staff Writer