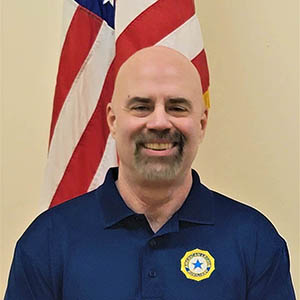 ALA member and Legionnaire Jeffrey K. Crouser
An ALA Stories blog
The ALA Stories blog series showcases positive American Legion Auxiliary experiences, thoughts, and ideas of ALA members. We hope these blog posts will inspire and encourage all who read them.
When U.S. Air Force veteran Jeffrey K. Crouser decides to do something, he doesn't do it halfway. The American Legion member decided to transfer his membership to Post 3 in Milford, Del., in 2018 to help save the post that was close to turning in its charter due to major membership decreases. The effort was a success. After 18 months, Post 3 membership went from 52 and falling to 99 and climbing.
But that wasn't enough for Crouser and many of his fellow Legionnaires at Post 3.
"We decided that being an individual post — without an American Legion Auxiliary unit, without a Sons of The American Legion squadron, without an American Legion Riders chapter — we just weren't complete without the whole Legion Family there, working together on goals toward success," Crouser said. "You can't be a family if there's just one of you."
Expanding the post to include a unit, squadron, and chapter could not immediately be done because Post 3 didn't have a home to call its own. Members were given permission to use a location that belonged to another organization. Crouser and his fellow Legionnaires found Post 3 its own space.
"We opened our post home June 1, 2020, and immediately started — with assistance from leaders at ALA Department and Sons Detachment of Delaware — to form our post home's unit, squadron, and chapter," Crouser said.
He led a successful effort to get Unit 3 in Milford chartered in October 2020 and Squadron 3 chartered later that month. In addition to being a charter member, Crouser was elected as the unit's first president later that month. His ALA membership eligibility is through the military service of his wife, Rebecca — an Air Force veteran, Legionnaire, and ALA member.
"I joined the Sons to honor the service of my father, and the Legion through my service. My Auxiliary membership honors my wife's service. She is a combat vet with three tours in the desert, and I'm so proud of her," Crouser said.
Honoring the service of his loved ones, and his belief in the ALA's mission of delivering selfless service to veterans, military, and their families, motivates Crouser to go that extra mile when it comes to the Legion Family. In his mind, it wasn't enough just to get Unit 3 chartered; the membership needed to grow.
He and others worked hard to exceed Unit 3's membership goal for the current administrative year. The goal, set by the ALA Department of Delaware, was 35. As of Dec. 31, Unit 3 has 70 members. Of that, 59 are new members and 11 are transfers from other units.
Membership growth has also been evident in Legion Post 3 and Sons Squadron 3, Crouser added. With a goal of 199 Legionnaires by June 2021, Post 3 membership rose to 310 as of Dec. 31. Squadron 3's goal to reach by June 2021 is 35. As of Dec. 31, the squadron has 37 members. One of those Squadron 3 members is Crouser's adult son, Daniel, who has belonged to the Sons for 21 years.
So, what's the secret to this post home's success? One thing is to recruit for the entire American Legion Family. If someone signs up for the ALA, Legion, Sons, or Riders, ask questions to see if the new member has a relative who may be eligible to join any part of the Legion Family. Be careful not to pressure or pester the new member about this.
Another successful tactic Crouser points to is a tried-and-true method: Get the word out about our Legion organizations and what we do. Social media and traditional media outlets — newspapers, magazines, local TV news, community newsletters, etc. — are great ways to do that, Crouser said. And sometimes, that means aiming for internal audiences (members) as well as external ones (the general public).
"We have a very active media communications team. We are involved in the social media, email communications with all of our members, email blasts, articles in the paper. These days, most newsprint professionals are begging for content. If you send them some information on a feel-good project, they'll print it for you free of charge. Best advertising in the world," Crouser explained.
Even with all of these positive things in motion, Crouser is not finished setting up the Post 3 Legion Family for success. He is already mentoring a potential future leader of Unit 3, sharing his know-how and the basic information essential for effectively running the unit and fulfilling the ALA's mission of service to veterans, military, and their families.
Learn more about
The American Legion Family.
Jeffrey K. Crouser also serves as The American Legion Department of Delaware's alternate National Executive Committeeman. He is also a member of the Legion's National Media Communications Commission. Crouser's local Legion Family memberships include American Legion Riders Chapter 3 in Milford, Del.