History was made in 2019 when The American Legion voted to extend membership in the American Legion Auxiliary to male spouses of U.S. veterans and servicemembers. Legion delegates voted to replace the word "wife" with "spouse" in their constitution and bylaws, opening up membership in the American Legion Auxiliary.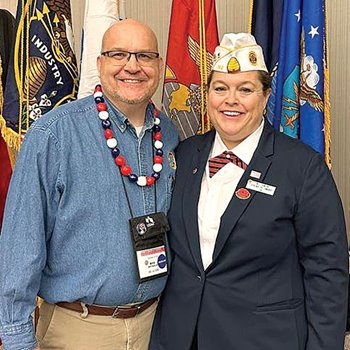 A few years later, history was made once again when the ALA Department of Utah elected its first male ALA member as 2023-2024 department president. Mike Rasmuson is the first male ALA member in the nation to hold the office of president at the state level.

How did you feel when you found out you were eligible to become a member of the Auxiliary through your wife's service?
I went to a couple meetings, and it felt really kind of good because it was something I could share with my wife. After those meetings, I joined but didn't do much with it until I got a phone call.

How did you get involved with the ALA as more than a card-carrying member?
In 2020, my wife was going to be out of town a lot. We had a mutual friend who was department president at the time. She called me, asking what I was going to do while my wife was away and if I had considered being in leadership in the ALA. I said I would be willing to learn. One phone call made all the difference to me in learning and participating. At that point, I learned from the top down what the ALA is. It wasn't my wife who tried to drag me in — someone else explained to me there is a need for leadership and that I could make a difference in serving. I've had some good mentors.

Do you feel welcome among fellow Auxiliary members in your unit and department?
It's been overwhelmingly positive. I do take the position and what I do very seriously. I went to National Convention in Phoenix two years ago and some of these chairs said, "OK, ladies" and I said, "And men." I'm assertive but friendly.

I am very humble to represent the Department of Utah. I've gotten an overwhelming response of volunteers who have stepped forward in our state because I asked. I go back to that one phone call — whatever time you have is enough.

What are some of the goals you'd like the department to achieve this year?
The Auxiliary Emergency Fund is my president's project this year. I'd like all members in our department to do a little more in our communities with the understanding that whatever you do is enough. We celebrate what we do.

Any advice for other male ALA members who may not be in leadership positions yet?
Get involved in your communities and understand that we can't limit ourselves in what we do. We have to go out and be uncomfortable. Being a male ALA member of a predominantly all-women organization is more than just being a box to check — it's getting your hands dirty. You need to go and do some of the things and understand what the ALA is trying to do and put service before self. Bring energy and ideas. Be humble. Be able to take direction and admit mistakes. And be able to understand the motto, Service Not Self.

Is there anything else you want to add?
The Department of Utah is all about everyone having opportunities. I appreciate the women I work with and respect them. I hope I represent Utah well.