November is National Military Family Appreciation Month

Guest blog by 2021-2022 National Security Committee Chair Diana Sirovina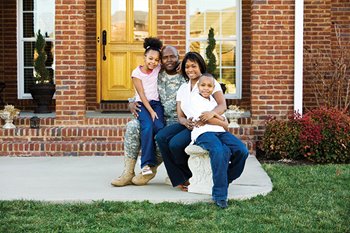 For most of us, November is traditionally the month we have family gatherings and recall all of the things we are thankful for. It's a wonderful time to be together with family and friends and reminisce about good times we had together. But for military families with someone deployed, a holiday can be a very difficult time.

November is also National Military Family Appreciation Month. It's a time to remember how much military families sacrifice when their servicemember is off protecting our freedom. Although we appreciate these families every day, in November we make an extra effort to thank military families for the immense contribution they make to support our military, their mission, and our nation. Military life makes so many demands on them, and they show exceptional courage and strength during these difficult times.

So, what can we, as members of the American Legion Auxiliary, do to show how much we appreciate our military families? What can our members do to get involved in supporting the spouses and children of our servicemembers? Our National Security Committee has the answers to all those questions and more!

Through the ALA National Security Committee, members have the opportunity to provide as much support as we can to make life a little easier for a military family. We need to welcome military families into our local communities, tell them know how much we appreciate them, and let them know The American Legion Family is available to help them. Whether it's babysitting so a parent can go to the store, or helping with projects around the house, we can be there when a military family needs help.

We hear so many times that a military spouse is in a new and strange community and is overwhelmed when the furnace breaks down or the plumbing is leaking, and they have no one to turn to for help. We can be there to help! Our unit members can work together to find local businesses and contractors willing to work with military families and create a list of local resources. If there is a Family Readiness Group nearby, they can distribute the list to them or have copies available at the community center or library.

Members of a local unit's National Security Committee can offer spouse-to-spouse support so that a military wife or husband doesn't feel so alone and stressed with everyday life. Our members can volunteer family-to-family support by having their family participate in local activities together with a military family. Our Junior Auxiliary members can play a vital role in supporting military kids by making sure they are included in activities and introduced to the other kids in their groups.

When we help a service family, they truly become a part of our community and our lives. But as is typical of military life, they soon may be reassigned to another duty station. Although we are sad to see the family leave our community, we can help them one last time by contacting a Legion post and Auxiliary unit in the area where they will be stationed next. This could help make the transition to a new home easier for them.

There is no one who can take the place of a deployed servicemember, but we can offer kindness and understanding and be there when a lonely spouse or child needs someone to talk to. The ways to help a military family are endless. We only need to put ourselves in their place for a moment and do whatever it takes to make sure our military families know they are not alone and are truly appreciated for the strength, resilience, and courage they show us every day.