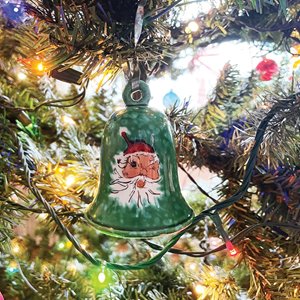 The holiday season is right around the corner, and it's important to show veterans extra love and appreciation during these cold winter months. This time of year can be especially hard on veterans who may not have family close by, or it's difficult for family and friends to visit due to veterans being in an assisted living facility or hospital. It's our duty as American Legion Auxiliary members to answer the call of Service Not Self, and help our isolated veterans feel loved and valued this holiday season.

There are so many ways to engage with veterans who may be alone during the holidays. Gather members of your ALA unit and help the veterans in your community feel appreciated.


For homebound veterans
Bring them homemade goodies and snacks.
Make a casserole each week, and drop it off at their home.
Bring over crafts, crossword puzzles, Sudoku worksheets, magazines, books, etc., to keep them busy during the long winter.
Write them thoughtful cards explaining how grateful you are for them, and thank them for their service.
Gift them a stocking stuffer for Christmas filled with things they enjoy or need.
Bring them hats, gloves, scarves, warm socks, throw blankets, etc.
Give them streamers for New Year's and a new calendar.
Organize a meal train.
Pick up their groceries or send groceries through Instacart.
Help with any errands they may have.
Focus on conversation and companionship.
Lend a helping hand in any way you can.
For veterans in assisted living facilities
Contact a local facility to see what items are allowed inside — it won't be the case for every location — but at least asking will give an idea of what's allowed and what kind of things would really benefit veterans during those harder months.
Send a care package that includes the items that are allowed. A few popular examples are playing cards, puzzle books, journals, pens, lip balm, fuzzy socks, a knitted scarf, specialty teas, a handmade drawing, a handmade card, an appreciative letter, etc.
Try visiting a veteran once a week.
Play cards with them.
Do something creative together like painting or drawing.
Be a listening ear with a thankful heart.
For VA residential home or hospitalized veterans
Work with your local U.S. Department of Veterans Affairs residential home or VA medical center to see how you can help veterans staying there. Ask the VA what you can bring to benefit veterans living there.
Depending on their protocols, try visiting once a week.
Ask ALA Junior members to draw pictures and bring the artwork to veterans at the VA.
Give them a thank-you card, and Christmas and New Year's Day cards.
Bring them magazines from The American Legion and American Legion Auxiliary.
Gift them puzzles and books for entertainment. Keep them company.
Show them kindness and compassion. You may be the only person visiting them during the holidays, so make a positive impact.