Kansas District 2 Auxiliary President Kristen Hensley never liked the idea of a president's project because she felt it gave credit to only one person when so many work so hard to achieve a goal. So when her term began, she approached the district American Legion and Sons of The American Legion commanders with the idea of a Legion Family district project instead of a president's project. Everyone could all take ownership and raise funds for a project that was mission focused for the entire Legion Family.

"I am a firm believer that we celebrate the differences between the groups and leverage those differences in order to achieve amazing results working on the common missions we all have," Hensley said. "The focus on the whole Family did amazing things!"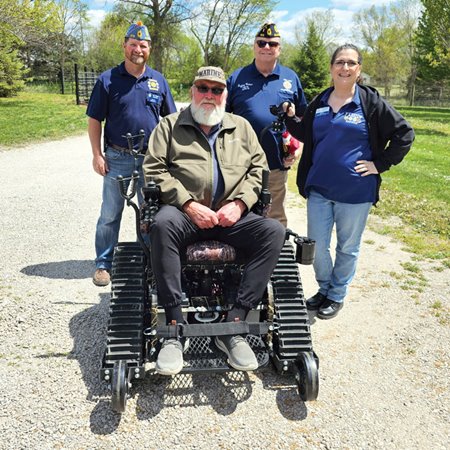 Hensley's idea was to raise funds to purchase a custom fit all-terrain wheelchair for a local veteran and would not only allow them mobility across different terrains, but to potentially benefit their mental health as well. Hensley shared that while the U.S. Department of Veterans Affairs provides wheelchairs and walkers, nothing can get them out in the outdoors (beyond the pavement).

To find a veteran in need of the all-terrain chair, district members approached Friends in Service of Heroes (FISH), a local organization focused on improving the quality of life for troops, veterans, and their families in the Greater Kansas City area. FISH helped the members find and select a Vietnam veteran who lived in the district in need of a chair, and helped them get in touch with the owners of the all-terrain wheelchair company Action Trackchair. Hensley said the selected veteran lived on a farm with 33 acres and enjoyed morel mushroom hunting but hadn't been able to explore beyond paved surfaces for the last couple of years.

The cost of the all-terrain wheelchair was $23,000, so Hensley knew it was going to be a huge lift for a district-level project.

"In previous years, we were lucky to raise $2,000 in a year for a district president's project," she said. "It was amazing to see the Legion, Sons, Auxiliary, and Riders join together with creative events to fundraise."

Hensley said the entire district Family got involved to raise funds and get the word out about the project. In addition to collecting contributions from local businesses, Legion Family members hosted game nights, fundraising dinners and scavenger hunts, held raffles, and found other creative ways to raise the needed funds. Their combined efforts resulted in the district raising $26,000 in just seven months, which exceeded their fundraising goal by $3,000. In addition to uniting around a common fundraising goal, Hensley said the project also helped build bridges between members in the district.

Earlier this year, Hensley, along with District 2 Commander Jeff Winters and District 2 Sons Commander Matthew Krupco, were able to present the chair to the local veteran. The veteran was beyond appreciative and shared that no one had ever done anything like that for him. A video about the project and presentation was shown at the local Armed Forces Day at the Wyandotte County Fairgrounds during an event hosted by FISH.