Show your love and appreciation for our nation's veterans and servicemembers by making handmade cards this Valentine's Day — or any day of the year! Homemade personal Valentines are easy to create and leave a lasting impact on the hearts of those who receive them.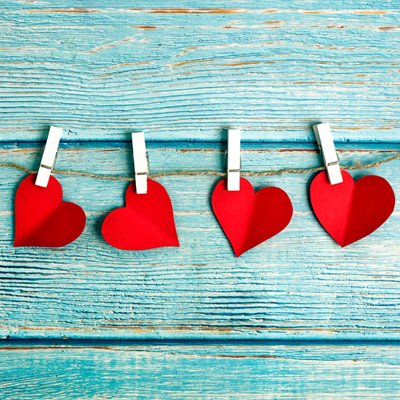 You can create these wonderful works of art in the comfort of your own home, or make it a fun group project for your Auxiliary members to do during your next ALA unit meeting. Ask your Junior members to join in on the fun and help make a card for the special veteran in their life.

Handmade personal Valentine cards
Giving your veteran a card made from scratch shows a caring touch that a store-bought card can't provide. This is an easy and meaningful way to show appreciation and love to the veterans in your life. Gather your ALA unit and make Valentines for the Legionnaires at your post home or veterans at your local U.S. Department of Veterans Affairs medical center.

Things you'll need:
paper or cardboard stock
craft supplies
pens, crayons, markers, colored pencils
addresses of local VA medical center, special veteran(s), and/or loved one currently serving in the military
Write or draw something:
Start with a blank piece of paper and fold it in half like a card, horizontally or vertically. Use markers, colored pencils, pens, or crayons, to write a heartfelt message. Make sure to show your appreciation in your words and drawings. Doodle away!
Get creative:
After your message is written, express yourself with added embellishments. Incorporate glitter, ribbon, stickers, stamps, sparkles, hearts, cutouts, whatever you want. This is your chance to be creative!
Sending special cards:
Choose a location to spread the love, such as your local VAMC. You may want to check with the volunteer coordinator there to find out how many cards you'll need to create for the veterans.
Completing Valentine cards for veterans can count as Service to Veterans hours under our the ALA's Veterans Affairs & Rehabilitation program. Be sure to report your activities to your unit VA&R chair!