Four years ago, a big change happened in American Legion Auxiliary membership: For the first time, male spouses of veterans could join the Auxiliary. At the 2019 American Legion National Convention, the Legion voted to replace the word "wife" with "spouse" in their Constitution & Bylaws section to the ALA's membership eligibility criteria. The change in eligibility was then voted on and approved by ALA delegates. As a result, the ALA's membership change extended to male spouses of living or deceased veterans, as long as their military service meets a Legionnaire's eligibility requirements.

The Auxiliary now has more than 1,000 men among its membership and growing! Some of them are taking their membership beyond just a card — they are finding ways to give back by serving in leadership roles at the unit, department, district, and even at the national level.

This summer, Utah elected its first male ALA department president, Mike Rasmuson — the first department in the country to do so.

Joining and getting involved
John Tester of Unit 36 in Ludlow, Vt., is also a member of the Sons of The American Legion. His ALA eligibility is through his wife Cathy, a U.S. Marine Corps veteran.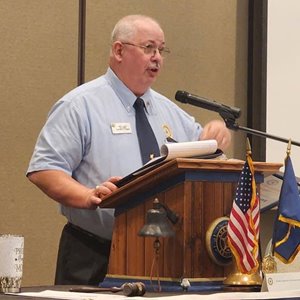 "I was so impressed with what she was doing at the Legion and what the Legion was doing for her, I wanted to be a part of that," said Tester. "When the Auxiliary opened to male spouses, I was asked to join and jumped at the opportunity."

Tester didn't take on leadership roles right away but now has an impressive ALA résumé.

"My first couple of years, I stayed in the background to learn how things operate and learn how I could best make a difference," he said. "In 2021, I was asked by my unit president if I would like to be sergeant-at-arms, and I happily agreed."

That was only the start for Tester. He has since taken on many roles at all levels, including unit president, department chairman for the Children & Youth Committee, and is a member of the 2022-2023 national Children & Youth committee.

Jim Vass of Unit 574 in Moreno Valley, Calif., assisted his unit with fundraising activities before the eligibility change. Vass, a retired master sergeant of the U.S. Air Force, is a also a member of the Legion and Sons. His ALA eligibility is through his wife, Master Sgt. Pamela Vass, USAF (Ret.).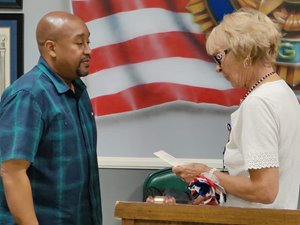 "My membership gave me yet another outlet to give back to those who have served our country," said Vass. "Getting involved in leadership at my unit was a great way to make a meaningful impact on the organization and its members. Becoming part of the leadership team in my unit not only made me a better unit member but enabled me to assist the president with building an effective team committed to the mission and values of the organization."

In addition to serving as secretary and parliamentarian at the unit level, Vass also serves as the secretary/treasurer for the Department of California.

Advice to other men looking to take on ALA leadership roles
Tester encourages other men to join the ALA.

"The most important piece of advice I can give male ALA members is don't hide in the background," he said. "Auxiliary units love to work the mission — step up and be part of that work. Offer to help at events and during programs. It can be a little intimidating being the only male in a room of female Auxiliary members, but what those members want more than anything is someone to help and be useful."

Tester also said men should look at themselves as an ALA member, not as the first or only male.

"Your value as an Auxiliary member is determined by what you DO, not who you are," he said. "Regardless of your affiliation with any other Legion Family group, embrace the Auxiliary and its mission. We need good leaders who are passionate and active."

Vass also encourages others to get involved.

"Membership is very rewarding, but the reward is directly linked to the prospective members' effort to membership and volunteerism," said Vass. "If a prospective male ALA member is interested in taking on a leadership role in the Auxiliary, my advice would be to start by getting involved at the local level and showing a commitment to the organization and its mission. Attend meetings, volunteer for events and activities, and build relationships with other members."

Learn more about American Legion Auxiliary eligibility requirements at www.ALAforVeterans.org/eligibility.