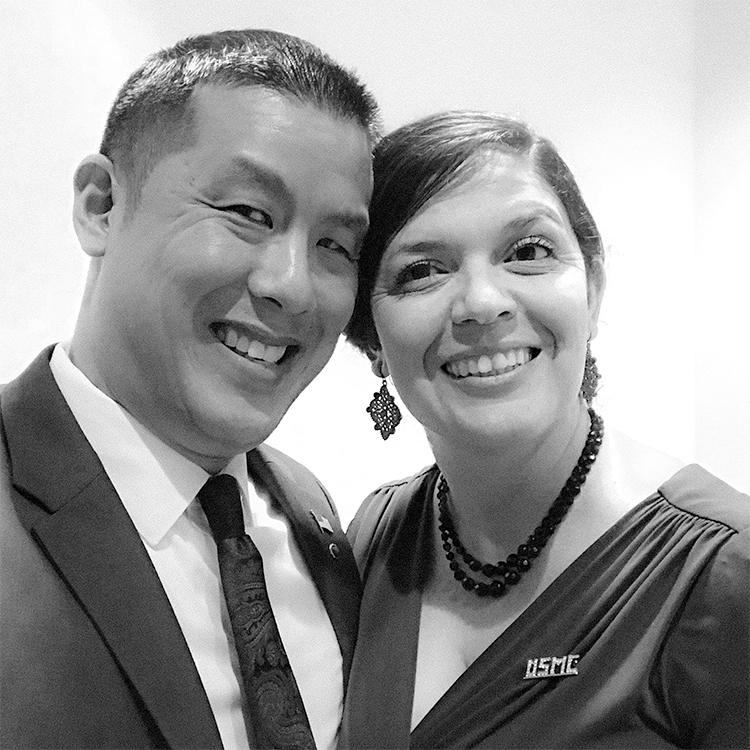 Jennifer and Chanin Nuntavong (Photo Submitted)
Second of a two-part blog series
Auxiliary magazine, the quarterly national publication of the American Legion Auxiliary, featured some of the ALA's newest members who are male spouses of military veterans (check out the article on page 44 in the magazine's February 2020 edition). This brief blog series shines a light on the veterans whose service made their spouses' ALA memberships possible. For more information on eligibility criteria for ALA membership, visit www.ALAforVeterans.org.
Jennifer Nuntavong
Washington, D.C. area
Veteran: U.S. Marine Corps
Member: The American Legion
Spouse of new ALA member Chanin Nuntavong, also a Legionnaire
For the longest time, U.S. Marine Corps veteran Jennifer Nuntavong didn't talk much about her military service.
"I always kind of just passed attention on to Chanin because he was active duty and he spent 22 and a half years in the Marine Corps. And Chanin would always say something to me like, 'Yeah, tell them you were a sergeant in the Marine Corps,'" said Jennifer, a member of American Legion Post 364 in Woodbridge, Va.
"I am really grateful he would do that because some men and women kind of overlook the fact that their spouses served. It reminds me that the time I served didn't go unnoticed. I'm thankful my husband sees honor in that and respects it," she added.
Given these types of gestures Chanin makes to shine a spotlight on Jennifer, it's no surprise that he recently joined the American Legion Auxiliary — a community of volunteers serving veterans, military, and their families— in honor of his wife's service. He is a male ALA member of Auxiliary Unit 364 in Woodbridge, Va., and a Legionnaire of Post 43 in Hollywood, Calif.
Jennifer spent four and a half years on active duty. Originally from the small town of Wasco —located in California's San Joaquin Valley — Jennifer joined the Marines a few months after she graduated high school. She trained on Paris Island and later attended administrative school in North Carolina. Her first overseas tour took her to Okinawa, Japan. She later went to New York and was part of the First Marine Corps District, working with the recruiting program there.
---
"When I joined the Marines, it was about getting out of a small town. In hindsight, serving was a great honor. I look back on it now and see that we were part of the military recruiting effort after 9/11. I'm thankful, and proud, that I got to be part of that effort."
---
Jennifer has several relatives who served in the military, including her late paternal grandfather Manuel Medrano and late maternal grandfather Joe Trujillo, both of whom were World War II U.S. Army veterans. Several of her uncles, nephews, and brothers-in-law served as well.
Trujillo died when Jennifer was young. She said she learned the most about military service from her grandfather Medrano because he talked about it often. That, she said, nurtured her sense of patriotism.
"He appreciated what America stood for. He was always serving others, even when he returned to civilian life. I remember him pruning the trees for an older neighbor, and me being very proud of him for doing that. To me, he was a patriot. He was a positive influence on me."