Getting a job or staying competitive in today's workplace involves showing employers you have the skills and experience to get the job done. In many cases, returning to college is a must. The American Legion Auxiliary's goal is to do all we can to make that happen, and that's what the Non-Traditional Student Scholarship is all about. This scholarship helps people pursue a college degree later in life or allows them to pick up where they left off when their studies were interrupted.

Latisha Wagner learned about the scholarship through a good friend who is also a fellow American Legion Auxiliary member.

We understand this is your first time receiving a scholarship. Congratulations!
I was thrilled to find out that I was nominated for this esteemed award. I want to express gratitude toward my friends and the members of Auxiliary Unit 641 for their help. They assisted me in finding resources and proofreading my thank-you letter for the scholarship award.

What college are you attending, and what are you studying?
Currently, I am studying at Grand Canyon University, a Christian-based institution in Phoenix. My doctor of philosophy program in general psychology with a focus on cognition and instruction has a GPA of 3.7.

Where did your interest in this career come from?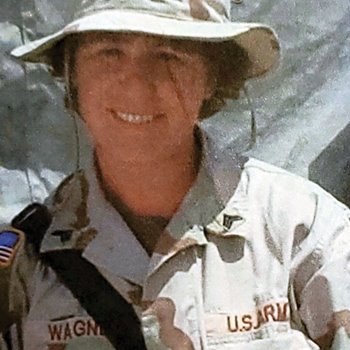 I was a nurse for many years, and the Army offered me opportunities to specialize in different medical realms. I took advantage of the EMT, critical care, and combat medic programs. I was deployed to Afghanistan in 2004 and used those skills. Thank goodness because they all helped me survive. Due to the combat environment, my idea to pursue a career in psychology seemed appropriate, as I needed to understand why some people act and react in certain situations. During my time in Afghanistan, I witnessed the immense psychological toll that war takes on individuals.

We are excited for this scholarship to help you! What are your post-education plans?
My plan, once I complete my education, is to take an idea Dr. John Hopfield built upon, where he decided to recreate the neural networks in a human brain and put it in a computer to make it think like a human. This concept, known as the Hopfield network, has revolutionized artificial intelligence by mimicking the complex cognitive processes of the human brain. By implementing this idea, I aim to contribute to the development of advanced AI systems that can reason, learn, and solve problems in a more human-like manner.

My idea is to reverse that, so to speak. By integrating 3D-printed neural networks into the human brain, we could potentially restore lost cognitive functions and enhance overall brain performance. This groundbreaking approach holds immense promise for revolutionizing the field of neuroscience and improving the quality of life for individuals affected by neurological conditions.

Any advice to other students who may want to apply for this scholarship?
It is essential to effectively showcase your deep passion, unwavering dedication, and steadfast commitment to your chosen area of study. To differentiate yourself from other candidates, provide concrete examples of how you have demonstrated these qualities in both your academic and personal endeavors.

What would you say to donors who support ALA scholarship funds to help support students like you financially?
I want to express my heartfelt appreciation to the kind and generous individuals who contribute to the scholarship funds of the ALA. Their support provides financial assistance and opens doors of opportunities for students like me.