U.S. Army Gulf War veteran, entrepreneur, businesswoman, nurse, mother, and dual member of The American Legion and American Legion Auxiliary Post and Unit 521 in Houston, Texas, Marylyn Harris, has dedicated her life to helping others for the past 37 years.
Harris has a bachelor's and master's degree in nursing and a master's degree in business administration. She was an Army medic and X-ray specialist in the ICU of an evacuation hospital in Saudi Arabia. Harris taught psychiatric mental health nursing at many colleges and universities. In 2007, she founded Harrland Healthcare Consulting, LLC, and in 2010, she started the country's first Women Veteran's Business Center. Harris is an incredibly accomplished woman who is changing the world one day at a time.
Her career began when she attended college at a private Quaker school in North Carolina. She had to put herself through school alone because her mother was deceased, and her father wasn't in her life. Even with the help of scholarships and a part-time job, she was still struggling to pay tuition. She stepped back, took a look at her life, and asked herself, 'what can I do?' Then she made the courageous decision to join the Army as a reservist. Being in the Army Reserve would allow her to be in the military but also continue school.
"It didn't work out like that. I finished college years later, but I always kept my military affiliation. Looking back on my life, joining the military was one of the best things I could have ever done," Harris said.
Her experience as a U.S. Army nurse serving in Operation Desert Storm and Operation Desert Shield shaped Harris' outlook on what changes are needed in this world.
She started thinking about women's military careers and what she experienced herself — post-traumatic stress disorder, military sexual trauma, and then coming back to the civilian sector trying to reintegrate and adjust. There was not a specific organization to address this issue. A decade of her life was focused on trying to move forward from what she experienced overseas.
According to Harris, there are over 30,000 women veterans in Houston alone and Texas has the largest number of women veterans in America, with over 171,000. Yet sadly, there were no organizations focused on women veterans. These brave women had to swallow their pride and go to the male-dominated organizations to ask for help.
"What specific organization is out here for us? We served this country too. We are veterans. We just happen to be women," Harris said.
In 2009, Harris decided to take charge and do something about this problem. She started her primary market research at The Aquarium in Houston. She held events every quarter and invited anyone she could think of that had a connection to veterans. Her team was soon created, and they started asking questions, "What is not in Houston that is needed?"
Harris didn't want to rely on what she individually thought Houston needed, but wanted to ask a wide array of different stakeholders. After listening to everyone's responses and gathering information, she found Houston was missing something involving women veterans and economic sustainability.
---
"There was no organization in 2009 (and prior) that was exclusively focused on women veterans' economic sustainability after they leave the military. None. None in the country. Not only in Houston, not only in Texas, but none in the United States," Harris added.
---
With her business and military background, Harris applied to a program through Florida State University called the Entrepreneurship Bootcamp for Veterans with Disabilities (EBV). After many years of being denied, she was finally accepted into the program, the fourth year. There were 21 students from all across the country that were selected for this intensive eight-day program. She described it as a mini MBA — she was the only female of the 21 students.
At EBV, she wrote the business plan to create the country's very first Women Veterans Business Center (WVBC). She submitted the plan as part of one of the program's competitions and received second place. She took the $1,000 check she won and made down payments on what she needed to start her business center. It was the beginning of great change for women veterans.
Within five months, she opened the nation's first Women Veterans Business Center in the mayor's boardroom at Houston's City Hall with a two-day grand opening in 2010. Community stakeholders, local businesses, politicians, and the rest of the community gathered to support Harris.
"I used everything I had to get this started and we had tremendous success," Harris said.
Graduating from EBV through Florida State University in 2010 opened many doors for Harris to connect with larger veteran business communities, including Syracuse University, and the Institute for Veterans and Military Families (IVMF) at Syracuse, and their premier training program, Veteran Women Igniting the Spirit of Entrepreneurship program (V-WISE). Harris served three and a half years as a national ambassador for V-WISE.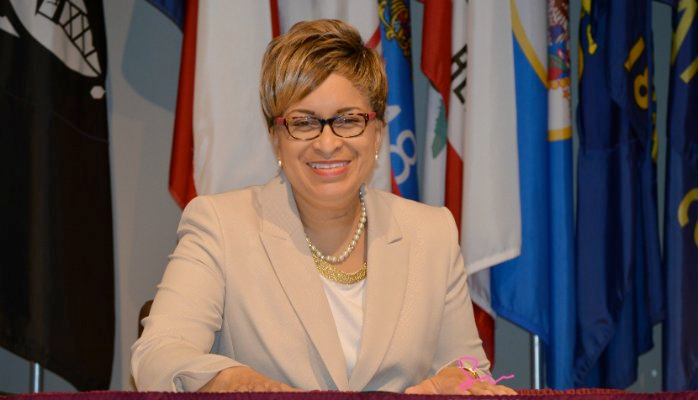 Harris at Women In Military Service For America Memorial (WIMSA), located at the Ceremonial Entrance to Arlington National Cemetery. WIMSA is the only national memorial honoring all women who have defended our great country.
In 2013, Dr. Mike Haynie, Syracuse University vice chancellor and IVMF executive director, nominated Harris for President Obama's "White House Champion of Change" award for her trailblazing work of educating and empowering women veterans.
"It's been a wonderful experience to be honored by the sitting president of the United States and to be called a Champion of Change," she added.
In 2015, Harris was named "Houston Hero" by the Houston Chronicle, for her giving spirit and helping hand to a variety of organizations and individuals. Harris has been across five continents within 37 years, helping entrepreneurs, military families, servicemembers, veterans, and patients. She has traveled around the world, healing patients through her missionary work.
"It's all the same to me. People that need help, need help. It doesn't matter what label they have on them," Harris said.
In April 2019, Harris was honored with the Four Chaplains Memorial Foundation's Legion of Honor Bronze Medallion. She also received the 2019 Women of Excellence Awardfrom the Gamma Sigma Chapter of Sigma Gamma Rho Sorority, Inc, in Houston.
Harris envisions the future of the Women Veterans Business Center moving toward technology. She has pivoted her personal career with health care to include health care with cybersecurity because technology is the great equalizer.
"At any age, if you can learn technology and know how to do it, it can improve your quality of life. You can help other people," Harris said about the Women Veterans Business Center getting ready to embark on a six-month women veteran's technology initiative where they expose women veterans to opportunities through profession, business, and technology.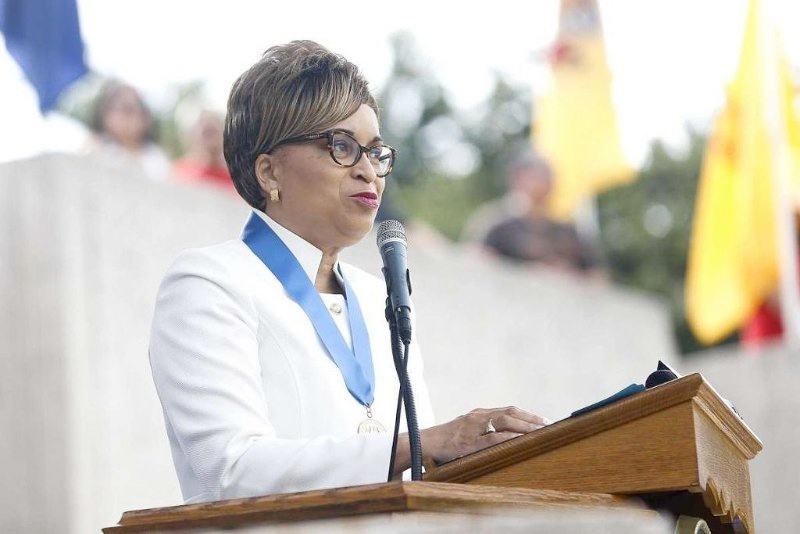 Wearing a Four Chaplains medallion, dual member Marylyn Harris gives her speech at the city of Houston's Memorial Day service..
In May 2019, Harris was humbled to be the first female keynote speaker during Houston's Memorial Day service. She asked the audience to offer half an hour each week to serve the military community.
"If you don't have money to donate, donate your time," she said. "If you don't have the time to donate, donate your money. There is a solution to everything. Everyone can do something. All I'm asking for is to commit 30 minutes a week to this very important cause — our nation's heroes."
Harris is a champion of change, someone who makes the world a better place, and she demonstrates that one person can make a difference.