From Vickie Koutz, American Legion Auxiliary national president 2022-2023

And just like that, another American Legion Auxiliary administrative year has come to an end! I've enjoyed visiting units and departments and meeting grassroots members working the ALA mission.

Thank you for putting our veterans, military, and their families first through your various activities, fundraisers, and events. A Service Not Self mindset is at the heart of all we do.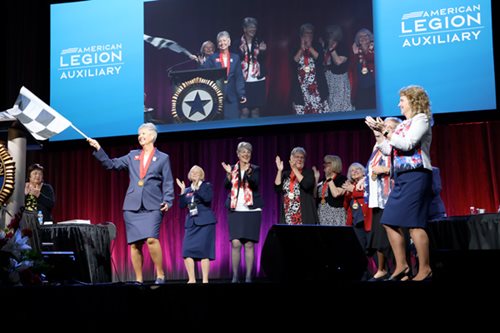 I appreciate everyone who understood the importance of helping our National Veterans Creative Arts Festival companions during this administrative year focus. It was incredibly rewarding to see companions eating with their veterans (something previously many never could afford to do) because of this initiative.

Attending the 2023 National Veterans Creative Arts Festival in St. Louis was incredible. I met the gold medal winning veterans — some of them old friends and many new ones. The veterans and companions were so appreciative of what we do, but we all know as members of the American Legion Auxiliary that we are the lucky ones to be in the presence of our heroes and the people who care for them.

If you are inclined, I encourage you to continue to financially support our NVCAF companions for years to come so future veterans can benefit from having their companion by their side at this event.

In addition to ALA members taking care of our veterans at the NVCAF, I am also very grateful for the extra emphasis on our nation's Prisoners of War and Missing in Action. This issue will always tug at my heart, and I'm thankful more American Legion Family members, as well as communities across the nation, understand this is still an issue. Together, we can bring our servicemembers home. Please continue to fly the POW/MIA flag, help support the search for remains, or donate to the cause. Our missing and their families still need us.

With our national ALA administrative year closing, it's a bittersweet feeling to know I'll soon be back home again in Indiana. I've cherished everyone I've met, the memories made, and the ALA mission moments I've experienced.

Stay in touch!