By ALA National Headquarters Archivist Cathi Taylor

November is a busy month for the Auxiliary, filled with activities and events: Members provide Thanksgiving meals to veterans, the military, and their families; it's kickoff time for our annual Mission Trainings and national Junior meetings; units are gearing up for their Christmas Gift Shops for veterans; it's preparation time for Wreaths Across America Day; and most importantly, Veterans Day marked with ceremonies and parades across the nation.

The Auxiliary's 104th birthday is Nov. 10. And we cannot forget that our first National Convention was held Nov. 1 and Nov. 2, 1921, in Kansas City, Mo.

But there is another event — an event long ago forgotten — which is as important as the day The American Legion opened the doors to the creation of its auxiliary.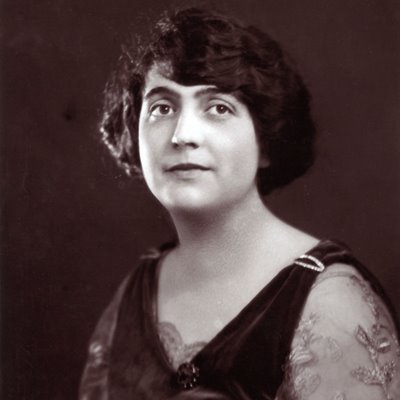 On Nov. 8, 1920, newspapers began publicizing that The American Legion hired a woman as executive secretary in charge of affairs of the women's auxiliary. Her job would be to organize existing units into state departments so that an auxiliary national organization could be created. Her name? Pauline Cranston Curnick.

Born in Springfield, Ohio, in July 1896, Curnick was the oldest of Paul and Harriet's three surviving children. Her father's position as a Methodist Episcopal minister led to several moves for the family throughout the Midwest.

Like most teenagers, Curnick followed her heart, and shortly before her 18th birthday, she eloped with her high school sweetheart. However, in less than two years, Curnick alleged cruel and inhumane treatment in a divorce suit. She returned home to her parents with her family name restored.

While brother Dwight was fighting in France, Curnick kept busy with welfare work for the sick and disabled servicemen. After the war, she joined the National Child Labor committee in Evansville, Ind., to fight for the rights of children. And when the Legion hired her, she was the personnel and employment director for a large industrial company in Louisville, Ky.

When Curnick walked into the Meridian Life building — the first home of the Legion — she was provided an office, a desk, a chair, a worn-out filing cabinet, and a stenographer. At the time, American Legion National Judge Advocate Robert Adams declared, "…that is where the Auxiliary started."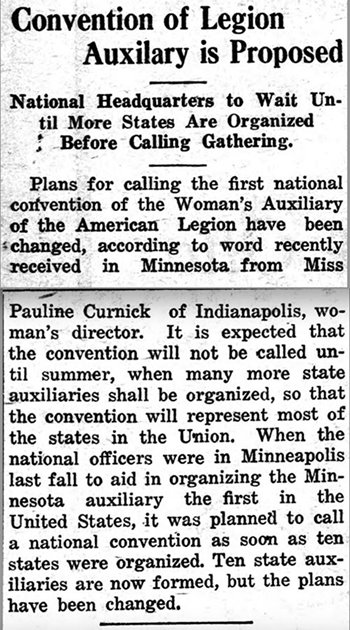 At first, only 10 departments were necessary to call for a National Convention. By March, with 11 in tow, the Legion determined 10 was not enough — that a majority of this nation's states should be represented at the convention.

Curnick continued her extensive travel by train across the country, from one department convention to another, laying out the plan for the new auxiliary. And then the day arrived. On July 1, 1921, the announcement was made that a National Convention for the women would be held that November. At the time of the announcement, 24 departments had been organized. By convention, another 18 emerged. Curnick surpassed the goal.

So, on Nov. 1, she presided over the opening convention session. The following day, she would become the organization's first national secretary.

The accomplishments were significant — perhaps incredible — particularly when you realize Curnick had celebrated her 25th birthday scarcely four months earlier.

Forced to resign her position as national secretary due to health issues at the end of 1922, Curnick would continue her American Legion Auxiliary membership and remain active in other social clubs. In August of the following year, she moved to Crown Point, Ind., where she would become a charter member of her second ALA unit. By the end of September, Curnick married Elmo Bushnell, a veteran of the Great War.

Bushnell's work as an engineer took them to numerous cities across the country. It was during his service in the Army Corps of Engineers during World War II that the unthinkable happened. On Aug. 24, 1946, Curnick died in Bay St. Louis, Miss., from injuries received in an automobile accident. She was interred in Arlington National Cemetery.

Because of Curnick, we have a great organization that has been hard at work for more than 100 years, serving those who put their lives on the line and their families.

I wonder where we would be if not for her.