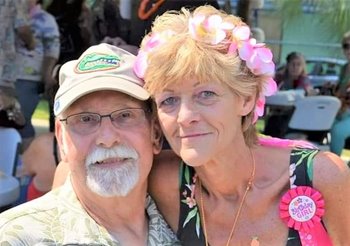 ALA member Vicky Tomasello and her late husband, Allen, a U.S. Navy veteran and Legionnaire. This is the last of Vicky's birthdays celebrated with Allen.
Guest Blog by Vicky Tomasello, member of American Legion Auxiliary Unit 137 in Jacksonville, Fla.
My husband, U.S. Navy Vietnam War veteran Allen Tomasello, was my hero, my soulmate. He served from 1965 to 1968. We spent 32 wonderful years together. He passed away Feb. 28, 2018, from angiosarcoma, cancer of the blood vessels, from Agent Orange exposure when he was in Vietnam. He had PTSD stemming from his military service, but he found some peace while creating our home garden, which I now tend. My husband was a good man, a very proud veteran.
I honor his military service through my continued membership in, and activity with, the American Legion Auxiliary. I am a member of ALA Unit 137 in Jacksonville, Fla. I have been an ALA member since I was a child growing up in Cleveland, Ohio. Allen had joined The American Legion when we were living in Michigan, before he was diagnosed with cancer in 2008. The doctors amputated his leg 4 inches above the knee — and from then on, he was in a wheelchair.
I wasn't in the Vietnam War. I didn't serve. My war was at home. I had to be there for my veteran husband when he fought to get better in efforts to keep his leg after the cancer diagnosis. I was the one changing his bandages after he underwent skin grafts. I was the one there with him for the treatments. His anxieties. His nightmares. When he fell out of bed and wasn't able to get up, I helped him up. When it was time to get his VA benefits, and he was too tired and pained to engage in the years' long pursuit and follow-up, I was his voice.
I would never cry in front of Allen. I cried in the shower. Still, I don't regret a moment of caring for him. It was my honor to care for him, and later my ailing mother at the same time. I miss everything about my husband, my mother, and all of my loved ones who've passed away.
What I did for the Legion Family at that time, up until now, was to honor my husband, my mother, and my other loved ones.
I maintained my Auxiliary membership all of these years. I later joined American Legion Riders Chapter 137 in Jacksonville. I was at the post five nights a week cooking, doing what I could to serve our veterans because my husband couldn't. I did what he asked me to do, which was to do what he couldn't.
Our Legion Riders made sure Allen had that final ride to Jacksonville National Cemetery.
Military service, and The American Legion Family, have been part of my life since I was a child. My father, Robert G. Wankowski Sr., was a Legionnaire with Post 469 in Cleveland. He was a Navy veteran who served in the Korean War. My mother, Dolores Anna, was in the Auxiliary Unit 469. She was unit president from 1967 to 1972. My parents were very active Legion Family members.
My sisters, Delores Ann and Valerie, and I were Junior members of the Auxiliary. Delores Ann, who later became a Navy veteran, is also a Legionnaire in Grand Haven, Mich. My brother Robin was in the Sons of The American Legion. He remains a Sons member at Squadron 469 in Cleveland and serves in the Sons' Color Guard. My other brother, Robert Jr., is a Navy veteran who retired after 32 years of service. He is a Legionnaire at Post 137 in Jacksonville.
During our childhood, our parents made us kids a part of it. We were just one Legion Family. A lot of our life back then revolved around The American Legion and doing for others. I am very grateful for all of that.
I cherish those memories of us doing things as a family within our Legion Family. I don't have my parents anymore. My father and little brother, Gregory, died when our house caught on fire in 1975. Gregory was only 4 years old, and I was 13 when that happened. My sister, Valerie, died in 2002. My mother died in 2011 from Alzheimer's Disease and cancer.
I cherish everything my parents instilled in us as kids, such as having respect for the people who fight for us every day and sacrifice time with their families. To give back for what they do for us. My grandfather served. So did my father, my brother, my sister, my husband, and my father-in-law. They protected us. It's the right thing to do, to give back to those who didn't think twice about putting their lives on the line to protect us all.
Another thing I cherish is my ALA membership. As part of the Auxiliary, I help with the dinners and things. I'm in the kitchen cooking, serving, whatever is needed at the time. I help out as much as I can. We take care of the veterans. We feel it is our duty to provide each of them a decent meal at a decent cost. This is what feels right for me.
Never have I done anything to get a pat on the back. I do what I do, as an Auxiliary member, because I was shown by my parents that what we do as a Legion Family — taking care of veterans, our troops, and their families — is what we are supposed to do. And it's what my husband would've done if he could.
I am without my soulmate now. But I am not alone. The Legion Family is my family. It's my privilege to serve and give back to the veterans. To me, every day is Veterans Day.
ALA member Vicky Tomasello serves as second vice president of Unit 137 in Jacksonville, Fla. She also serves as historian of American Legion Riders Chapter 137.