In appreciation for the many sacrifices made by military spouses when their loved ones are away, serving our nation, the American Legion Auxiliary features their stories in our ongoing series, "Walking in the shoes of a military spouse."
Jenn Sewell recently completed the 22-Day Pushup Challenge on Facebook after being nominated to do so by a friend. The challenge is a widespread effort to bring awareness to the tragedy of suicide among veterans by videotaping yourself doing 22 pushups daily, posting the videos to Facebook, and including the U.S. Department of Veterans Affairs' Veterans Crisis Line number or other resource in the posts. When the challenge came out a couple of years ago, it was said that 22** veterans a day die by suicide. Read on to see how Sewell took the challenge to the next level, sharing important resources, information, insights, and encouragement as she did her pushups.
Editor's Note: This blog includes some information about a suicide attempt. Reader discretion is advised.
Military spouse goes 'next level' on push-up challenge, sharing info on suicide prevention and depression among veterans and civilians
Guest blog by Jennifer "Jenn" Sewell, a military spouse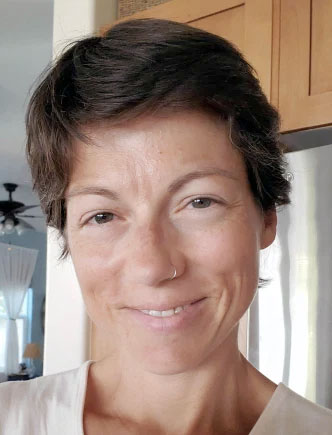 The same day I was nominated for the 22-Day challenge, another friend encouraged folks to check in on veterans rather than only posting pushup videos. That helped me readjust my focus to where it truly needed to be. My husband, Seth, who served in the Army, and many of our friends are veterans. Several family members have struggled with depression. I survived my suicide attempt, and I live with bipolar depression. I'm also a success story.
This challenge became a way to help people understand depression and what can lead to suicide. I wanted them to know how they could contribute to the mental well-being of veterans and civilians. In some of the videos, I even shared the struggles my husband and I have had with depression … and my attempted suicide in my teen years.
I was 17 years old when I tried to kill myself. The best description is that everything felt too heavy, like a mental muscle fatigue. I was exhausted, and dying felt like my only option. After I cut my wrist, I remember feeling so scared and thinking, "Help!" Seth was my friend at the time and he happened to call me at just that moment. He convinced me to get to my mom for help. I've learned so much during my cycles of depression. Support from therapy and loved ones has been key to my current health. If I could talk to that teenage Jenn, I would tell her she doesn't have to go through this alone. She's been trying so hard, but it's OK to get help to figure out what's going on inside.
Seth has been through several deployments, and there was one particularly rough season. He spent a long time suffering with survivor's guilt, convincing himself things would get better someday. But "someday" never arrived, and he made the brave choice to talk with a counselor. His doctor was also a veteran, and Seth felt a strong connection with him because of this man's story. They spent several months in sessions as Seth learned how to face what he was feeling and to continue living his own life after such tragedy.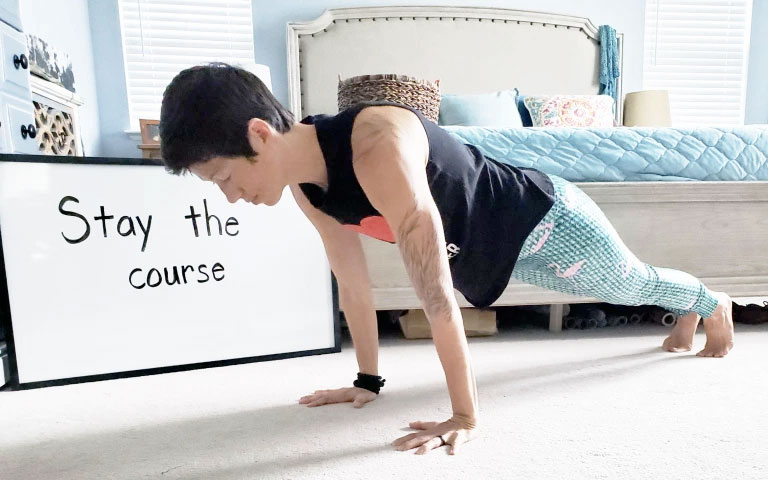 Jenn Sewell does pushups for the 22-Day Pushup Challenge on Facebook.
Suicide prevention seems enormous, and I wanted to break it down into smaller pieces. I knew of some resources like the VA, and started opening their links to read what was available. There's no one-and-done response to depression, so I kept searching and sharing what I found in my 22-Day Challenge videos and posts. I shared crisis intervention resources, plus information on donating to and participating in veteran-focused organizations, intentionally building relationships – and so much more. I was encouraged as I explored what we all are able to offer. I also included encouraging messages, like "Stay the Course," which I explain in the video. I was hoping someone viewing my posts and videos would hear something that spoke to them.
To anyone struggling and feeling hopeless, there's a way out of that horrible place. It may take time and plenty of hard work, but please trust me: What comes afterward is so much better. You only have to take that first step of asking for help. People want to assist you every step of the way.
If you know someone in that situation but aren't sure how to help, I encourage you to start the conversation. Let that person know help is available, and that it's OK to ask for it.
Additional help for a veteran, servicemember, or anyone who is depressed, suicidal, or in crisis
The National Suicide Prevention Lifeline number is 1-800-273-8255 (for the Veterans Crisis Line, press option "1." Or, text 838255 to seek help). For those who are deaf or hard of hearing, call 1-800-799-4889. The crisis line can be reached 24 hours a day, seven days a week, and is a free and confidential resource. Veterans do not have to be registered in the Office of Veterans Affairs or enrolled in VA health care to get help on the crisis line.
More about Jenn Sewell
I always thought I'd be the last girl in my class to get married, and I'd never have kids. I really surprised everyone by marrying my high-school sweetheart less than a year after graduation and starting a family a couple years later. Seth joined the Army in 2004 before our daughter turned 1 year old. We now live in Hawaii with our three kids, ages 10, 14, and 17, plus my mom.
**According to the 2019 National Veterans Suicide Prevention Annual Report, there were (on average) 17 veterans who die by suicide each day. For this report, a veteran is defined as a person who had been activated for federal military service and was not currently serving at the time of death. For more information, visit www.mentalhealth.va.gov/MENTALHEALTH/suicide_prevention/index.asp.
The American Legion Auxiliary is a community of volunteers serving veterans, military, and their families. Our mission statement:
In the spirit of Service Not Self, the mission of the American Legion Auxiliary is to support The American Legion and honor the sacrifice of those who serve by enhancing the lives of our veterans, military, and their families, both at home and abroad. For God and country, we advocate for veterans, educate our citizens, mentor youth, and promote patriotism, good citizenship, peace, and security.
Interested in becoming an American Legion Auxiliary member or volunteer? To learn more, visit www.ALAforVeterans.org or contact an American Legion Auxiliary unit near you.