What do you get when you mix the desire to help those who have served their country with a love of nature and a home on a 200-acre farm?

For Carol Cook, it was the nonprofit organization Vets in Nature.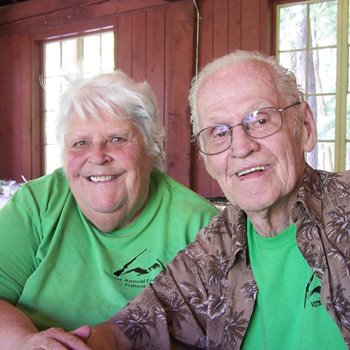 Since 2020, the program has hosted hunting and fishing events for military veterans. Vets in Nature pays for veterans' trips to the farm in Newfield, N.Y., that Cook shares with her husband, Marine veteran Bernard Cook. Their land serves as a home base for experiences in hunting for deer, geese, and ducks or fishing at nearby Cayuga Lake.

Cook, a member of American Legion Auxiliary New York Unit 907 in Candor, is a founder of Vets in Nature and serves as its event coordinator. The organization, which offers hunting or fishing expeditions nearly every month, grew from Cook's experience with Wounded Warriors in Action Foundation. That nonprofit hosts sporting trips for Purple Heart recipients.

Intrigued by the reports of veterans who participated in WWIA's trips, Cook and her husband decided to develop their own, similar organization. But this one would be broader in scope, providing all-expenses-paid experiences for any man or woman who has served in the military.

Now, former servicemembers, whose ages typically range from their 20s to their 70s, regularly visit the Cooks' farm. There, through Vets in Nature, they enjoy hospitality, hunting and fishing expeditions, and — perhaps most importantly — camaraderie built in the great outdoors.

To date, Vets in Nature has served mainly New York veterans. But Cook is spreading the word about the organization, hoping to expand its reach to people from other parts of the country and world.

What is your background in assisting veterans?
I didn't have a lot of experience. My husband is not a combat veteran. He was in the service during peacetime. But it has meant so much to him to have the camaraderie of other veterans. I was amazed at how open and honest they were about their experiences, not only about life at home but also about combat and in the military. That prompted me to form our own organization.

How did you begin coordinating hunting and fishing activities for veterans?
We hadn't done many fishing trips and thought it would be fun to get some boat captains and people around Cayuga Lake involved in it. So, I talked to a friend who is an avid fisherman. He said he would love to do something. Then I Googled a number of boat captains and contacted several of them to see if they'd be interested in working with us, knowing that it was my first time putting together an event like this. And it just blossomed from there.

Why are Vets in Nature activities beneficial to veterans?
I think it is the peace and solitude, just sitting out in a deer blind watching nature for four or five hours. You have a chance to really think and look at what's around you. And then when you come in to have a meal, you have other people who understand what you've been through, and you're able to talk about your experiences. I think it really makes a difference to be able to get rid of some really bad memories they have and then fill them with good memories.

What do you hope the organization achieves next?
I believe so much in this cause and so much in the veterans. We are doubling and, in some cases, tripling our number of veterans we are able to get out. We are expanding outside of New York. … And I know there are women hunters, but we just haven't been able to attract them yet. I'd like to build that up.