Presented annually at the American Legion Auxiliary National Convention, the Salute to Servicemembers Award has evolved over the years from honoring women veterans to honoring active-duty women to honoring all military personnel who are currently serving our country in the U.S. Army, Navy, Marine Corps, Air Force, Coast Guard, Space Force, and the National Guard/Reserve.

Read on to learn more about our Salute to Servicemember Award recipients.

U.S. Air Force: Senior Airman Hannah Luker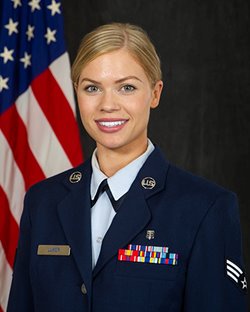 "I would like to thank the American Legion Auxiliary Unit 58 in Guthrie, Oklahoma, for recognizing and supporting me throughout this process," Luker said on stage. "Nothing is solely achieved by one person — it takes a team to support you. My leadership has done this multiple times for me and is why I will continue to provide my service for people who truly need it. It's also been nice to get recognized in hopes to inspire others to do the same. So, I wanted to thank you all for your time and for your role in the community, to veterans and their families around the world who need your support."

From the award nomination form:

Luker is a vastly motivated airman with tireless enthusiasm and dedication. As early as BMT, she had an opportunity to showcase her leadership skills as distinguished graduate of her training flight. In technical training, she continued this robust trend and was recognized on the Dean's List. Individually, Luker continued to stand out academically and was awarded the Airman Leadership School's Academic Achievement Award.

When she arrived at Vance Air Force base, Luker took up every opportunity she could get her hands on. Firstly, she dominated in her primary duties as the sole administrator for the Flight Medicine Clinic, expediting 5,300 appointments and returning 1,500 flyers to duty in support of the $1.4 billion pilot training mission. She was selected above her peers to serve as the secretary for group level leadership. This was a major task, especially for an airman first class. She took the challenge by the reigns and crushed the expectations by managing the group's injury log, guiding 95 events, and saving the Air Force $125,000.

For her consistent display of leadership, she was given an opportunity to lead as an information systems technician, where she delivers tier-1 support for 149 personnel and maintains an $8.8 million network. Luker authored multiple network upgrades to enable staff to telework and mitigated transference of COVID-19. She is intelligent, professional, confident, and carries herself like some of the best airmen I've known. She has become a pivotal leader within her unit, and was named Airman of the Quarter at the group.

Luker stands out, not only on the job, but with base and community involvement as well. As a member of the Vance Honor Guard, she devoted 164 hours to 16 community events and rendered the final honors to 12 veterans. As an A1C, she established a nonprofit organization, "Helping Handz." Through this organization, she took charge and led drives for hygiene items during the pandemic for underserved members of the community in 2020. For the holiday season of 2021, she ensured her new nonprofit continued to assist the community by holding a warm-weather gear drive. Furthermore, her professionalism and determination culminated in recognition of her community service when she was recognized as volunteer of the 2nd quarter at the squadron level, volunteer of the 3rd quarter at the wing level, and personal recognition from the mayor of Enid for her consistent service to the town. She selflessly works to improve the physical environment of the community and boost the morale for the younger residents, while simultaneously mentoring and guiding her fellow airmen. Her ability to lead, communicate effectively, and problem solve will serve her well as an Oklahoma representative at the National Convention.

Luker has been a part of our unit for two years and has shown limitless potential. Her aptitude, leadership capability, and can-do attitude proves she is an invaluable asset. She is an outstanding airman and fully qualified to be recognized at the state and national level of your organization.

U.S. Army: Sgt. Jody Leal Jr.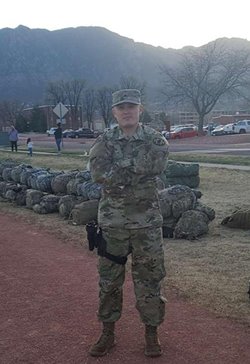 Sgt. Leal was unable to attend this year's National Convention to accept his award in person. He is currently deployed serving our country.

From the award nomination form:

It's an honor to be writing this letter to inform you of the accomplishments Leal has done prior and throughout his Army career professionally and personally. The United States Army has provided many opportunities for personal and professional growth. Prior to joining the Army, Leal graduated from Luna Community College with an associate's degree in computer science (May 2017). He joined the U.S. Army in June 2018, where he attended Basic Training OSAT at Fort Leonard Wood as 31 Bravo (military police). Following his graduation (November 2018), he was stationed to his first duty station in Fort Carson, Colo., while being assigned to the 759th Military Police Battalion/59th MP Company.

During his service with the 59th MP Company, Leal has come a long way from private first class to becoming a noncommissioned officer. In April 2019, Leal was sent on a rotation with the 59th MP Company to Europe. While being on rotation, he personally attended a variety of ceremonies in Normandy to celebrate the 75thAnniversary of D-Day.

On Jan. 7, 2020, the 59th MP Company received the Sword of Freedom Award for being the best military police unit in the European theater.

Upon arriving back in the United States, Leal achieved and participated in the following personal and professional growth:

· April 2020, pinned specialist: Spc. Leal was given a wavier to achieve the specialist rank prior to his date of eligibility.
· April 6, 2020: He received "certificate of achievement" for range density.
· April 2021: 759th Battalion was attached to 3rd Brigade to support training at the National Training Center in Fort Irwin.
· May 2021-September 2021: Spc. Leal was selected to participate in Fort Carson's Community Engagement Team (CCET). This involved bike patrol and interacting with members in the community.
· June 2021: He attended the International Police Mountain Bike Association (IPMBA) course. This training aided in his involvement in bike patrol on Fort Carson's parks and community events.
· September 2021: Spc. Leal attended the promotion board, where he was given his promotable status.
· October 2021: He attended the Basic Leadership Course, where he received commandant's list where he was significantly above the course standards within his graduating class. Spc. Leal was given a battalion coin by the sergeant major. Due to this achievement, he was recommended and placed as the battalion commander's driver.
· November 2021: Spc. Leal was pinned corporal.
· November 2021-January 2022: Cpl. Leal became the battalion commander's driver. This privilege was short lived, because he volunteered to join the 79th MP Company so that he could go on a rotation to Europe.
· January 2022: He was placed with the 79th MP Company.
· On January 1, 2022, he was pinned Sgt. Leal.
· April 2022: He deployed for the rotation that he volunteered for.

U.S. Navy: Petty Officer 1st Class Carina Alberto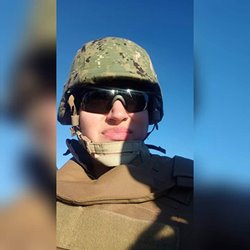 From the award nomination form:

My name is Carina Alberto and I'm currently 29 years old. I was born and raised in Central Islip, N.Y., and still reside in Suffolk County. I decided to join the U.S. Navy Reserves when my two children were 8 and 7 years old. I wanted them to know who I was and old enough to understand why I wasn't going to be home for a certain amount of time. I've currently been enlisted for five years and plan on retiring with the U.S. Navy. It has been a privilege and honor to be able to serve our country as a Hispanic single mother.

Throughout my five years, I've completed Joint Task Force missions with the New York Naval Militia for New York emergencies such as the flooding of Lake Ontario and Hurricane Maria. I've also been privileged to be a board of director and historian for The American Legion Post 1006.

There's a sense of pride when wearing the uniform — to know some people count on you, look up to you, and represent a union of brothers and sisters who took the same oath to defend our country as you. There's no individualism in the military; there's only one team, one fight.

U.S. Air National Guard: Staff Sgt. Julia T. Coleman

"Joining the Air National Guard has been the most beneficial, life changing thing I've ever done," she said from the National Convention stage. "I've been given the opportunity to help people in ways I never imagined."

From the award nomination form:

Coleman is a dental technician at McEntire Joint National Guard Base in Eastover, S.C. She oversees dental readiness for the entire base, manages all dental operations to include but not limited to auditing dental records, drafting and completing monthly EMC dental reports, updating all members seen during drill weekend, development dental charts for all new members, completing all training and record reviews, conducting inventory of dental supplies and remains in close communication with UHM monitors. Additionally, Coleman serves as the subject-matter expert on all matters pertaining to the dental assistant field, thus enhancing her clinical knowledge and expertise by training dental technicians on CDA and chairside procedures.

Coleman enlisted in the Air National Guard in March 2017. She attended dental assistant technical training where she graduated in March 2018. Currently, she is in her fourth year with the Air National Guard where she led the 169th dental team in receiving the prestigious award of 2021 Small Dental Clinic of the year. Her most significant assignments where Coleman played an intricate role and coined are Operation Healthy Delta in Sikeston, Mo., (June 2021) and Angel de los Andes, Columbia, South America (July 2021). In Missouri, Coleman assisted in over 1,000 surgical procedures, producing $116,000 in procedures equivalent dollar value. Additionally, she aided with the development of a training schedule to support 4,200 hours of training for 30 active-duty Air National Guard, Army, Army Reserve, and public health service personnel. Prior to her current position as a senior airman, Coleman was the acting NCOIC during the time of transition within the 169th Medical Group dental clinic.

Coleman is a member of American Legion Auxiliary Unit 212 in Aiken, S.C. She also has a high school special education teacher license in the state of South Carolina. She tutors students three days a week and every Saturday. Her background includes various leadership positions, where she currently serves as a department chairperson where she oversees six teachers all certified in various disciplines, three instructional assistants, and one shadow. Additionally, she also serves as the special services departmental lead (SSDL) for Richland County School District One (Columbia, S.C.). In this position, she oversees records, transfers, discipline, and attendance for over 150 children. She was appointed to both positions by the school principal in 2018.

* * *
Beginning with the 2021-2022 ALA administrative year, the Salute to Servicemember Award is part of the Auxiliary's National Security program. Go
here
to learn how you can nominate a servicemember for the award.
By Sara Fowler, Staff Writer