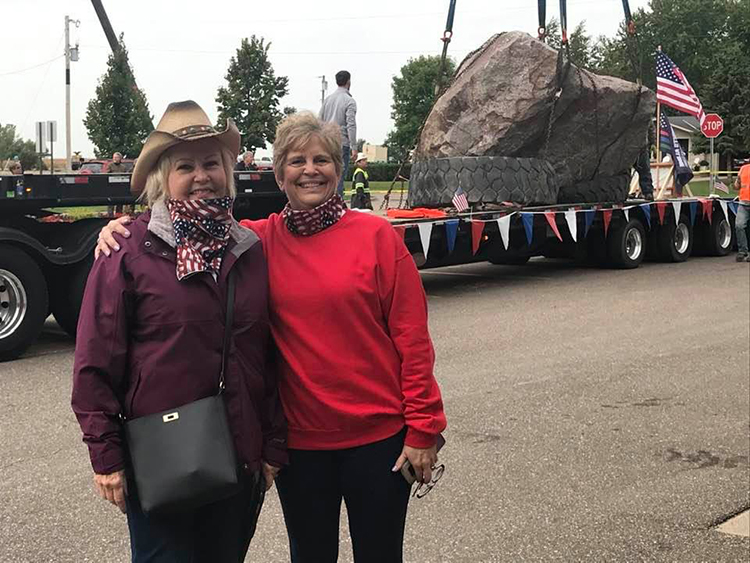 BIG LAKE WELCOMES BIG ROCK: Linda Paulson (left) and Karen Blake bring a Freedom Rock to their community in honor of local veterans.
For over 10 years, Karen Blake and Linda Paulson have organized veteran-focused events at their local church in Big Lake, Minn. As members of ALA Unit 147, both women have a strong passion for helping and serving veterans, but they needed a new way to honor them. While on a road trip to Iowa, Blake saw the original Freedom Rock in Menlo, thus sparking a creative idea.
"After discovering the meaning behind the rock's pictures and why the artist created it, I was deeply touched," said Blake. "He told stories of people who had fought in various critical situations and became heroes because of their bravery and courage."
The artist, Ray "Bubba" Sorensen II, repaints a large boulder every year with a different "thank-you" for our nation's veterans to honor their service. Blake was so inspired by the meaning behind the Freedom Rock, that she continued making trips to Iowa to see more than 70 Freedom Rocks.
"I read every story of every hero he painted and realized how so many had sacrificed for the freedoms I enjoy," said Blake. "My desire to put a Freedom Rock in Big Lake took hold of me. I wanted something to tell our veterans' stories and thank them for their service."
Wanting to make an impact in their community and a difference in veterans' lives, Blake introduced the idea to Paulson, and the journey began. They had the perfect spot in mind: a newly dedicated Big Lake Veterans Memorial in the center of their small town.
"That would be a really special way to show them that we appreciate everything they do; we thank them for their service. And that's Bubba's whole story – that's why he wants to do it," added Blake. "He wants to thank his veterans for what they've done and for the freedoms we have today, because they fought and died for those freedoms."
Hoping to get the community's support, Blake and Paulson presented the idea to their city council, The American Legion, Yellow Ribbon, ALA, and other organizations — all were in favor of the Big Lake Freedom Rock project.
"It's good to get a consensus from your community for ideas," said Paulson. "We wanted to know what people were thinking, and everyone was so positive and excited about it."
Planning was the easy part. Getting and moving the rock was a different story. Luckily, a quarry in Waite Park, Minn., offered to donate the 31-ton rock needed for the mural's canvas. Continuing the momentum, a local veteran suggested a trucking company that would transport the rock for free. And to top it off, a construction company that had the crane needed for the job donated the more than $10,000 required to move it to Big Lake.
"We have just been in awe with how things have happened, and we feel we were steered into the right direction," said Paulson. "We do feel like this really is a God-driven project. He just really wants to have this for the city of Big Lake."
Blake and Paulson created a Paver Program to help raise funds for the project. Pavers included a veteran's name, branch of service, and time served for a donation of $100. After ordering the paver, a certificate is sent and makes for a great keepsake. Blake and Paulson are predicting the money will be raised, and the artist will be painting Big Lake's rock in 2021. The pavers will surround the rock and offer a unique opportunity for everyone to honor a veteran and leave a permanent legacy.
"We just feel like the community needed something positive to lift us out of all the negative that was happening," said Paulson. "We see this project as a bright star in the lives of a lot of people in the city of Big Lake, where they have something really positive to look forward to."
The Big Lake community fully supported the project and even had a parade the day the rock arrived in town. The fire and police departments escorted the rock through town, along with 30 American Legion Riders.
"It's been a fun journey – it really has! And meeting all the veterans who are excited for this project has been amazing," said Blake. "It has seriously been one of the best things I have ever done."