We can't predict when tragedy is going to hit. Whether a storm comes barreling through, leaving behind a path of destruction – or maybe you're facing a financial emergency – picking up the pieces and getting back to normal can be challenging. To help ease the burden of these crises, the American Legion Auxiliary is here to help members get back on their feet.
Established in 1969, the Auxiliary Emergency Fund is a national Auxiliary grant assistance program that provides temporary emergency help to eligible members who have been faced with a financial setback.
Irene Webber was among those ALA members faced with adversity.
Webber, a Paid Up For Life (PUFL) member who belongs to South Dakota Unit 109, has been a part of the Auxiliary since 1956. After settling into retirement, Webber and her husband William made the trek southwest from Minnesota to New Mexico. While taking care of some spring cleanup around their home in May 2019, they were faced with the unthinkable.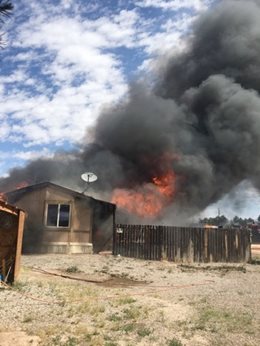 "We were just cleaning up the yard, burning leaves. It's very dry here," said Webber. "The sparks escaped, and we didn't see it until we turned around and then it caught onto our mobile home."
Just like that, the couple's home was destroyed.
Though she and her husband lost nearly everything, Webber was able to salvage a few things – including her ALA membership card. It wasn't completely charred, but it was too burned to read. That's when Webber called ALA National Headquarters to request a replacement. Membership Outreach Coordinator Marti Drake answered the call.
"I love to chat with members a bit," said Drake. "So, I asked Irene if it was an older card and if the numbers had worn off. That's when she mentioned that the card was burned around the edges, and it was one of the few things she was able to save from a recent fire she had in her home."
Drake told Webber about the Auxiliary Emergency Fund assistance program. Webber said she had no idea the AEF existed.
"I told her I would send her the application in the mail, along with her replacement PUFL card," Drake said.
Webber wasted no time filling out the AEF grant application. Shortly thereafter, she was awarded $2,400 – the maximum that can be awarded.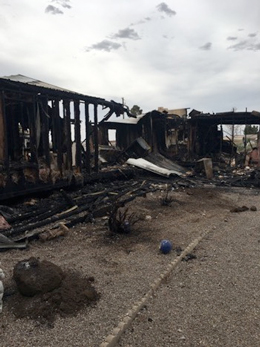 With help from others around their community, the couple is now living in a rented home which they plan to stay in. "I'm pretty well settled again," Webber said. "We're home now, and we're doing OK."
The generous support she received from the ALA still leaves her in awe.
"I don't know what to say," Webber said. "I just think it's a dream."
Drake said her favorite part of her job is interacting with members.
"It's a nice feeling when you're able to help them out," she added.
While the AEF has provided support to many ALA members like Webber, we need your help to keep it going. No matter the amount of your donation, you're helping make an impact on the lives of fellow members.
Donating online is simple – just go to donate.legion-aux.org and pick Auxiliary Emergency Fund when prompted to choose which fund you would like to donate to before completing the process.
Prefer to mail a check instead? No problem! Write "AEF" in the memo and mail a check made payable to American Legion Auxiliary. Send to:
American Legion Auxiliary National Headquarters
Attn: Development Division
3450 Founders Road
Indianapolis, IN 46268
When you give to the Auxiliary Emergency Fund, you are giving a fellow Auxiliary member not just help, but hope. This is members helping members during their greatest time of need.