Calling women veterans! We need your help. Read on to learn how you can be a part of this project.
"Grandma, please send more poppy kits! The other women Marines in my unit want to join in!"
U.S. Marine, Camp Pendleton, Calif.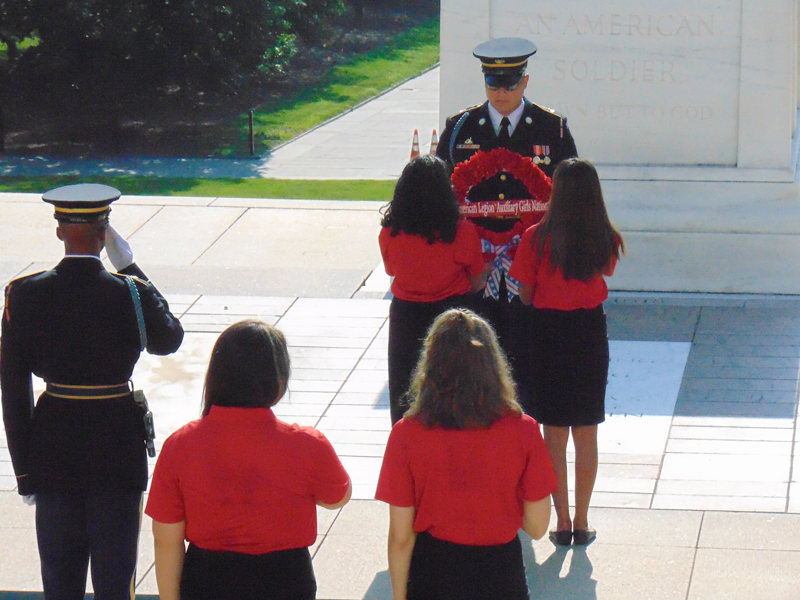 ALA Girls Nation participants place an ALA poppy wreath at the Tomb of the Unknown Soldier
Each year during a special ceremony, ALA Girls Nation participants place an ALA poppy wreath at the Tomb of the Unknown Soldier in Arlington Cemetery. This year, in recognition of the Auxiliary's centennial, the wreath will be made from poppies each individually made by women veterans from all across the country.
"Our hope is that each ALA Girls Nation senator will place a poppy on the wreath that was made by a woman veteran from her state," said Marge Christianson, ALA Girls Nation Poppy Chair from the Department of Arizona.
This effort is made possible with the help of ALA volunteers from across the country. Complete "do-it-yourself poppy kits" are being distributed to ALA Girls State/ALA Girls Nation volunteers from every state — who in turn are distributing them to women veterans. Even ALA National President Nicole Clapp and The American Legion National Commander James W. "Bill" Oxford are distributing poppy kits to women veterans.
"This sounds amazing. I have my five veterans all selected (in my head) and I can't wait for the kits to arrive!"
Peggy Tesdahl, ALA Girls State director, Minn.
"I put it out to my Facebook friends and already have five veterans lined up!"
Tammy Sollazzo, ALA Girls State director, Calif.
The project started in Arizona.
"I brought some poppy materials to a women veteran art wellness program and asked if anyone would be interested in making a poppy for the wreath. Every single woman came forward to make a poppy — many with tears in their eyes," said Christianson. "It was then the idea of a national effort took hold."
"I asked our volunteer coordinators at our local veteran's homes to take the kits and they will have no problem finding women veterans who will be excited to complete a kit.
Our own ALA Department of Iowa Executive Director Crystal Wright is a veteran and she's agreed to make a poppy. As I was speaking about ALA Girls State/ALA Girls Nation to a group, I asked the audience if there were any women veterans, or people who knew a woman veteran in the audience and a whole lot of hands went up to ask if they could take the kits and hand them out. They were excited to help out!"
Wendy Riggle, National ALA Girls Nation Committee Chair
Former West Point Cadet Kiana Stewart, who attended ALA Girls State in Oregon and had worked to reinvigorate the Hawai'i ALA Girls State program after a 32-year hiatus, was honored to be asked to participate in the project by ALA Hawaii Girls State Director Brister Thomas.
"This is a wonderful opportunity for me to give back to the organization who has provided so much for others and to share my sincere appreciation for all of the veterans who have gone before me."
Kiana Stewart, U.S. Army
To date, nearly 400 kits have been sent to ALA volunteers for distribution to women veterans. Completed poppies are already coming in from Utah, Florida, California, Minnesota, Pennsylvania, Arizona, and Nevada. Each kit includes:
A letter to the veteran explaining ALA Girls Nation and the poppy project
Poppy-making instructions
Poppy parts needed for assembly
An info sheet for the veteran to complete
A return-addressed envelope [to ALA Girls Nation Poppy Chair] to return the assembled poppy
"Thank you so much for this amazing idea and opportunity for our female veterans to participate."
Denise Delaney-Wrolen, director, ALA Hoosier Girls State
Assembled poppies must be returned by National Poppy Day® (May 22, 2020) to be included in the poppy wreath project. If you are interested in receiving and/or distributing a poppy kit, contact Marge Christianson at alaunit62AZ@gmail.com.