American Legion Auxiliary Girls Nation is a once-in-a-lifetime opportunity for young women. This weeklong event gives participants a firsthand experience with practical insight into how the federal government works. More than 7,000 young women have participated in ALA Girls Nation since it was founded in 1947. This year's event is July 22-29. Read on to learn about a previous attendee of this prestigious program.
Suzanne Farris attended ALA Maryland Girls State and ALA Girls Nation in 1997. She credits the programs with shaping her future and having a big influence on her children.
Farris shares her experience in her own words:
I had never been very "politically minded," and when I was asked to attend ALA Maryland Girls State, I had zero interest. When an alternate spot opened, it was only at the insistence of a family friend that I had decided to go.
By the end of that week, I had found the college I wanted to attend, and I had been elected to attend ALA Girls Nation. The two weeks I spent with the American Legion Auxiliary in the summer of 1997 changed my life.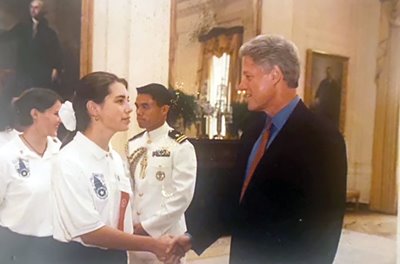 ALA Girls Nation was inspiring and empowering. My fears and anxieties were quickly gone, and I enjoyed every moment. The photo of President Clinton and me hangs proudly in my den, and my children have heard the stories so many times they can practically recite them by memory.
Because of my time with ALA Girls State/Nation, I applied to college hoping to study education, political science, and law. I was admitted to Washington College in Chestertown, the same college where our program was held. I obtained a degree in education and did advanced study in special education, leading me to the position I currently hold as the associate director of an organization that advocates for children and families dealing with disabilities and special healthcare needs.
Prior to ALA Girls State, I never realized that fighting for the needs of others was a job. I am the daughter of a disabled veteran. My father and I had a complicated relationship due in part to the PTSD he suffered. Growing up in a household that struggled because of my father's disability left me with a unique perspective on life and made me acutely aware of the ways that families can suffer when dealing with a disability. My dad struggled tremendously and didn't always come to school or extracurricular events because navigating the world in a wheelchair bothered him.
When he came to the closing ceremonies at ALA Girls State, I saw him cry tears of pride. As I prepared for ALA Girls Nation, our relationship changed. My dad was always a very engaged citizen, and he took that responsibility seriously. This was the first thing he and I really had in common. When he died suddenly during my senior year of high school, it was the memories we made because of ALA Girls State and ALA Girls Nation that helped me get through. The following summer, I returned to ALA Girls State as a counselor and found a deep meaning in supporting other young women to grow and learn. Today, I carry those lessons and memories as I work to influence policy and advocate for the needs of those around me.
In 2018, my son attended Delaware Boys State and I was so excited for him. Like me, he hadn't really been away from home and had never been interested in social justice. He also lives with Autism. His experience helped prepare him to be able to attend a four-year college and live independently.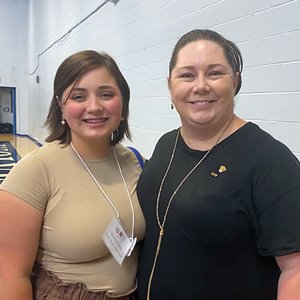 In 2022, my middle daughter attended ALA Delaware Girls State and I watched her blossom in a way that reminded me so much of my experience exactly 25 years ago. Her excitement and enthusiasm warmed my heart, and when they announced she was selected to attend ALA Girls Nation, I cried in the same way my father did.
Her experience has empowered her and helped her find her voice. In part because of her experience, she competed for and was awarded a scholarship to Washington College. It all came full circle for us. She will attend the same college that ALA Girls State led me to. I can't help but think, if I hadn't given in to pressure and grudgingly attended ALA Girls State so long ago, our lives would look very different.
Words cannot express the gratitude my family and I have for the opportunities the ALA Girls State and ALA Girls Nation programs have provided us.