Auxiliary magazine, the quarterly national publication of the American Legion Auxiliary, shared the stories of several Auxiliary members and their family heirloom ALA-branded jewelry with a November 2020 feature article. In ourVintage Finds:ALA Jewelryand Its Special Meaningblog series, we share stories of Auxiliary members who found special meaning in the vintage ALA jewelry they acquired at estate sales, auctions, flea markets, bazaars, garage sales, online sale sites, or thrift stores.
Second blog in our "Vintage Finds: ALA Jewelry" series, presented in three parts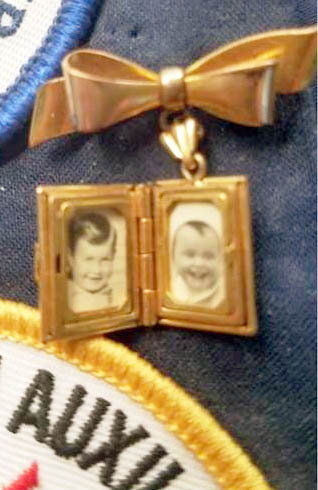 ALA JUNIOR JERSEY SOMERFELD –ALA LOCKET PIN
American Legion Auxiliary Junior member Jersey Somerfeld acquired her vintage ALA jewelry when she was 5 years old. It's a locket bow pin with the ALA emblem on the outside purchased at an auction. Somerfeld, who is now 16, has had the locket pin ever since.
Somerfeld wrote this Facebook post to tell what she knows about the locket pin that caught her eye just over a decade ago:
"Hi, this is Jersey Somerfeld. I am using my gram's Facebook account. This pin was on an auction at an Auxiliary district meeting. I was 5 years old and I really liked it. We bid on it, but my gram had to go and do her report. Another lady bid and I didn't get to bid again. The lady bought it for me! Don't know who the two kids are in the pictures. I think [the locket pin] is pretty old."
This locket pin appeared in a few of the older annual catalogs of American Legion Flag & Emblem Sales. To the left is an image of the pin from the Emblem Sales' 1940 American Legion Auxiliary catalog.
ALA MEMBER JENSINE MYERS –ALA MEMBERSHIP PIN
It's wasn't a sparkly, blingy piece of American Legion Auxiliary jewelry that caught ALA member Jensine Myers' eye when she browsed the wares at a Wisconsin flea market nearly 18 years ago. She was struck by a small, round pin that was very familiar to her: An ALA membership pin. Etched on the back of the pin was "June 1920." Myers wasn't sure of the significance of that date, and the seller could not recall how she acquired the pin.
Myers, of Unit 264 in Gilmanton, Wisc., is a Paid Up For Life Auxiliary member. She already owned an ALA membership pin.
Still, she felt she had to buy it. Myers made the purchase for $3. She has had the pin ever since. But … why buy an ALA membership pin if you already have one? For Myers, the answer lies within her family's history of military service, and her sense of belonging within the storied American Legion Auxiliary — a community of volunteers serving veterans, military, and their families.
"I had 11 brothers. Eight of them were [military] service-connected. And then I married a Korean War vet. And then our son ended up going into the Army, and he was in Saudi Arabi and Iraq. I guess I just wanted to have that pin I saw at that flea market for them. I thought maybe one day, the kids would want it," Myers said.
"It seemed that this pin should be with someone who values what the American Legion Auxiliary does and what it stands for. I'm proud to be part of that, and to be a Paid Up For Life member," she added.
Myers' plan for the pin is for it to go to her daughter Lois Hanson, also a Paid Up For Life ALA member at Unit 264. Myers has a granddaughter, Amanda Beres, who also is a member of Unit 264. Myers said she might also consider giving the pin to the ALA Department of Wisconsin.
About the American Legion Auxiliary
The American Legion Auxiliary is a community of volunteers serving veterans, military, and their families. Our mission statement:
In the spirit of Service Not Self, the mission of the American Legion Auxiliary is to support The American Legion and honor the sacrifice of those who serve by enhancing the lives of our veterans, military, and their families, both at home and abroad. For God and country, we advocate for veterans, educate our citizens, mentor youth, and promote patriotism, good citizenship, peace, and security.
Interested in becoming an American Legion Auxiliary member or volunteer? To learn more, visit www.ALAforVeterans.org or contact an American Legion Auxiliary unit near you.