The ALA Stories blog series showcases positive American Legion Auxiliary experiences, thoughts, and ideas of ALA members. We hope these blog posts will inspire and encourage all who read them.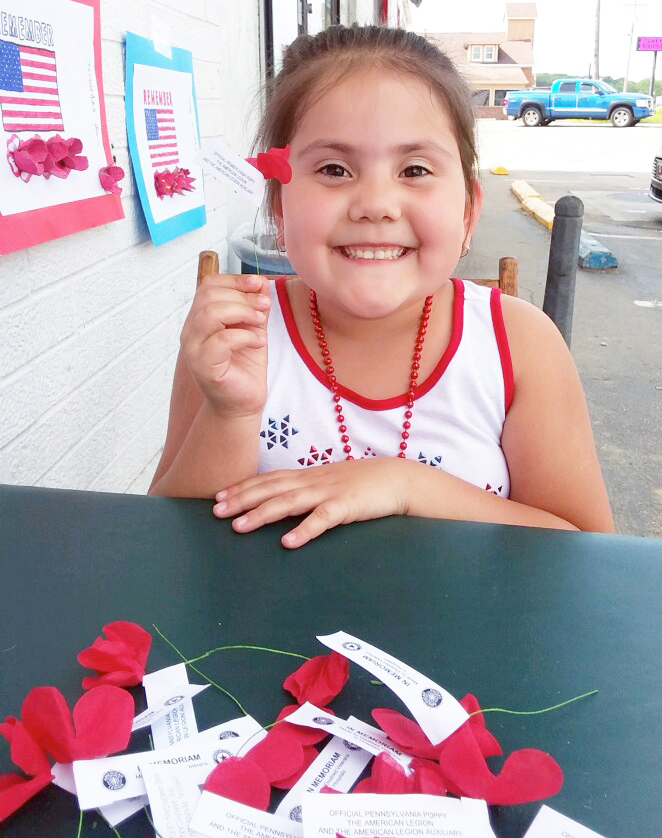 ALA Junior member Tessa Carbungco, of Unit 683 in Saxonburg, Pa., with some American Legion Auxiliary poppies.
Being kind, helpful, and grateful. For 8-year-old Tessa Carbungco, that adds meaning to life and purpose to her membership in the American Legion Auxiliary — a community of volunteers serving veterans, military, and their families. Tessa, of Saxonburg, Pa., is a Junior member of ALA Unit 683 in Saxonburg.
"I love to help people. Veterans are some of the nicest people I've ever met," she said, adding that the adult members of the ALA, and of her local Legion Family, teach her "to be kind, helpful, and to never forget how we got our freedom."
Tessa's favorite part of being an ALA member is helping veterans, she said. To that end, she assists adult ALA members with baking treats or meals for veterans, and she sometimes serves veterans during monthly dinner events at her local Legion post. Tessa also enjoys preparing care packages to be sent to U.S. troops.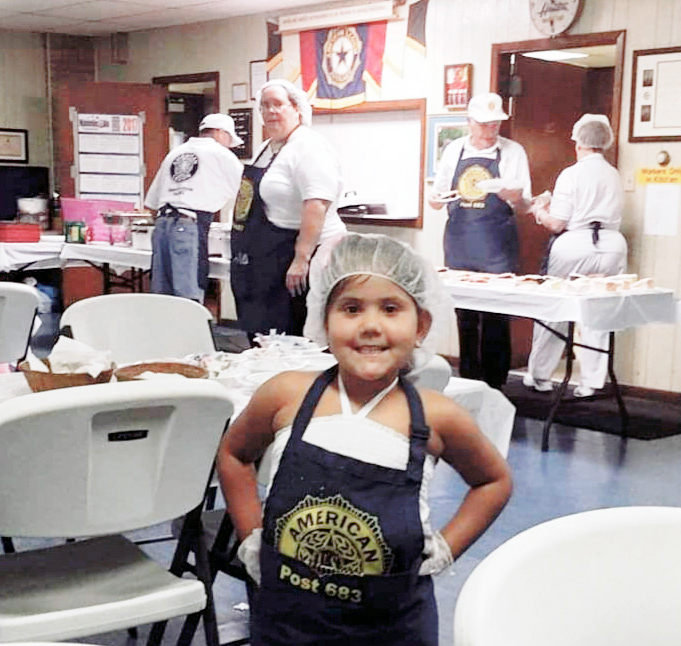 ALA Junior member Tessa Carbungco dressed and ready for food service at her unit's post home.
Going with her great-aunt Amy, also an ALA member, to help distribute poppies on Memorial Day is one of Tessa's earliest memories of her Auxiliary experience. She's learning that the red poppy, The American Legion Family's official flower, symbolizes the ultimate sacrifice of U.S. servicemembers killed while defending our nation. Tessa is realizing that this delicate, little, bright red flower is worn to honor those fallen heroes — and in support of our veterans, military, and their families.
Just as inspiring as Tessa's thoughtful and selfless tasks is the spirit in which she goes about supporting and showing appreciation to those the ALA proudly serves. Tessa's mother, Amy, discussed her daughter's significant life challenge — and how Tessa doesn't let it define her or limit her contributions to her community.
"Tessa was born with a disability called spina bifida, and was given a very poor prognosis. Not only has she defied all the odds against her, but she is a constant ray of sunshine — always willing and ready to help others," Amy said. "If you walked around our little town of Saxonburg and talked to anyone, you would see just how many people she has impacted with her smile and positivity!"
Not even a significant medical condition with health challenges — and the prognosis given to her initially — has kept Tessa from doing what she does as an ALA member and as a person. She's kind, helpful, and grateful … especially when it comes to veterans, military, and their families. At the very young age of 8, Tessa has already figured out that this is one of the best ways to live a meaningful life.
More about Tessa Carbungco: Tessa became a member of the American Legion Auxiliary in 2016, when she was 5 years old. She has several family members who have served, or are serving, in the U.S. Armed Forces. Among them are her great-grandfather, who served in the Army during World War II; her paternal grandmother, who was in the Air Force; and her paternal grandfather, who was in the Marine Corps. She also has an aunt, uncle, and cousin currently serving in the Air Force, as well as an uncle in the Marines.