The American Legion Auxiliary Salute to Servicewomen Award, established in 2003, has evolved from honoring women veterans to honoring women who are currently serving our country in the U.S. Army, Navy, Marine Corps, Air Force, Coast Guard, and Space Force – including the National Guard and Reserve components of each branch.
This year's recipients were recognized on stage at the Auxiliary's 100th National Convention in Phoenix: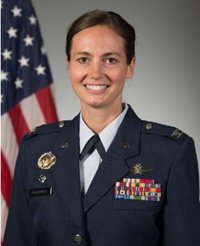 Air Force: Col. Heather W. Blackwell
Blackwell has been in the Air Force since 1997. She was born and raised in Greeley, Colo. She entered the Air Force as a cyber officer and has had the opportunity to work everything from offensive cyber to enterprise information technology. In addition to cyber, Blackwell has worked on Capitol Hill and ran Keesler Air Force Base, which is the second largest training base in the Air Force. She has been stationed in Hawaii, San Antonio, Louisiana, Mississippi, Washington, D.C., Massachusetts, and Virginia. Her career and academic experiences have also brought her to China, Iraq, Great Britain, Guam, Japan, and Korea.

While cyber is her career field, people and culture are her passion. She has been a strong and public advocate for diversity and inclusion and helped change Air Force policy to support our Native Americans. Empowering people and helping them grow is what motivates her each day.

She believes that each person has the power to make the grass beneath their feet a bit greener: "If we all did that, it is wonderful to imagine what each town, state, or nation could look like. We got this."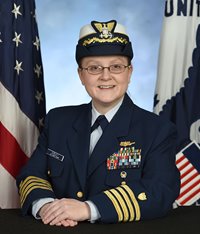 Coast Guard: Capt. Mary Ellen J. Durley
Durley currently serves as the executive assistant to the Assistant Commandant for Capability, Rear Admiral Todd C. Wiemers, at U.S. Coast Guard Headquarters in Washington, D.C. Prior to this assignment, Durley served as the commanding officer, USCGC HEALY (WAGB 20) located in Seattle. HEALY is 420 feet (128 meters) in length overall (the U.S. Coast Guard's largest ship in the entire fleet) with a crew of 19 officers, 12 chief petty officers, 54 enlisted, and berthing for 56 scientists. Each summer from June to October, HEALY, the U.S. premier high latitude icebreaking vessel, travels north to the Arctic to support U.S. maritime security and scientific research.

Durley assumed command June 2019 after having served as chief, office of aids to navigation systems at Coast Guard Headquarters in Washington, D.C. In this role, she was program manager for aids to navigation, vessel traffic services, navigation standards, and Marine planning within the United States Marine Transportation System.

Durley's previous staff assignments include leadership and management school instructor and chief, nautical science section for officer candidate school in the leadership development center at the U.S. Coast Guard Academy (New London, Conn.); deputy division chief of the U.S. Coast Guard International Training Division at Training Center Yorktown (Yorktown, Va.); and deputy, office of cutter forces (Washington, D.C).

Durley has served over 14 of her 26-year Coast Guard career at sea and operational tours, including Coast Guard Cutters ACACIA (Charlevoix, Mich.); JUNIPER (Newport, R.I.); SASSAFRAS (Apra Harbor, Guam) — all seagoing buoytenders; serving as commanding officer of a 140-foot icebreaking tug THUNDER BAY (Rockland, Maine) and 225-foot seagoing buoytender ALDER (Duluth, Minn.); and executive officer in the Coast Guard's 399-foot sole heavy icebreaker POLAR STAR (Seattle).

Durley is a native of Potosi, Wis., and holds a bachelor of science degree in government (U.S. Coast Guard Academy 1995) and a master of public and international affairs degree (Virginia Polytechnic Institute and State University 2007).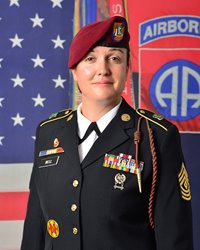 Army: 1st Sgt. Jennifer L. Bell
Bell was born in Colorado Springs, Colo., on Nov. 12, 1981. She attended West Valley High School and graduated in May 2000. She continued her education at St. Cloud State University and earned her bachelor's degree in sociology. During this time, Bell enlisted in the Army National Guard on Sept. 13, 2001. She attended basic training at Fort Jackson, S.C., and attended Advance Individual Training at Fort Gordon, Ga., earning the military occupation of Signal System Support Specialist.

During her time in the National Guard, Bell deployed with the 42nd Infantry Division out of Albany, N.Y., and completed a seven-month tour in Tikrit, Iraq. She went on active duty on July 16, 2005, and her first duty station was Fort Hood, Texas. She was assigned to the 720th Military Police Battalion, where she completed a 14-month tour to Iraq. Her follow-on duty stations include Fort Gordon, Ga., as an instructor and Fort Bliss, Texas. She pursued her master's degree in sociology and completed it in August of 2015 from New Mexico State University. Bell is currently stationed at Fort Bragg, N.C., where she served as the Group 56 NCOIC for 8th Psychological Operations Group and is currently a first sergeant for Charlie Company, 122 Aviation Support Battalion, 82nd Combat Aviation BDE.

Bell's awards and decorations: Meritorious Service Medal, Army Accommodation Medal, Army Achievement Medal, Army Good Conduct Medal, National Defense Service Medal, Iraq Campaign Medal, Global War on Terrorism Expeditionary Medal, Global War on Terrorism Service Medal, Military Outstanding Volunteer Service Medal, Non-Commissioned Officer Professional Development Ribbon, Army Service Ribbon, Overseas Ribbon, and Armed Forces Reserve Medal with M device.

Bell has two children: Ciara, 17, and Damian, 11. She loves volunteering for the Child and Youth services on Fort Bragg, coaching soccer, and basketball.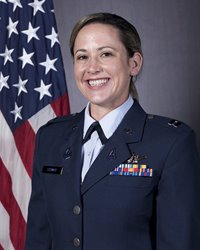 Space Force: Capt. Danielle Stewart
Stewart is a captain in the United States Space Force. She commissioned out of Coral Springs, Fla., after attending Florida State University for her bachelor's and master's degrees. Stewart is stationed at Vandenberg Space Force Base in California, accompanied by her husband, Chris, and daughter, Lauren. She is a proud graduate of American Legion Auxiliary Florida Girls State and is a member of ALA Unit 62.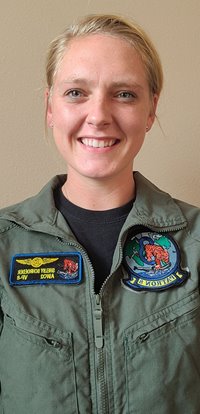 Navy: Petty Officer Second Class Shelby L. Schroeder
Schroeder is a lead acoustic operator on the P-8A aircraft with VP-8 in the United States Navy and has been in for a little over four years. She has made two deployments in her time with VP-8 and has been to Japan, Diego Garcia, El Salvador, Bahrain, and various other countries in between. Schroeder is looking to add more countries to her list of next deployments, as she enjoys getting the opportunity to travel and conduct various missions around the world. Her plan is to re-enlist for a shore duty coming up soon.

On Schroeder's last deployment to Bahrain, she received an opportunity to paint a mural for her command. The mural took about six days to finish, and she designed and painted it.

In her spare time, Schroeder lives with her dog and mom in the house she bought this year, in Jacksonville, Fla. She enjoys working out, riding dirt bikes, paddle boarding, Scuba diving, painting, and sewing.

*As of press time, ALA National Headquarters had not received information from Marine Corps Lance Cpl. MacKayla E. McDaniels.

ALA Salute to Servicewomen Award Criteria
Must be currently serving in the U.S. armed forces
Must submit a narrative of 750 words or less on the topic specified in the application
Membership in the Auxiliary is desired, but not required
Application Deadline
The application deadline is June 1 of each calendar year. Each American Legion Auxiliary unit may submit one entry for each branch of the service.
By Sara Fowler, Staff Writer