With National Poppy Day® coming up May 26, the American Legion Auxiliary is focused on all things poppy this month to honor the fallen and support the living. The Auxiliary promotes the poppy as a symbol of the sacrifices our military have made.

Each year, members of The American Legion Family distribute poppies with a request that the person receiving the flower donate to support the future of veterans, active-duty military personnel, and their families with medical and financial needs.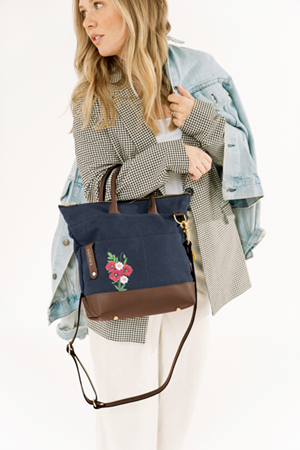 In honor of the upcoming day, R. Riveter has debuted a poppy-inspired handbag: the special-edition poppy Otto.

R. Riveter was co-founded by military spouses Cameron Cruse and Lisa Bradley. The company is based in North Carolina and employs military spouses who help make the handcrafted handbags the company sells — multiple military spouses can work on one bag. The work can be done remotely, helping military spouses find a job when they relocate frequently.

Each Riveter has a special ID number stamped on the R. Riveter product at whatever stage in the journey the handbag is in. Every handmade bag can have as many as five Riveters working on it throughout the process, including working on leather, canvas, or within the store. When all of the pieces come together to culminate in a bag, the final product carries the Riveters' stories with it, wherever it goes.

ALA members: Get 20% off the poppy Otto bag with a special coupon code by entering your email address here.

To learn more about National Poppy Day, click here. To learn more about R. Riveter, visit www.rriveter.com.