The ALA Stories blog series showcases positive American Legion Auxiliary experiences, thoughts, and ideas of ALA members. We hope these blog posts will inspire and encourage all who read them.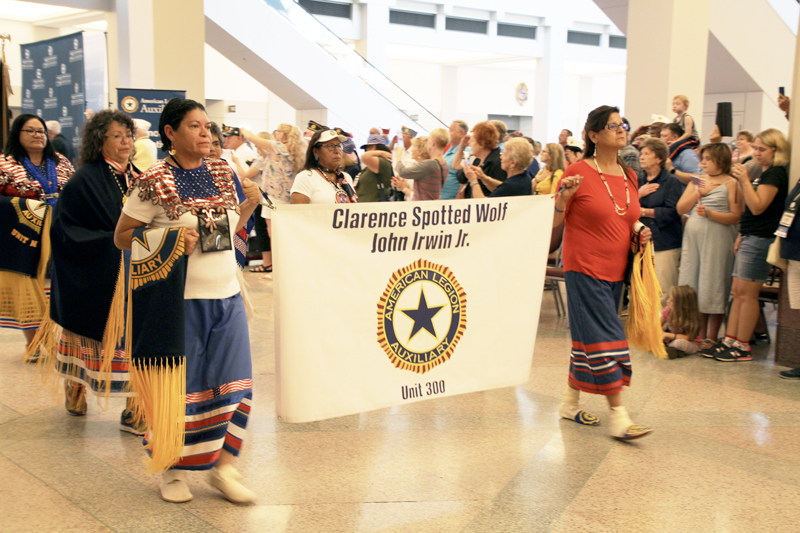 Members of American Legion Auxiliary Unit 300 on Fort Berthold Indian Reservation in North Dakota walk in the parade held during the 2018 National Convention in Minnesota.
American Legion Auxiliary members find unique ways to serve the organization's century-old mission of honoring and supporting veterans, military, and their families. For members of Little Shell ALA Unit 300, located on the Fort Berthold Indian Reservation near New Town, N.D., the approach involves a blend of their Native American culture with the Auxiliary's goals.
For example, during some of the community-wide events Unit 300 members dance for veterans, as local Native American drum groups sing special songs of honor to veterans in their language. There are songs for different wars.
Unit 300's membership is predominantly Native American, as Fort Berthold is home to three different tribes: Mandan, Hidatsa, and Arikara.
"We are born into our traditions. And everything we do is for our veterans — our brother, our nephew, our grandson who is in the service. It's all in the name of the veterans. That's very important for us. Even if they're gone, they're always remembered," said Unit 300 President Delores Sand.
Unit 300 has 64 members, with a core group of 15 consistently active ALA members. Many of the unit's members live in other states. Although membership here is predominantly Native American, anyone who is eligible for membership is welcomed to join, said Unit 300 Secretary Gloria Fastdog.
Sand and Fastdog shared more about their individual ALA stories.
Why did you join the ALA?
Fastdog:
I joined way back in the 1980s. My mother-in-law was a member of the Auxiliary. I had to drive her to the meetings, and she talked me into becoming a member. My father, David Charging, was a World War II veteran. He served in the U.S. Armed Air Force. My brother, Delphus Charging, was a Vietnam War veteran. He was a Marine. And, I have a lot of uncles who have been in the military. My whole life is about veterans.
Sand:
My brother Charles Parshall was a World War II veteran. He was in the Army. And I have another brother, Paul Parshall, who served in the Korean Conflict. That's why I joined the American Legion Auxiliary, besides allowing some others talk me into it. I'm glad I listened to them. I've been in since the 1980s.
Please discuss the special shawls each Unit 300 member makes after becoming a member.
Fastdog:
When we join, we have to make our own shawl. It takes a lot of work to get that going. Our shawls are square pieces of dark blue fabric [usually a polyester/cotton blend], with gold fringes that are at least 12 to 18 inches long. In the middle of the back of that fabric is the American Legion Auxiliary emblem.
We often wear or carry the shawls when we are doing ALA mission-related activities, such as the dancing that honors veterans at community celebrations and other activities that the unit puts on. We wear our shawls while at Veterans Day and Memorial Day activities, or for a veteran's or servicemember's funeral.
A lot of people, when they are at the celebrations, they see us with our shawls honoring veterans and having a good time or paying our respects. Then, they want to join because they have a veteran in their family.
Why is it important to help veterans and servicemembers?
Fastdog:
I loved my dad very much, and my brother also. Unfortunately, when my brother came back, he was not the same person who left. It's those memories that make you think: For a family with a young person going into the military, are they going to come back the same as they were when they left? And you know they're struggling with missing their family members, or they have other problems. You can identify with those struggles, and you know what those family members are going through. You share the same feelings. The same caring. The same love they have for their family members.
Sand:
It's important for me to be an ALA member. Veterans are my number one project. It keeps me going. It keeps me moving. And I sure don't mind doing stuff for the veterans. It's just so important. We see a lot of our loved ones who have been in the service or who are in the service. We need to support them. A lot of us join ALA because we love the veterans.