This is why Janie Bennett keeps her ALA membership.

Janie Bennett
Department of Texas Unit 19
63 years old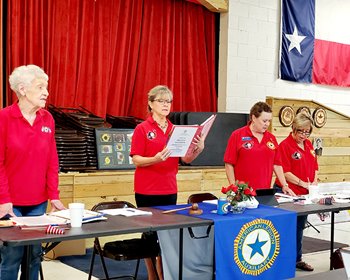 "Membership in the American Legion Auxiliary and working to fulfill our mission has increased my confidence in public speaking and encouraged me to become a leader. I have made so many friends who have become mentors, and, in turn, have been blessed to mentor other members, all while striving to make a difference in the lives of our veterans and their families."

Bennett joined the Auxiliary nine years ago under her father, a Korean War veteran. She grew up in Midland, Texas, but lived in Colorado after that for 30 years. Her father was having heart problems, and every time she and her sister came to town to visit, he would take them to The American Legion post. A few of the Auxiliary officers were trying to get Bennett and her sister to join, but they were living in Colorado and felt they couldn't help from afar. But, dues always help the mission, no matter a member's location, so they joined the Texas Auxiliary Unit 19.

Once her father's condition began to worsen, Bennett temporarily relocated to Texas prior to his passing.

"Everybody was so supportive of us," she recalled. "I couldn't have gotten through it without the Family."

After, Bennett was asked to be unit secretary, which she did for a year before being asked to be unit president.

She made the move to live permanently in Texas after that.

"I needed something I could do, not so much for myself, but for other people," she said. "I got back way more than I gained."

As president, Bennett created a member notebook to aid in running meetings — Robert's Rules of Order, unit calendar, when reports are due, and more. Everyone gets a copy of the notebook to follow along with during meetings. The idea came about from a personal experience when Bennett and her sister had attended a meeting at a different ALA unit and had no idea what was going on — hence the "back to basics" notebook.

"The ideas we've come up with have helped my confidence," she said.

Tell us why you renew your American Legion Auxiliary member dues every year. Email
ALAMagazine@ALAforVeterans.org.