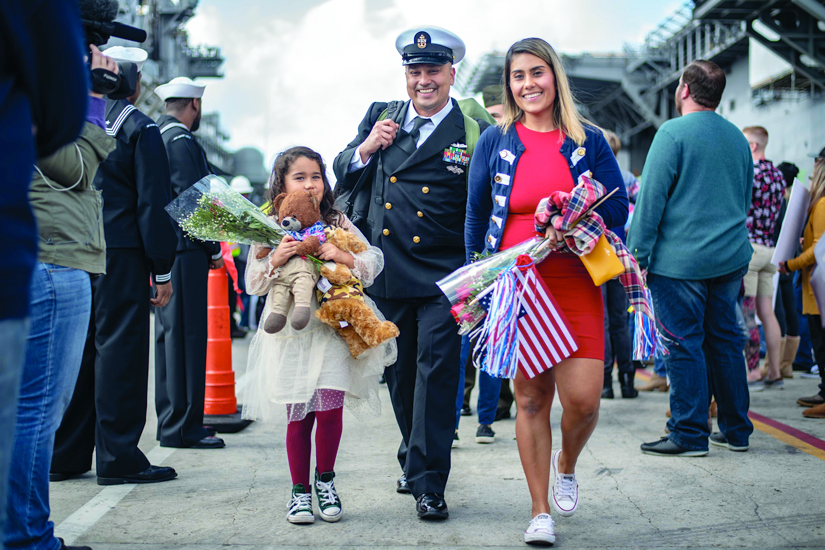 A senior chief petty officer assigned to the USS Boxer walks down a pier with his family during a 2019 homecoming gathering at Naval Base San Diego
Photo: Mass Communication Specialist 3rd Class Justin Whitley, U.S. Navy
Military wife Angelica Last was facing a major medical emergency during her 34th week of pregnancy. She developed severe pre-eclampsia, a condition that can lead to serious complications for mother and baby. Doctors deemed it necessary to induce labor then.
Angelica's husband Sam, a U.S. Army soldier, was by her side — well, as much as he could be, given that he was on deployment in Kuwait at the time. He was present by video chat on a cell phone placed near his wife in the delivery room, with permission from hospital officials.
Though Angelica had to be resuscitated twice while in the delivery room, mother and baby survived. Their newborn daughter Charlie spent 14 days in the hospital's Neonatal Intensive Care Unit (NICU). Today, she is a healthy 3-year-old girl. Other than starting to speak later than most children, she hasn't had any medical issues stemming from her induced early delivery, Angelica said.
As she talked about her husband being in another country at the time of the medical emergency during her pregnancy with Charlie, not once did Angelica complain about her servicemember spouse not being there in-person immediately. Rather, she expressed appreciation for the technology that made it possible for her and Sam to be connected during the ordeal, gratitude that he was able to come home as soon as he could, and an understanding and respect for Sam's military duty.
Because of this serious medical emergency, Sam was allowed to return home briefly. He wasn't able to reach the family's Kansas home until three days after Charlie was born. Modern-day technology paid off for the Last family once more. As he traveled, Sam was able to use the hospital's "Angel Eyes," a password-protected computer app which allows for online viewing of a baby in NICU by authorized individuals.
Being apart from one another during critical times or everyday moments is one of the numerous sacrifices made by military spouses — the married servicemember who's away serving in America's armed forces, and the spouse who takes care of things on the home front. Servicemembers make significant sacrifices in their roles as protectors and defenders of our nation. And so do the military spouses.
When married servicemembers are away, their spouses are usually shouldering the responsibilities of managing a household and caring for their children, alone for long periods of time. Sometimes, there are no relatives or close friends nearby to help. But even with assistance plus a solid support system of family, friends, and religious faith, military spouses are often giving up some shared experiences with their husbands or wives serving in the military. That can mean missing out on holidays, family triumphs, or the everyday moments between life's highs and lows.
"I just try to go each day in a positive way. I try to make my kids into the best people they can be, make sure my husband isn't late for work [when he's stateside], and that he has his ID on him. You know what I mean? It's the simple things. I don't really think about the overall sacrifices," Angelica said.
The American Legion Auxiliary is a community of volunteers serving veterans, military, and their families. As such, the ALA acknowledges and appreciates military spouses who give up so much in support of the servicemembers and their duties as part of the U.S. armed forces. Auxiliary magazine features three military spouses and their stories.
ANGELICA LAST
Spouse: Sam Last, U.S. Army
Seale, Ala.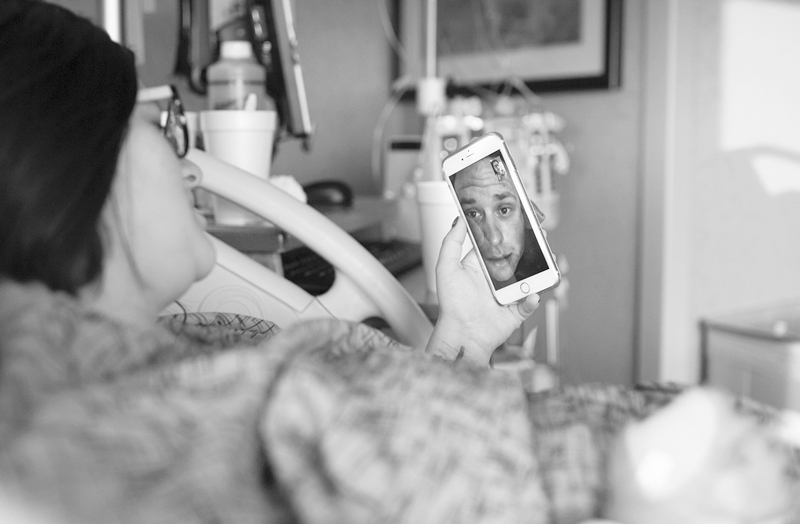 While deployed overseas, servicemember Sam Last connects by video phone chat with his pregnant wife Angelica while she is in a hospital delivery room.
submitted photo
In addition to the serious medical complications involved in their second daughter's birth, Angelica faced several other hardships while Sam was deployed. She had post-partum depression after the birth of their third child, Daryl, and an Autism diagnosis for their second child, Genevieve. Toss in the everyday juggle of managing a household with four children, each under the age of 10.
Then, there's the Last's added challenge of building a strong marriage without the benefit of a long courtship. The couple met online, got acquainted at a distance, and married 28 days after their first in-person date. Sam deployed about five months after they got married. The couple will celebrate their 10th wedding anniversary this fall.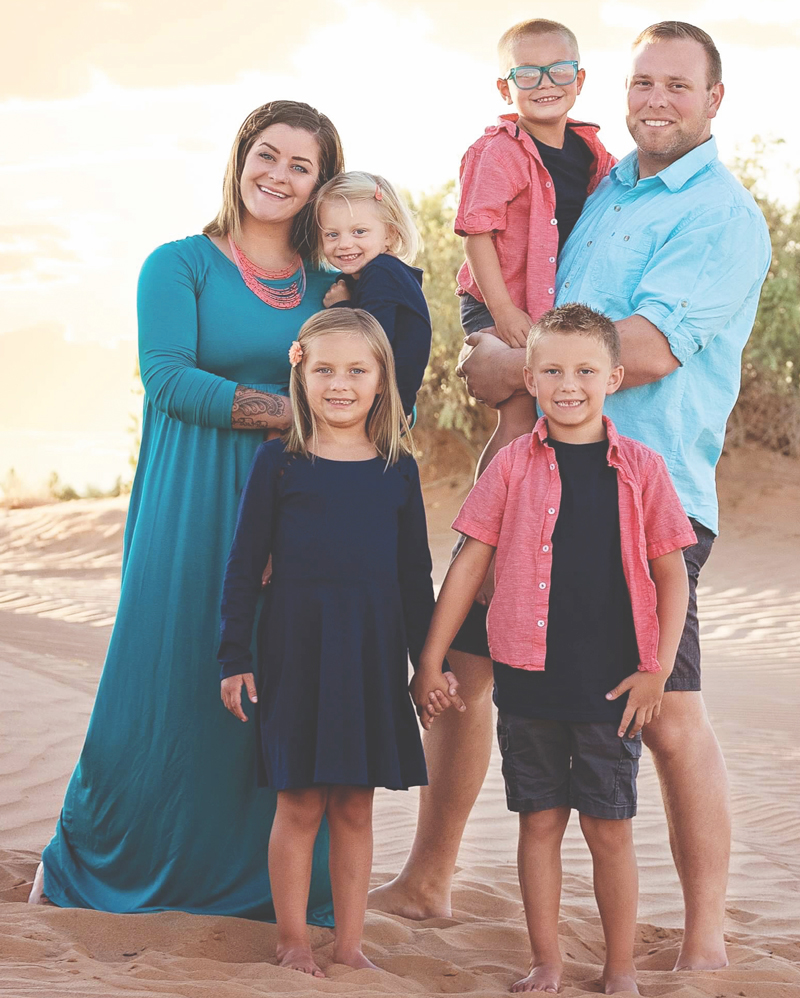 Sam and Angelica Last and their children
submitted photo
When he's away for military duties, Sam keeps in contact with Angelica as often as possible by using a variety of communication formats. He was present for the births of Daryl and Genevieve. He was present by video chat for the births of their first child Andrew and fourth child Charlie.
Through the years, Angelica and Sam have discovered methods for staying connected and building on their relationship, especially during long periods apart. For example, the couple would occasionally plan to do the same fitness workout simultaneously while on a video call together. Or, they might watch a show or movie on Netflix either at the same time — or watch at different times, and plan time for a video call to discuss the show or movie.
Managing the emotions and expectations of four young children while their father is away is a top priority for the couple.
"I don't try to make a big deal about it," Angelica said. "I don't want to make it about, 'Oh, Dad's not here for Thanksgiving,' for example. Instead, we make it about the positive. So it's more like 'We're going to call Daddy while were decorating the Christmas tree.' When we celebrate birthdays and anniversaries, we juggle them around to different times of the year when Sam is home. We just do things differently."
Somewhere in between taking care of their children, their home, and doing her part to nurture the couple's marriage, Angelica finds a little time for herself. She has hobbies, such as quilting and scrapbooking. She also enjoys reading the Bible and doing fitness workouts. In addition, she built her online health and fitness coaching business during her last two pregnancies. Her business has been operating successfully for seven years.
While all of this may seem daunting to someone not in a military family, Angelica said she doesn't feel as if she is doing anything special.
"I appreciate it when people see the sacrifices that come with being a military spouse. But when I take a step back and look at it, I guess I don't see it as a sacrifice. It's my husband. It's his job. I'm very proud of what he does and his sacrifices and commitment. At the end of the day, he's a dad with four kids and he's a husband. We're on this journey together. We're trying to take it one day at a time," Angelica said.
So far, the Last family's journey includes four deployments, four duty stations, plus multiple trainings away from home for prolonged periods of time. The family has moved 12 times in 9-1/2 years.
They're not done with their journey yet. With 10 years of service already under his belt, Sam intends to make the military his career.
JOHNBRIAN ROBLES (Serves in the U.S. Air Force)
Spouse: Lana Bonotan, U.S. Air Force
Surprise, Ariz.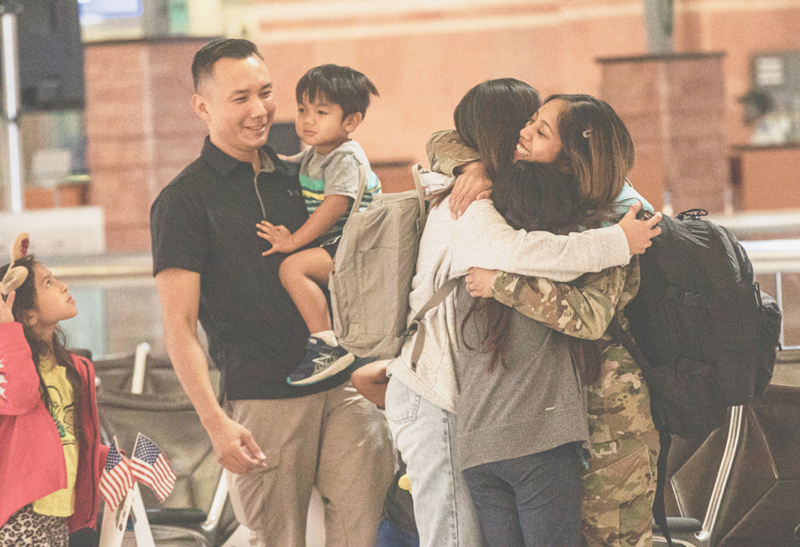 RETURNING HOME: Servicemember Lana Bonotan is welcomed by her husband, Johnbrian Robles, and their children.
submitted photo
The sacrifices and challenges of a military spouse are double for Johnbrian Robles and his wife, Lana Bonotan. Both of them are servicemembers, making both of them military spouses. Johnbrian and Lana serve in the Air Force. The couple have five children. So far, these married servicemembers have not been deployed simultaneously — or away from home for overlapping, prolonged periods of time — as part of their military duties.
Still, there are sacrifices. For example, Johnbrian missed the birth of his first son and wasn't able to get home until two weeks afterward.
"Yes, it was hard," Johnbrian said about missing the birth. "It's an accepted consequence of our chosen lifestyle. I was present when my second son was born. But I had to leave when he was about 4 months old for deployment. My wife was again alone with a newborn. I knew the household was very stressful, as any household could be with a single parent managing five children, especially with one being a newborn — and the requirements of a newborn. There was a lot of guilt with me for not being there. I wanted to fulfill the Air Force's mission, but I also have my obligations as a father.
"The good thing is, we did have family members in California, within a fairly short distance [prior to relocating to Arizona] who did help us," Johnbrian continued. "They were there as a support base. My wife is a very strong-willed woman. She pretty much just took it in stride. She basically said, 'This is what the situation is. This is what it calls for. Let's do it. It's going to be hard, but let's do it,'" Johnbrian added.
Having a strong and resourceful military spouse can be a big support to the servicemember who's away from home and needs to focus on military tasks at hand, Johnbrian explained.
"It provides a piece of mind. I know for a fact, that if — knock on wood — something does happen to me, my wife can carry on. And the kids will be cared for, with no ill-effects whatsoever," he continued. "It's just the way she is. Any hard situations we've come across, we've never shied away from. We've met them head on, found a resolution, and kept pressing on. In that aspect, we are like-minded. I just relate to what I do in the military and what we do in our missions. I carry that over to our household: a routine, a schedule, what needs to be done, what's a priority, what's not a priority. I know my wife does the same thing."
The couple have been able to take advantage of modern technology such as video calls by using laptops or tablets. But Johnbrian also recalls some of his deployments when the only communications he had with Lana and children were sporadic emails. Johnbrian also remembers when telephone calls on "morale phones" were the major ways to communicate with loved ones back home. Morale phones were a military base's collection of corded phones for servicemembers to use for personal calls.
Even with today's technology of real-time visual and audio communications, Johnbrian said he misses his wife immensely when they are far apart for long periods of time.
"I try to hide it, by virtue of being me and my personality. I'm pretty sure my wife sees through it, even though I try to put on a stoic appearance. But I miss my wife immensely. Just waking up in the morning without her. Seeing something as simple as how her side of the dresser is pretty much empty — it's tough," he said.
Johnbrian and Lana met years ago when he was stationed at Travis Air Force Base and she had joined a Reserve unit there.
"Once we began our relationship and knew we wanted to progress with it, we had a conversation. We're both very deployable. We're both very motivated to deploy. And, if we are told to do so, we're not ones to shy away from it. We planned for something as simple as me going to a training course for a week or two, to the opposite end of the spectrum for something a little bit more serious — for example, if there is a casualty in this family. And how we'd have to manage the household as a single parent," Johnbrian said. "I don't believe anyone is ever completely prepared for everything that comes up, especially when a spouse is deployed. But it gave us a pretty good foundation on how to go about carrying on."
Lana and Johnbrian, both of whom intend to make the military their careers, each have veterans in their backgrounds.
Johnbrian, a naturalized U.S. citizen who immigrated from the Philippines, said his grandfather fought in World War II with American armed forces to free the Philippines from Japanese control. Johnbrian had always held the United States in high regard. He joined the U.S. Air Force in 2000.
Lana's father is a U.S. Navy veteran who served in the Vietnam War and the Korean War. He retired from the Navy after just over 20 years of service.
BARBARA TICHOTA
Spouse: Ralph Tichota, U.S. Army Veteran
Clearwater, Neb.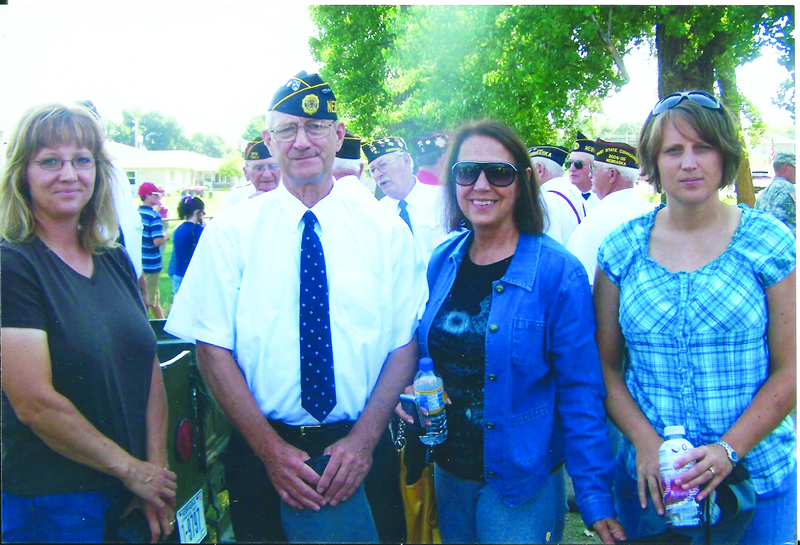 FAMILY UNITED: Military spouse Barbara Tichota and her husband, U.S. Army Vietnam veteran Ralph Tichota pose with their two adult daughters.
submitted photo
The lives of Ralph and Barbara Tichota changed drastically in one week in January 1969 when they received three pieces of news. Ralph got a teaching job. The couple found out they were expecting their first child. And Ralph was drafted into the Army. The 24-year-old college graduate, husband, and father-to-be turned down the teaching job and left Nebraska for Fort Ord, an Army base in California, in February 1969. He was sent to Vietnam in October of that same year.
"I was a little selfish in the beginning. I didn't want him to go. I was a bit scared," said Barbara, who was 22 years old, pregnant, and about to share her husband with the Army during wartime. "But Ralph and I were both taught to respect authority and respect America. So, we handled the situation the best we could."
"We had lots of friends, and our family supported us and everything. It was hard. And we were kind of scared. Both of us. He didn't say that, but I'm sure he was frightened at times — the fear of the unknown. He kind of kept that inside. He probably talks about it more now than he did at the time. We didn't dwell on it; We knew these things had to be. That's the way it was," she added. "I just thought it was my duty, for God and my country, to support Ralph because I loved him so much. I had to support him and believe that what he does there would be for the good of America."
While her husband was doing basic training at Fort Ord, Barbara moved to the Monterrey, Calif., area to be closer to him. Barbara said she met several other women in the same situation as her. To this day, she maintains contact with a couple of them.
Ralph was present for the birth of the couple's first child, Amy, on Sept. 18, 1969. But he had to leave about two weeks after her birth to go to Vietnam. Their second child, Chasda, was born after Ralph completed his two-year obligation in the military.
While he was away in Vietnam, Barbara and baby Amy lived with Ralph's parents at their home in Norfolk, Neb. Barbara worked part-time as a legal secretary at a law firm.
"We all got through it together. We all got really close. Ralph wouldn't have wanted it any other way. He would not have wanted me living alone. Still, it was hard sometimes. I was a new mother," Barbara said.
Even with the help of relatives, the support of friends, and strength she drew from her religious faith, the first-time mother said it wasn't easy being apart from her husband, and knowing he was in a war zone.
"I think the biggest thing is that nothing was normal. You don't fit in. Wherever you go, you felt like a fifth wheel because you felt like you didn't fit in. Wherever you go, you see couples and families together," Barbara said.
"It was a time of uncertainty. And we didn't have all of this communication we have today. I got lots of letters. I wrote Ralph every day. We also sent audiotapes to each other. He was good about writing me and said how important it was to receive mail there; it was a big morale booster. But when he would write to me and briefly mention going on ambush and patrols, I didn't like reading that," Barbara continued.
The couple were able to briefly reunite, meeting in Hawaii for several days when Ralph had "R&R" (rest and recuperation) time. They had a great week together. Then, it was time to say goodbye again. They were back to relying on letters and audiotapes they sent one another via standard U.S. Postal Service mail.
Ralph completed his 12-month tour of duty in Vietnam and returned home permanently to Nebraska in October 1970. He farmed for a year and then got a job teaching, and coaching various sports teams, at a local high school.
Barbara said her husband didn't talk much, after he returned home, about what he saw and experienced in Vietnam.
"I think he buried it. He's the kind of person who keeps it inside. After he quit teaching and after he wasn't around so many people, he and I talked about it some more. My support role as a military spouse, it didn't stop when he came home from Vietnam or when he officially became a veteran. In that sense, I feel like I will always be a military spouse," she said.
"My husband's military service interrupted our life together, but it made us grow and become who we are — as a couple, and as individuals. We are stronger after having gone through it. I sure am more sympathetic to those who are going through it now than some people probably are," Barbara added.
Ralph joined The American Legion in 1981. He is a Legionnaire at Post 267 in Clearwater, Neb. Barbara has been an American Legion Auxiliary member of Unit 267 in Clearwater since 1983.
"I like the idea of showing, especially to young people, how important it is that our veterans, military, and their families be recognized for what they've done and given up to serve our country. The ALA helps me do that."
By Landa Bagley, Staff Writer
---
Ways You Can Help Local Military Spouses and Their Families
If there are military families in your community, reach out to them. Don't wait until the spouse's servicemember is deployed or otherwise away for duty. If possible, work at building a bond and network of support before the military spouses need it. Here are a few simple suggestions to get started:
Introduce yourself to them.
Ask if they need anything. Don't just ask once and leave it. Trade cell numbers so you can be persistent without nagging.
Share coupon books and social media accounts or groups for local activities in the area.
And if a military family is new to your area:
Show up at the new neighbors' house with local information and home-baked goods.
Share lists of quality service providers ranging from medical to home repair services to even things like salons, barbershops, and restaurants.
Offer to help dispose of moving boxes.
Bring coffee, snacks, and other pick-me-ups to help make unpacking go quicker.
Getting to know a military family in advance will probably make it easier to approach the spouse at home and offer assistance when the servicemember is away.
Ask questions such as, "Do you need any help?" or "How can I make things easier for you?" If the response is that no help is needed, let the military spouse know he or she can contact you if assistance is needed later. After all, things do come up unexpectedly — usually when help is needed the most.
These tips were provided by ALA National Headquarters' military spouses Chrystal Daulton, Amanda Ginter, Marti Drake, Angie Graham, and Stephanie Holloway.
This article was originally published in the May 2020 Auxiliary magazine.