American Legion Auxiliary National President Nicole Clapp has selected children's book author Sarah Verardo and her family for this year's ALA Public Spirit Award.

"I want you to see why the book tugged at my heartstrings," Clapp said. "After watching a clip of the Verardo family on the Today Show, I started to think about how the Verardos and Sara's book Hero at Home aligned perfectly with what my national president focus would be on the health and well-being of veterans, military, and their families."

The American Legion Auxiliary's prestigious Public Spirit Award recognizes outstanding individuals and organizations for contributions that positively impact communities through service to our military, veterans, and their families. Every year, we celebrate those who make a difference through a creative body of work or even a single generous act.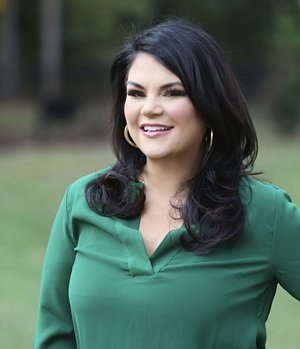 "I feel honored to have met the Verardo family and share their story with organizations across the country," Clapp said. "As I was traveling, we decided I would use the book to promote our organization and theirs. The Verardo family is our Public Spirit Award recipient."

National Headquarters reached out to Verardo to learn more about her. Read on!

Can you briefly tell us about yourself?
First and foremost, I am the mom to three beautiful girls and the wife and caregiver to my husband, Mike. He was catastrophically wounded in Afghanistan in 2010 in two separate IED attacks that took his left leg, much of his left arm, and left him with polytraumatic conditions that have required more than 100 surgeries and years of speech, visual, physical, and occupational therapies. I am also blessed to serve wounded veterans and their families daily. It's an urgent passion of mine through my organization and in my work with other strategic partners, nonprofits, and elected leaders to help our country understand the long road home for our severely wounded.

How did you feel when you found out you were selected as the American Legion Auxiliary Public Spirit Award winner?
I am so honored to receive this award and know that I'm in great company with the outstanding work the Auxiliary does to honor all in the milvet community.

What does it mean to you to win this award?
I'm hopeful that receiving this award means I can continue to advocate and share my family's story to help all Americans better understand the life of a family living with a catastrophically wounded servicemember.

Past recipients of the ALA Public Spirit Award have included U.S. presidents, government officials, and a former First Lady, among others. How does it feel to be among those previously mentioned?
I certainly have some very big shoes to fill! Receiving this award shows me that every person from every corner of America can impact issues and ideas that are deeply personal to them. One of the guiding principles of my life is to try to turn this test into testimony by working diligently to improve the road for those who will come after us.

We understand you are CEO of The Independence Fund. Can you describe the organization?
The Independence Fund started in 2007 in the halls of Walter Reed Medical Center when the first quadruple amputee survivor mentioned he needed an all-terrain trackchair, but the VA wouldn't provide one for him. I was blessed to be an early volunteer of the fund and went on to create the fund's retreat programs for caregivers, families, and at-risk combat units, as well as the fund's advocacy and casework programs. I tell my team that this is a lifesaving and life-changing mission and that we all need to do our part to be the difference for a veteran and their family. I have a wonderful staff to whom this mission is also deeply personal.

What do you want people to know about what you do as CEO of the organization?
No two days are the same. We shift our efforts to align with our veterans' needs. I can go from being on the phone with a member of Congress to on the phone with a veteran who is in crisis within seconds. I factor my personal experience into new programs and decisions and remember that what would be a game-changer for my family will likely also be innovative for families like ours.

As a military support organization, the ALA has members who care for catastrophically wounded, injured, or ill veterans. What advice would you have for them as someone in their shoes?
Lean into your faith. I can't imagine walking what is often a lonely and scary journey without deep faith.

What does it mean to you that there are organizations like the American Legion Auxiliary that are also helping our nation's veterans, military, and their families?
The American Legion Auxiliary is a frontline to educating civilians on the sacrifices of military families. The American Legion Auxiliary's education to civilians is outstanding – it shows people who may not be as involved in the military world what veterans and their families go through, what their realities are once they return home. Through the work this organization does, veterans' and their families lives' are truly impacted for the better.

Is there anything else you want to add?
This is a heavy time with the withdrawal of U.S. troops in Afghanistan and the horrific loss we've seen in recent days. Afghanistan will always be personal to many of us. Watching it fall, while also watching the decline in my own home, felt a heavy burden to carry alone. I channeled that despair into action by co-founding the Save our Allies Coalition to evacuate our Afghan allies and help our veterans with support on the home front. I urge all Americans to welcome our Afghan allies into their communities and check in on the veterans they have in their area. It can be a world of difference. We all have the power to be a shining light of hope for one family.

All proceeds from Hero at Home benefit The Independence Fund's programs for catastrophically wounded veterans and their families. Verardo began as a volunteer with the organization and was eventually selected as its first chief executive officer.

For more information about the book, visit www.sarahverardo.com/book-hero-at-home.