Caregivers play an important role for many veterans who attend the National Veterans Creative Arts Festival (NVCAF), an annual event co-presented by the American Legion Auxiliary and the U.S. Department of Veterans Affairs. The role of the caregiver varies depending on the veterans' needs, but all are there to support their veteran.

Some caregivers have attended the Festival multiple years, and for others, it may be their very first time experiencing the event. For the 2021-2022 ALA administrative year, the national focus is on caregivers, which ties in nicely with the Festival.

Throughout the week of the 2022 Festival earlier this year, caregivers felt appreciated with extra attention — they often go unnoticed day to day because for many, it's just "caring for a loved one." At this event, they were noticed, and even had the chance to meet with other caregivers, reiterating they are not alone.

Diane Nickel
Caregiver for her husband, Jim (artist)
Repeat attendee
Wisconsin

Focusing on stenciling her piece of leather, Diane Nickel readies her mallet as she participates in a leather stamping workshop alongside her husband, Jim.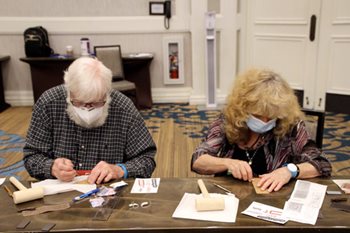 The two attended the National Veterans Creative Arts Festival in St. Petersburg, Fla., where Jim participated as a veteran artist and Nickel attended as his caregiver. The duo have been to five NVCAFs.

"It's fantastic," Nickel said of the event. "I love seeing him interact with other veterans. At home, we don't have many people to chat with, so it's fun to watch him kind of blossom and talk about his experiences."

This year during the NVCAF, caregivers had the opportunity to attend a special caregiver workshop, which included an informational speaker and time to socialize during craft time while decorating rocks that would be displayed around the city.

"It's interesting because if we have an issue, we can learn how to handle something or different things you see happening that change their personality or whatever, you can chat with someone to see if this is normal or if this is something like old age," she said of NVCAF having events like this specifically for caregivers. "It was fun what we did. It was something simple enough so everyone could participate. It's good to keep your hands busy as you are chatting."

The American Legion Auxiliary sponsors the caregiver session at NVCAF, making sure the caregivers know they matter too.

"The American Legion Auxiliary is wonderful — they see the need for the veterans, and they see the need for the caregivers," Nickel said.

Mary-Anna Simpson
Caregiver for husband, Fred (artist)
First-time attendee
New York

Listening to instructions, Mary-Anna Simpson works alongside her husband, Fred, to complete the next step in the process during the wire-wrapped pendant workshop at the NVCAF.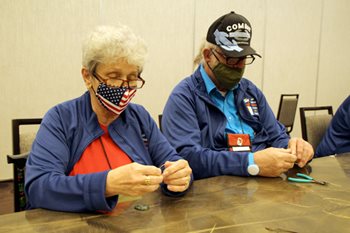 "It was relief to an extent because I've been his support, his caregiver since 1988," said Simpson about being invited to NVCAF as his caregiver.

Years ago, she attended one caregiver session, and unfortunately, had a very negative experience.

After 15 years of marriage, Fred was diagnosed with PTSD. A lot of the issues going on were related to that, she said.

"I was asked, 'Why are you still with him?'" she recalled. "'Why don't you just divorce him and leave him?' I've never been back until yesterday. That's a long time."

She helps her husband with a lot of tasks, ranging from making sure he's taking his medications to driving him to appointments.

Simpson said it's crucial that sessions for caregivers are offered at NVCAF.

"I think it's very important because it validates what [caregivers] have been doing," she said. "People see the person in uniform, but they do not see the support group."

As caregivers, supporting the veterans attending the Festival means a lot to them, and the caregivers also getting opportunities to connect with others and receive information is very beneficial.

"You see a lot of caregivers here who are really supportive because if they aren't supportive, these talented veterans would not be here because the caregiver actually supports their talents," Simpson said.

By Sara Fowler, Staff Writer