Guest blog by ALA member Dara Oliver

The collection of pins has always been a long-running tradition in The American Legion Family, and swapping them with others within the department or on the national level has been a hobby for my daughter, Delaney Enya Oliver, starting when she was a Junior member.

Many of the pins she collected went directly on her tiny vest that was made for her by an Auxiliary member friend. Once Delaney was old enough to start earning patches from the ALA Patch Program, those were also sewn onto the vest. When she was only 7 years old, she attended her first National Convention in Louisville, Ky. She and her vest made the cover of Auxiliary magazine with then-Miss America Katie Stam.

Delaney has been involved in the ALA for several years, both in New York (where we lived for nearly a decade) and now Florida. She has earned patches, received hundreds of pins, and collected lots of memorabilia.

Once COVID hit, Delaney was studying at home and making masks. I decided to declutter my jewelry collection to see what was there. We realized 2020 would be Delaney's last year as a Junior member, as she would be aging up and graduating high school in June. The Department of Florida still participates in Cavalcade of Memories and one of the awards is for constructing a shadow box.

When I previously visited National Headquarters, I loved the Past National President pin display. I started to put together an 11-by-14-inch shadow box for Delaney and quickly realized it was too small to hold all of her pins.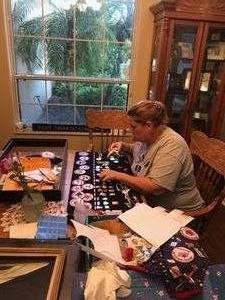 The project started to take on a life of its own. I wanted to make sure Delaney had all of the pins from the years she was a Junior member. Impressively, she had most of the national president pins but was missing a few. She also had a lot of the department president pins from New York but was missing most from Florida, so I took to social media and sent messages to past presidents and started asking if members would be willing to depart with them. The response was overwhelming, and we collected all we could to make Delaney's collection complete.

The collection starts with 2001-2002 national president pins through current National President Nicole Clapp's pin. The next row is New York, and the row after that is Florida. There are some older additional pins Delaney got when her grandmother passed away that had special meaning, as well as some that past presidents sent to her directly for this project — even some for Southern Division vice presidents. I included ALA Girls State from Florida and New York, as well as Delaney's brother's American Legion Boys State pin, her name tags, all the patches she earned — including the very first Goodwill patch — additional memorabilia, a cap that belonged to her grandmother, and her very first ALA membership card.

There was no way this project could have been done without the help of so many past presidents from all over the country in the American Legion Auxiliary. Some members went as far as to give up their private collection to allow this beautiful shadow box to be complete. It's like a piece of ALA history that entwines Delaney's lifespan so far. She loved the ALA Juniors, and it was such an amazing part of her life. So many people watched her grow up in the Auxiliary.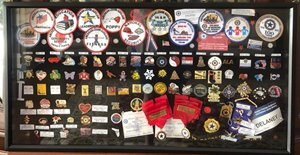 Delaney received the shadow box as a gift during her first unit meeting as a senior member (even though it had to be done via Zoom). She was so happy to receive it, and it is proudly displayed in our home.

It's a constant reminder of so many years of hard, dedicated work for our veterans from our ALA history inside that box.

Want to create your own shadow box? Dara offers tips from her experience!

Where did you get the shadow box?
It was bought at Michaels. It's 32-by-17-inch, but you can get them at any craft store like Hobby Lobby, JoAnn's, or even Target and Walmart too.

What do you use to keep everything in place inside the shadow box?
I used push pins and straight pins to hold the cards, patches, and hat in place. The presidents pins were bent to hold themselves in the felted foam, but some, if they were heavy, are held on by super glue. The descriptive labels are actually stickers, so they are stuck on there themselves.

What was the hardest part about creating this shadow box?
I knew I wanted the presidents pins to be the center of everything and show the progression of year to year, so I started with them (left to right) and built everything else around that. Finding room for everything special to fit and not leaving anything important out was probably the hardest part.

Any advice for others who want to create a shadow box?
Buy the right sized shadow box to fit all your memorabilia. Lay out your items to be sure they will fit. The first shadow box I bought was definitely NOT big enough! Showcase the most important in the center, and then build around it, unless you're doing something consecutive like in chronological order. If it's pleasing to your eyes, it will probably look good to others admiring it, but just don't put too much so close to each other because then it's too busy and hurts the eyes. Also make sure your items aren't too heavy for your frame — otherwise, you may have to reinforce the back with wire so it holds up on a wall.