Life can seem like a never-ending series of emotional adjustments for children in military families. It can be the challenge of coping with sadness or worry when their servicemember parent leaves the home for deployments.

Or maybe these youngsters are navigating the changes that come from the family frequently relocating due to a parent's service assignments. A typical child in a military family can expect to move six to nine times from kindergarten through high school graduation, according to the Military Child Education Coalition. And yet, many military-connected children learn how to adapt and develop resiliency.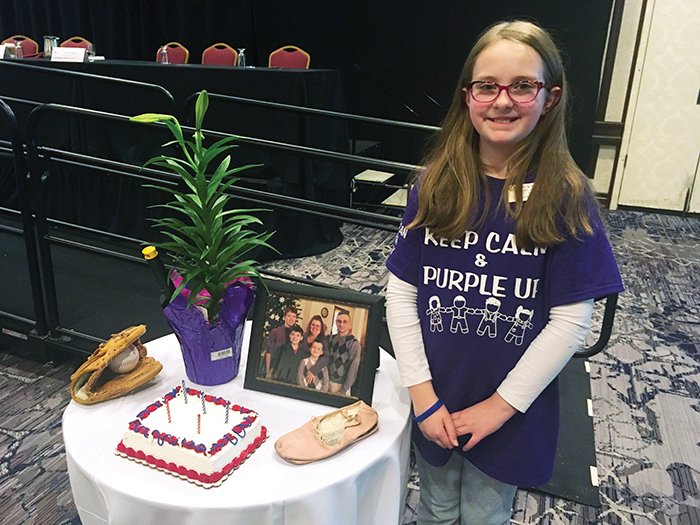 An ALA Junior member stands next to a Military Child's Table Setting. You can honor our military children on April 15 with the designated holiday: Purple Up! Day.
In recognition and celebration of these children and their sacrifices, April was designated as Month of the Military Child by U.S. Defense Secretary Caspar Weinberger in 1986. Purple Up! Day — April 15 this year — is part of the month-long celebration. To show support for military children and raise awareness about their sacrifices, people wear purple on this special day. Purple symbolizes a combination of the colors of each branch of the U.S. military: Army green, Navy blue, Air Force blue, Marine red, and Coast Guard blue.
As a major supporter and advocate for veterans, the military, and their families for more than a century, the American Legion Auxiliary appreciates and celebrates these children who give up so much as their servicemember parents work to protect and defend America, its people, and its principles. Many members of the Auxiliary and other parts of The American Legion Family participate in Purple Up! Day.
"Our military kids play such an important role, and a little recognition can go a long way. What a perfect opportunity to demonstrate the Legion Family's commitment to our military and their families
,
" said Lisa Williamson, chairman of the ALA's national Children & Youth Committee.
The Auxiliary has a long history of turning that commitment into action. In its early days, the ALA worked to secure university, college, and vocational training school scholarships for war orphans. Also, the ALA has helped military children through coordinated efforts with The American Legion. And today, the Auxiliary proudly sponsors the Children of Warriors National Presidents' Scholarship.
Auxiliary members are encouraged to participate in Purple Up! Day. Wear purple clothing. Be prepared to share fact-based information about these youth, their challenges, and Purple Up! Day if someone asks why you're wearing purple. And spread the word about the ALA's commitment to military children and families, servicemembers, and veterans.
Here are a couple of other ways to pay tribute to these youth (adapt as needed due to social-distancing and other safety guidelines in place during the COVID-19 pandemic):
Kids of Deployed are Heroes 2 (KDH2): This American Legion Auxiliary initiative honors military children separated from one or both parents, whether deployed to a war zone, having a short tour, or on an extended temporary duty assignment. Recognition buttons or stickers with "I'm a Hero 2" can be given to these children.
Military Child's Table Setting Ceremony: Inspired by the POW/MIA remembrance table ceremony, each item placed on the table is powerfully symbolic. Consider including ALA Juniors and younger members of the Sons of The American Legion in this tribute.
Learn more about the Military Child's Table Setting Ceremony, KDH2, and Children of Warriors National Presidents' Scholarship at
www.ALAforVeterans.org
.
Additional ideas on participating in Purple Up! Day, and the Month of the Military Child can be found at
MilitaryChild.org/MOMC_Toolkit
. Perhaps events can be held virtually. Or use social media: Post photos of yourself and others wearing purple. Include a few sentences about Purple Up! Day, military children, and the ALA's commitment to these youth.
"Wouldn't it be great to see social media plastered with Legion Family members wearing purple in their communities or at home, using the hashtag #PurpleUp, in an effort to remember these kiddos?" Williamson said.
This article was originally published in the February 2021
Auxiliary
magazine.