Junior members are truly the future of the American Legion Auxiliary. Though their presence may be smaller than adult members, their impact can be just as large. Young people have different experiences and bring new ideas to the table, and ALA Junior members are no exception. That's why their involvement in local ALA units is crucial to our mission.
Keeping Junior members engaged can be a challenge, especially if there aren't many of them in your unit. This spring, we encourage you to try something new with your Junior members to make them feel like an important part of The American Legion Family — because they are!
Here are some ideas for fun spring activities to do with Junior members (remember to wear branded ALA clothing whenever possible, and take lots of photos to share with us on social media):
Host a car wash in your community with Juniors to support your unit's programs. Be sure to let customers know their money is a donation to your ALA unit.
Host a cleanup day at your favorite local park.
Volunteer at a local veterans center or nursing home.
Host an Easter egg hunt with your unit. Have Juniors help decorate, make party favors, or snacks! Try these snack ideas: Rice cereal Easter treats or Chocolate Flower Treats
Conduct a food drive for your local homeless veterans shelter.
Encourage your Juniors to earn an ALA Children of Warriors National Presidents' Scholarship patch by raising $5 for each year of their age to go toward the Children of Warriors National Presidents' Scholarship Fund.
Ask your Juniors to serve as pages at district and department conventions.
Have Juniors enroll in the free ALA Academy courses at ALAforVeterans.org.
Crafts are always a big hit with Junior members. Here are some to try for the upcoming holidays:
Easter (April 21):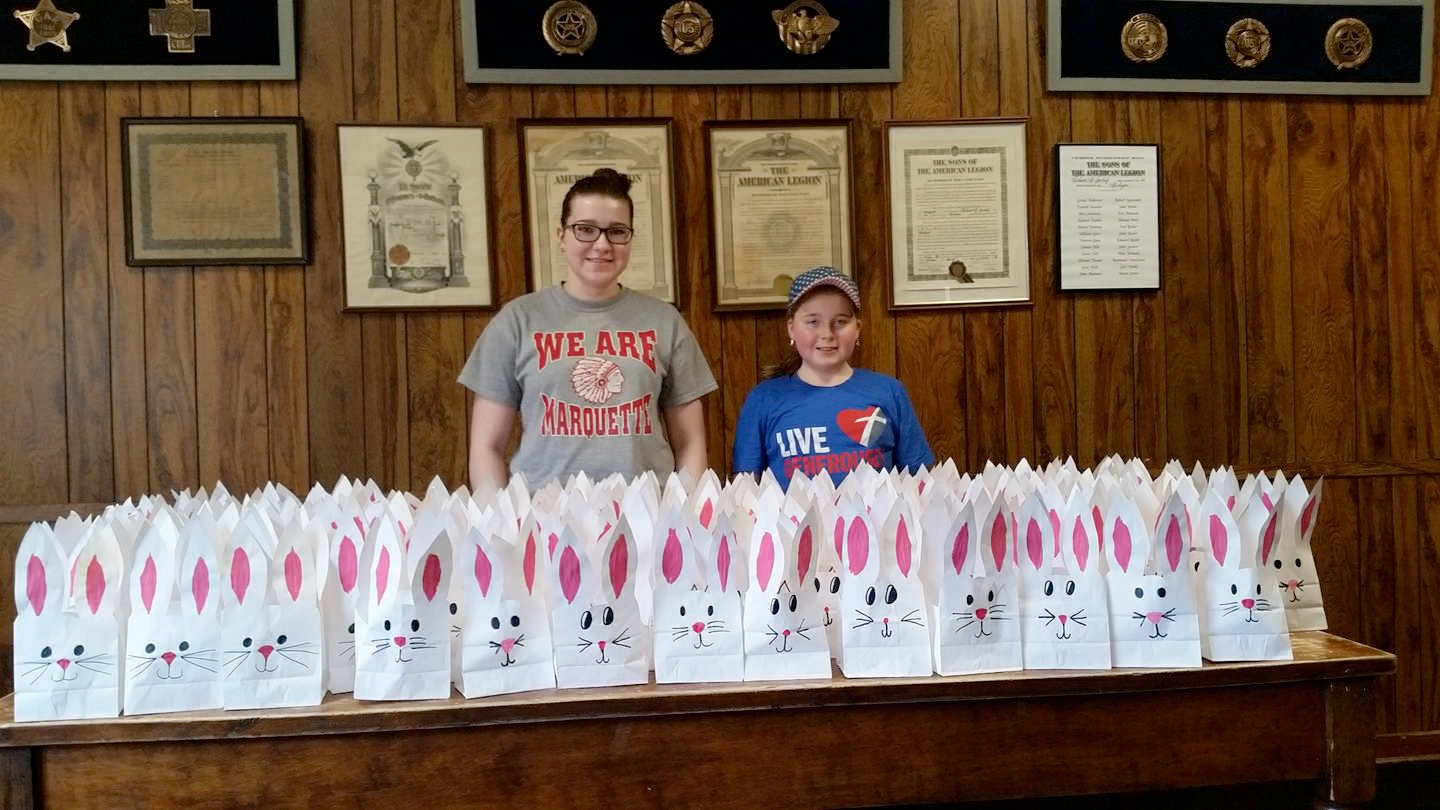 Have everyone bring a plain Easter basket and decorate them with ribbon, paint, and the classic Easter basket grass.
Try creating Easter-themed wreaths with Easter grass, plastic eggs, and anything else pastel. Look here for more inspiration.
Mother's Day (May 12):
National Poppy Day® (May 24):
Try any of these poppy crafts — you could hand these out in exchange for donations, or give them to local veterans you know.
Memorial Day (May 27):
Take your craft day outside and tie-dye some white shirts or pillowcases in red and blue. Gift the pillowcases to a local veterans shelter.
Try painting patriotic rocks and placing them around your community parks, like some ALA Nevada Juniors did

.
Make patriotic bandana bracelets.
If you try out any of these activities or crafts this spring, be sure to share them with us at JuniorActivities@ALAforVeterans.org and on social media with the hashtag #ALAJuniors!