In 1918, Moina Michael, who later became known as "The Poppy Lady," read the In Flanders Fields poem by Canadian Lt. Col. John McCrae. Inspired, she vowed to always wear a red poppy as a sign of remembrance. Michael gave poppies to others to wear and urged groups to adopt the poppy to honor and support veterans.

Michael's birthplace and burial is in Walton County, Ga. A few years ago, ALA member Cathy Rush Hedges moved to the area and learned of the area's connection to Michael after seeing a road sign for the Moina Michael Highway. Hedges was familiar with Michael and poppies from childhood because her parents were members of The American Legion Family.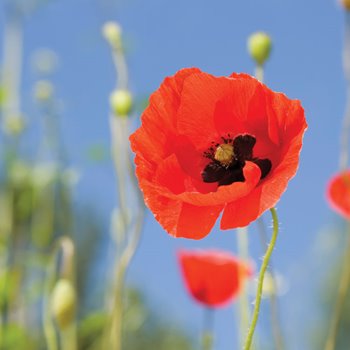 Hedges wondered if community members knew of Michael's history. As education chair of Unit 233 in Loganville, Hedges had an idea to take Michael's story to local students. She worked with the unit's poppy chair, and they began by approaching the local high school principal. He loved the idea and connected the pair to the agricultural instructor at the school.

"He was familiar with the significance of poppies due to military members in his family," said Hedges. "However, he was amazed by the local connection."

Today, Unit 233 provides poppy seeds for the students, and they are told the history of the poppy and Michael's connection to the flower. This year, two schools are taking part in the project.

Hedges said it's rewarding when she hears from students. She's had several mention that they've seen poppies growing along Moina Michael Highway.

"Another reward came when a student remarked on my poppy scarf: 'Your scarf has poppies on it. We learned about poppies and what they mean from our agriculture teacher. Are you the ones who gave us the seeds?'" said Hedges.

The unit also works with city council to have Poppy Day proclaimed in Loganville.

The Department of Georgia pays honor to Michael by continuing a tradition she started. Each year, they release an anchor covered in poppies into the Atlantic Ocean off the coast of Tybee Island to honor those who sacrificed their lives at sea.