American Legion Auxiliary National President Kathy Daudistel has been officially in office for one month. Read on to learn more about her and what has driven Daudistel to continue helping veterans, military, and their families, and especially military caregivers.​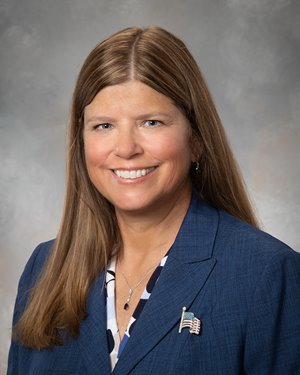 Kind and passionate. Approachable. Good listener. These are a few of the characteristics used to describe American Legion Auxiliary National President Kathy Daudistel.

A calm, laid-back personality, Daudistel has a positive energy about her when she steps into a room. Talking to her, you wouldn't know she holds the highest volunteer leadership position in the ALA. She's down to earth and gives off a vibe of being a local member like the rest of us — passionate about the work at the grassroots level for our veterans, military, and their families.

Being in a leadership role at the level of national president gives Daudistel an opportunity and advantage to help even more people.

"It's a different role where I can share my experiences and show other people that you don't have to be a Ph.D. college person; you can be just a normal, average person from a normal, average unit and you can be somebody," she said. "It's just really cool that you have the opportunity. Anyone can do what I do. I'm not a special person. I was not trained for this. I did not grow up thinking, 'I want to be the national president.' I'm just a normal person."

Daudistel had a humble upbringing in the small city of Bellevue, Ky., and she has carried that demeanor throughout her adult life.

Talking with Auxiliary magazine, Daudistel opened up about her personal life and presidential focus for the American Legion Auxiliary's 2021-2022 administrative year.

Getting personal
In Bellevue, Daudistel grew up involved in a local veterans organization called the Bellevue Veterans Club, which was started by two World War II veterans who wanted somewhere to meet. It turned into a place for the community, with baseball, tee-ball, softball, horseshoes, volleyball, and more. Daudistel coached volleyball for years and ran the volleyball league. They had over 500 kids participate in the various activities each year.

Additionally, she has been a Girl Scouts leader, president for two years of Fellow Life Management Institute, president of Bellevue Veterans Auxiliary, member of Fraternal Order of Eagles, Kentucky Colonel, and American Legion Riders Chapter 203, and volunteer for the Special Olympics in northern Kentucky. She ran the celebrity golf outing tied to that for a couple of years.

"I was always volunteering for stuff and recruiting my family," she said.

Although Daudistel enjoys volunteering and helping others, her family has always been the most important part of her life.

She was a single mother and raised two daughters on her own.

"I worked for everything," she recalled. "I went to college while I was still raising my two daughters. I had a full-time job."

Daudistel received her bachelor of science degree in information technology from Northern Kentucky University. After, she worked for a Fortune 500 company for over 30 years. She started as a file clerk and ended as an information technology team member.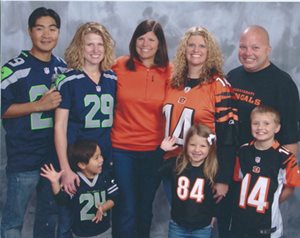 Both of her daughters are married, and each have two children. Beth lives in Seattle and is a marine biologist, and Stephanie is a licensed clinician at a children's hospital in Cincinnati. The whole family attended Daudistel's installation as national president in Phoenix.

Daudistel first heard about the ALA 25 years ago. She learned about the Auxiliary through a group of friends from softball and liked the mission they were helping to move forward. Today, she's still an ALA member because of that same mission and the number of opportunities available, from the unit to the national level.

"On Fridays, we would play softball and then we would hang out afterward and watch the guys play," she recalled. "One day, the girls were leaving early and weren't going to hang out, and I wanted to know why. They belonged to an organization that got a letter from a local orphanage that they needed some money to help fix up bikes for the kids. This organization and the group of girls wanted to do one better and went and bought brand new bikes for the kids at the orphanage. So, I'm like, 'What organization is that?' They told me about the American Legion Auxiliary. I'd never heard of it. They told me how I could be a member, and I thought, 'I need to be part of this. What you guys are doing is awesome.'"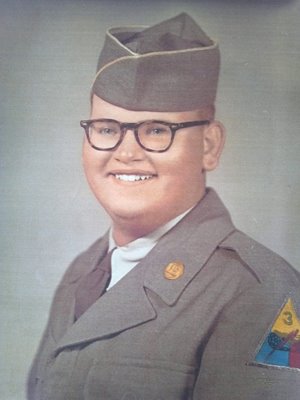 Daudistel found out she was eligible through her father, William Kaelin Jr., a United States Army veteran who served during the Korean War era. He joined The American Legion the next day, and then her whole family became members.

Turns out, Daudistel has a history of military service in her family. In addition to her father, she had an uncle who went to Vietnam through the Navy, as well as some other uncles who were in the armed forces.

"We were always patriotic growing up," she said. "My dad always was."

She recalled when her uncle went to Vietnam. He was the fun-loving great uncle who would do crazy things, like drive his Volkswagen bug convertible up the floodwall of their home or stuff peas in his nose.

He served seven tours in Vietnam.

"We were very, very lucky he came home, but he didn't really," she said. "He was never that guy again. He left part of himself over there. That's when I realized the sacrifices that were being made."

Seeing what military members go through firsthand, Daudistel went to her first ALA meeting and got involved right away to make a difference for veterans, military, and their families. She was appointed historian and the rest is, well, history.

"I think it's the opportunities," she said about continuing her membership with the organization. "There are opportunities for everybody — you don't have to be an officer; you don't have to be a leader. But there is always something. The Auxiliary offers something for everybody."

As an Auxiliary member, Daudistel has had the chance to shake hands with three U.S. presidents, meet and listen to an Iraqi woman talk about how much freedom means to her, and meet a Holocaust survivor.

She's also had the opportunity to hold several leadership roles at all levels of the ALA. At the national level, she has held the office of vice president and chairmanships with Veterans Affairs & Rehabilitation, Children & Youth, Poppy, National Security, Americanism, Membership, and Leadership.

When she first joined the Auxiliary, whenever she traveled anywhere, she and her family would always stop at American Legion posts along the way. It was always a learning experience to see how people work the programs differently. Through these experiences, Daudistel was able to bring ideas back to her home unit.

Two of her favorite ALA activities are volunteering at the U.S. Department of Veterans Affairs and the National Veterans Creative Arts Festival (NVCAF). As a volunteer, Daudistel and others would go to the facility once a month and play bingo. They would also take veterans on outings to the local racetrack, casino, and to the post for lunch and bingo.

But Daudistel's "very favorite activity in the whole world is NVCAF."

"The veterans and the caregivers you meet there are just incredible," she said. "You listen to their stories and hear the odds that they've overcome and how they got there. It's heartwarming and it brings home everything that we do and why we do what we do."

Right behind NVCAF, Daudistel's next favorite activity is National Convention.

"You do meet a lot of veterans and a lot of people," she said. "Every year, you get excited about convention because you are going to go back and talk to these people and see them again and you are going to meet new people. The American Legion Family is an incredible opportunity to meet new people."

Focusing on caregivers
It took a few different personal experiences combined to help Daudistel realize an emphasis on caregivers was the direction she wanted to take for the 2021-2022 ALA administrative year.

From the comments made during a caregiver breakout session at the 2019 National Veterans Creative Arts Festival, Daudistel truly began to realize how much caregivers go through. Hearing the personal stories of struggle was an eye-opening experience.

After that, her parents were in and out of the hospital with major health issues.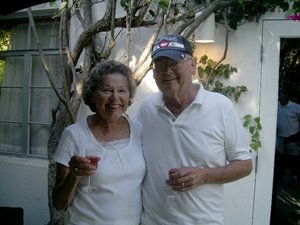 "While my dad was in the hospital, my mom was fine," Daudistel said. "She was very self-reliant, could get herself to the hospital, get home, and take care of herself. But when Mom was in the hospital, I was the primary point person for my dad."

Because of all the things she was helping her dad with, it was at that point that Daudistel realized her mother was actually a caregiver.

"She would never admit it," she said. "We never really knew how much she was doing for my dad. Today, even if you told her she was a caregiver at the time, she would say she wasn't."

The realization set in that probably more people than she was aware of are caregivers.

"No one on the outside knew, and maybe they needed more support," she said about caregivers.

A third experience also led Daudistel toward this focus. A friend was diagnosed with Lou Gehrig's disease, also called amyotrophic lateral sclerosis, or ALS, and no veterans home would take a person with ALS. He ended up going into a home the VA paid for, but it was a home with strangers.

"I just couldn't imagine that," she said. "If that was my dad, we would have all rallied around to do what we could to take care of him. I just felt horrible there wasn't anything I could do."

Daudistel said all three things were motivating factors in choosing caregivers as her ALA presidential focus.

"I wanted to do something we already do," she said. "We are already caregivers. This is something the Auxiliary can work on forever."

Her goal is to bring awareness to caregivers' struggles, and to let them know there are resources available.

Daudistel hopes to recognize caregivers in every ALA department during her visits.

"We know they are there, and we really want to bring awareness to the caregivers and connect them to resources," she said.

As she begins fulfilling her role as national president, Daudistel has a few additional goals in mind for the upcoming administrative year.

"I just hope as I travel, that people do realize they can do what I'm doing," she said. "I hope more people step up in leadership roles — not with the expectation you need to be a leader, but that you can do it. I hope we shed more light on caregivers and how the person next to you could be one."

Interesting facts about 2021-2022 National President Kathy Daudistel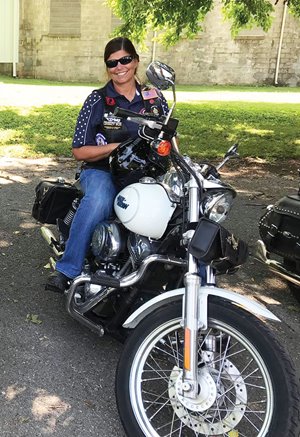 1) I love riding my motorcycle. I have a Harley Dyna Glide. I was a charter member for my post's American Legion Riders chapter. My sister rides with me a lot.
2) It was planned before COVID, but two of my friends were going to get married in Ireland, so I'm now an ordained minister. I married them at their house on their deck. It was so cool! It was such an honor to marry them. After that, a friend called me that a friend of a friend's reverend backed out because of COVID and asked if I would be interested in doing the ceremony. I got into this to marry people I know, but I marry strangers too!
3) I love outdoor sports of any kind. I love boating; I love water. I like being outside.
4) I love animals. When I was younger, I would bring home every stray, hurt animal in the neighborhood. We lived in this addition, so that was awkward at times. A squirrel, a bird, dogs — followed me everywhere. I wanted to be a veterinarian. Still to this day, I love animals. I see homeless animals and want to scoop them all up and take them home. When I was younger, I also wanted to live on a farm so I could have a million animals. And I'd leave notes around the house for my parents around Christmastime how I needed a horse. I love horses. I got a stuffed horse, but it's not the same. I had a room full of stuffed anything. They thought that would appease me. I'm just a huge animal lover.

To view the ALA national president page, which includes access to download her headshot to display in your post homes, visit www.ALAforVeterans.org/National-President. Follow along with Daudistel's travels on the National President Facebook page at www.Facebook.com/alanationalpresident.

By Sara Fowler, Staff Writer