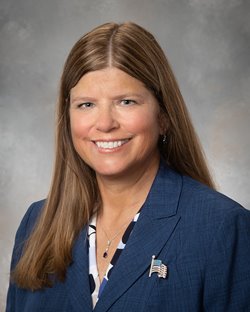 American Legion Auxiliary member Kathy Daudistel of the Department of Kentucky became the national president of the American Legion Auxiliary (ALA) during the organization's 100th National Convention held Aug. 27-Sept. 2 in Phoenix, Ariz.

Want to know our 2021-2022 national president on a more personal level? Read on for some fun tidbits!

What is your favorite food?
Pizza! I love pizza. Also, seafood and Italian.

Do you have any embarrassing moments you're willing to share?
I think it was my first time I ever did an ALA Mission Training. I was talking about branding and wearing the right clothes, and I hesitated and said, "Wear your clothes." I wanted to crawl under the table. Everyone was laughing, and I was still trying to get it.

Do you have a favorite place you've visited?
I love the beach. We did a family trip to Isle of Palms, S.C. I went to Hawaii once, and, at night, we watched the lava flow down into the ocean. It was the most incredible experience I've ever had. I can still feel the way I felt that night. It was incredible to watch nature.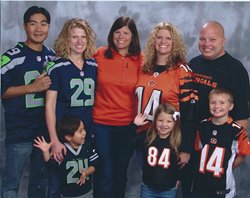 House by the beach or cabin in the woods?
I obviously love the beach, but I like a cabin in the woods too. A friend of ours has a cabin down in Gatlinburg, Tenn., and we love to go there. It's peaceful. My daughter got married in the Cascade Mountains. It was calming, relaxing.

What is your favorite season?
Spring and fall.

Do you have a favorite animal?
I love horses. They are just so sleek and regal. For my favorite domestic animal, I can't decide between a cat and dog. So…cats, dogs, horses!

If you had to do a triathlon, which part would you be best at — swimming, biking, or running? Biking. I'm a really slow runner. And I don't feel like I'm a strong swimmer. I think I can walk faster than I can run.

Do you have a favorite dessert?
Key lime pie. I also consider myself a bread pudding connoisseur.

American Legion Auxiliary leadership and professional background

Daudistel is eligible for ALA membership through her father, William Kaelin Jr., a United States Army veteran who served during the Korean War era.

An ALA member for 25 years, Daudistel has held numerous leadership positions at the unit, district, department, and national levels, including national vice president; national committee chair: Veterans Affairs & Rehabilitation, Children & Youth, Poppy, National Security, Americanism, Membership, and Leadership; national committee vice chair: Junior Activities; National Executive Committee and alternate NEC.

"I think it's the opportunities," Daudistel said of the ALA. "There are opportunities for everybody — you don't have to be an officer; you don't have to be a leader. But there is always something. The Auxiliary offers something for everybody."

Daudistel retired from a Fortune 500 company after more than 30 years where she worked in the information technology department. She earned her bachelor of science degree in information technology from Northern Kentucky University. Daudistel has two daughters, four grandchildren, and two sons-in-law.

Be sure to check out the national president feature story in the November 2021 Auxiliary magazine when it hits your mailbox in late October/early November, or view the digital version here.