As an Air Force veteran who served from 1979 to 1991, Stephen DeFeo of Indianapolis is all in when it comes to his commitment to supporting The American Legion Family.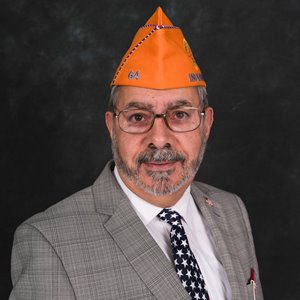 After signing up for membership as an American Legion member following his military retirement in 1991, DeFeo decided to honor his father's service as a World War II veteran by becoming a member of Sons of The American Legion.

And, in 2019, after American Legion delegates approved changes to the Constitution and Bylaws to replace the word "wife" with "spouse" for American Legion Auxiliary, DeFeo decided to honor his wife's service in the Air Force by becoming an ALA member.

Not only does DeFeo actively contribute as a member of all three organizations, he serves as the national historian for National Sons of The American Legion Commander Chris Carlton.

DeFeo and his wife, Rebecca, who are parents of two sons, Michael and Andrew, serve as members of The American Legion Family for Kenneth N. Dowden KND Wayne Post 64 in Indianapolis.

What are some of your earliest memories of military service?
My father was a World War II veteran. He was a pharmacist mate on a ship in the Pacific. Like most World War II veterans, he really didn't talk much about his service. My uncles also were in the armed forces as well during World War II. They didn't talk much about it either. But I grew up knowing about military service. When the time came for me to figure out what to do with myself, I decided on communications and journalism as a college major and minor. I started questioning how to best apply my skills. I could either try to make it in a very volatile field in the civilian world or I could join the military. I decided on the military. One thing led to another and I was stationed at an Air Force Base in Texas, which is where my wife was stationed as well.

Is that where you met Rebecca?
Although we both served, I would have never met her if we weren't sent on a temporary duty assignment in Italy. I worked for the wing, which was the combat arm of the base, and she worked for the support arm of the base. The interaction between those two isn't exactly that great. But we were moved from where we were in Italy because of a convention. Everyone was walking around when we first got there. And we ended up at a place for lunch. She asked the group, 'Who wants to go to Venice?' I'm not usually the type of guy who speaks up in a situation like that, but I asked myself: Do I want to just sit here and do nothing? I volunteered to join her for the tour, and the rest is history.

What prompted you to join The American Legion Family?
At the time, we were about to become empty nesters. We wanted to get out and do things together. My wife's friend was a member of the post that we belong to now. She brought us over there. We liked the group and the Legion itself for what it does. So as we learned more about it, we decided to join.

Why did you join SAL and ALA?
With SAL, I recognized the importance of being a dual member and being involved in all aspects of Legion. I understood the importance of SAL and wanted to show my support for them and help out when I could. And when they made the rule change for ALA, because of my eligibility I decided to take advantage of it and support the ALA in honor of my wife. It was a good move for them to change the rule. Male spouses who are not military and not eligible to be a Sons member need a place in the Legion as well.

What programs stand out to you in terms of impact?
The programs that have to do with service, letting people know what's available to them, have a lot of impact. But the programs my wife and I personally get a lot of satisfaction from are the ones we do at the post, especially activities with kids involved. We have an annual Christmas giveaway, including food and gifts, for about 15 families, and a kids' Christmas party with Santa Claus, cookies, and gifts.

What do you like most about being a part of all three American Legion organizations?
One of the things we like most is the family aspect. We're fortunate that all of our entities work together. The unity in action is very nice.